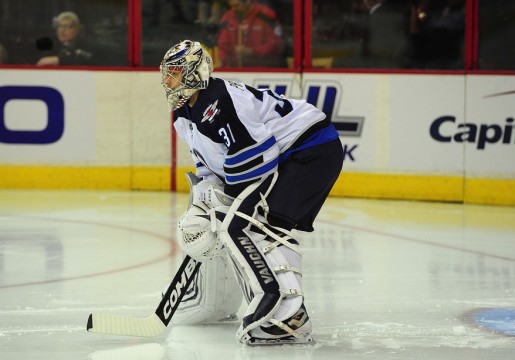 In hockey, no position is more important than the guy between the pipes. Goaltenders are the unsung heros, the last line of defence.
For the Winnipeg Jets, Ondrej Pavelec has been that and more for the franchise since his early days as Johan Hedberg's backup.  Pavelec was called up from the Chicago Wolves of the AHL in October of the 2007-2008 season following current Dallas Stars' goalie, Kari Lehtonen's injury just seven games into the season. Two seasons later in 2010-2011, Pavelec became the full-time starter for the then Atlanta Thrashers after both Lehtonen and Hedberg had moved on. Since being the no. 1 net minder for the franchise, Pavelec has started 175 of a possible 224 games over the two and a half plus seasons or just over 78 percent of the team's games. He also became the franchise's all-time leading goaltender in wins when he notched his 95th career victory as Jets defeated the Dallas Stars on Saturday.
Hefty Workload For the Jets' No. 1
Since the franchise's relocation to Winnipeg in 2011-2012, Pavelec saw an increase in his work load. He has started 122 of 142 games for the Jets or nearly 86 percent of the squad's games. In last year's lockout shortened season Pavelec started 43 of 48 games, which was tied for the league along with the Rangers' Henrik Lundqvist and the Sharks' Antti Niemi. To this point int he 2013-2014 campaign Pavelec has started 10 of 12 games and is on pace to start 68 of 82 contests, which would be a career high for the Jets' starter. Pavelec has also faced a league high 352 shots over his 11 games, an average of 32 per game. Montreal's Carey Price has faced the second-most shots (333) in his 10 starts.
The plethora of work is not unwarranted though as Pavelec is signed through the 2015-2016 season and is making nearly six and half times as that of his backup, Al Montoya, according to CapGeek.com. As for his workload, the former 2004 first round pick has played in a total of 65 games in his NHL career and started seven games since signing with the Jets before the start of the 2012-2013 season. In his time in Winnipeg, Montoya is 4-2-2 with a 2.22 goals against average. He has two shutouts in the seven starts, which is more than Pavelec has had in Winnipeg thus far. With Montoya signed to only a one year deal, and a far less significant cap hit for the organization, it's clear that Pavelec is the Jets goalie of now and the future.
Numbers Say: No
From a numbers standpoint, Winnipeg has invested a total $4,101,000  in their goaltending tandem for this season. Pavelec's salary according to cap geek is $3,500,000 and Montoya at $601,000. By those figures, the organization has invested 85 percent of it's goaltending expenditure in their starter and the remaining 15 percent in the backup. In the time they've been a goaltending pair, Pavelec has started 54 games compared to Montoya's seven over last year's lockout shortened season and the first twelve games of this season. If Pavelec starts the percentage of the total goaltending monies that have been invested in him for this season he should start 69 of 82 contests this season. As noted above, he is slightly under pace for that through 12 games.
It may appear that the Jets are leaning heavily on their no. 1 backstop, but Winnipeg has invested heavily in the 26 year-old when it comes to their total goaltending budget. Pavelec is starting the percentage of games the Lundqvist's and Niemi's of the goaltending world are starting. The Jets expect Pavelec to be ready to go night and in and night out, and will play him as such, even if he faces the most shots of any goaltender in the league.
I've been a sports fan since before I can remember and although different from many of my southern peers, hockey has always been first (at least since 1999).
I am a junior at the University of Georgia majoring in digital and broadcast journalism and political science. In addition to The Hockey Writers and Sunbelt Hockey Journal, I have written for UGA's student newspaper, The Red and Black and wrote for my high school paper, Grayson High School's the Green & Gold. I was also a stringer for the Macon Telegraph during the 2012 college football season. I am now a student assistant with Georgia Sports Communications. Outside of school and writing, I play on Georgia's club hockey team, the UGA Ice Dogs in Division III of the American Collegiate Hockey Association.