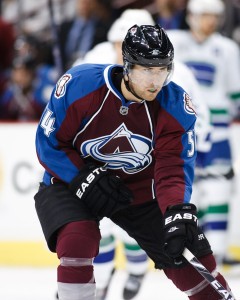 The Colorado Avalanche might finally have something going for them with two wins in a row. After a five game losing skid, they looked dead in the water, especially with two of those games being terrible one goal losses at home to division rivals the Minnesota Wild and the Vancouver Canucks.
One of the biggest changes for the team in the last couple of games has been the play of right winger David Jones. Jones is a bit of an underrated name on the Avalanche, not as flashy as the Matt Duchene's, Paul Stastny's or now Gabriel Landeskog's of the team but always there and in the past few years, always producing. Last season the Avalanche missed the playoffs in horrifying fashion but it was a break-out year for the former Dartmouth player. Jones scored 27 goals, tied for the team lead, and added 18 assists in the lost year for Colorado and was penciled in as one of the bigger names to watch in 2012.
Unfortunately for Jones, the oft-suffered injury bug bit him along with some sort of inconsistency bug at the start of the 2011/2012 season. When January had finished, he had only played in 43 games and had paltry numbers; nine goals and seven assists. February has been exceedingly kind to the winger so far though, as he's finally started to find his 'ice legs' as it were.
In the terrible last second loss to the Canucks, Jones notched his first goal in a while. Jones then scored two goals and got an assist as the Avalanche dismantled the Chicago Blackhawks 5-2. In their thrilling overtime victory against the Carolina Hurricanes, it was Jones who the offense ran through as he got two assists on some exceedingly pretty goals.
There's plenty that needs to change for the Avalanche if they want to make their push for playoff hockey a success. Matt Duchene is obviously going to have to come back on the ice at some point from his awful knee injury, and Semyon Varlamov needs to start playing like the #1 goalkeeper that they saw him to be when they traded two high draft picks for him in free agency.
One of the bigger points will have to be the continued resurgence of David Jones. It's no coincidence that the Avalanche won two straight games and were a terrible last second goal from winning a third while Jones began to heat up and bring the skills we saw bloom from him last season. He's probably not going to notch close to 30 again this year but if he can snag 20-25 it could help to launch a playoff campaign. Remember, this is an Avalanche squad with no true Superstars, so every role player has to help. And if there's any phrase that describes David Jones, it's 'Super Role Player'.