The Edmonton Oilers lef the lockout shortened 2012 with many holes to fill on their roster. Aside from a top defenseman and goaltending help, one of the biggest areas to address was adding grit and generally being a harder team to play against.
They lacked someone who could play in their top nine and get in opponents face as well as put the puck in the net.
They lacked a skilled agitator, a jerk to play against.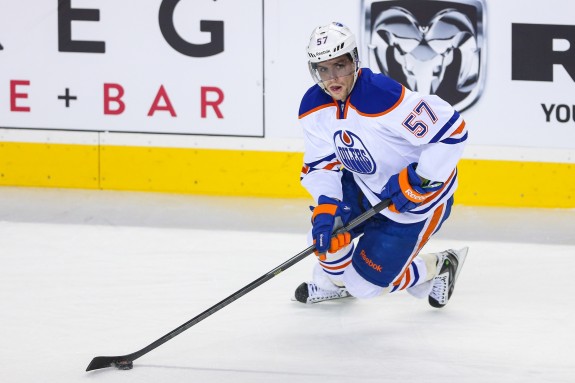 Luckily for them, David Perron has turned out to be a jerk.
He loves to get in other player's faces, "accidentally" giving goaltenders a snow shower and generally running his mouth.
He loves to get under opponents skin as much as he likes to score goals, and luckily for the Oilers the two seem to go hand in hand.
"When he's moving his feet and finishing his checks and playing a little bit of an agitating game, he's very effective," said coach Dallas Eakins. "It's almost like his hands light up, too."
The Oilers have been looking for the agitating type of skilled player since the days of Ken Linesman and Esa Tikkanen roamed the wings in the 1980's and early '90's.
Raffi Torres would be the most recent example, when he scored 27 in 2005-06 en route to the Oilers Stanley Cup finals appearance, but he left town seven years ago after four years in Edmonton.
Perron has been irritatingly effective so far, even though the Oilers as a team haven't been. He's second in points with 18 and tied for the team lead in goals with Jordan Eberle with 8.
He sports a -2 rating, which may not jump off the page, but on an Oilers team where many are in double digits on the minus side of the ledger, it doesn't look too bad at all. He's playing valuable 5 on 5 minutes as well as on the top power play unit.
He has recently found a home on the third line with Boyd Gordon and Ryan Smyth;
"I've wanted to play with Perron for quite some time," said Smyth. "He has an ability to hold onto the puck, and a guy or two, and still find ways to get a shot off or make plays. He's a guy who's not afraid to get in the corners. And you've got puck possession with Gordo winning the draws. I think the chemistry is going well. We get greasy."
He was traded in the offseason for 2009 #10 overall pick Magnus Paajarvi. While Perron's skill level has never been in question, the question of giving up on a 22 year old with the combination of size and speed Paarjarvi possesses, has been raised.
You have to give to get and Paajarvi never really proved he could be a regular in the top nine for the Oilers. At 22, he certainly has time to be a late bloomer and be an effective regular, but the Oilers felt Perron would be a good fit for the present and future. People seem to forget he's not that old, at just 25 years old himself.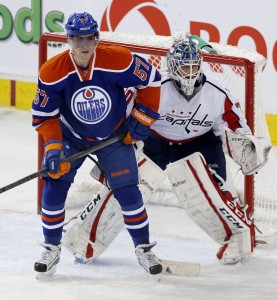 It's no secret that the Oilers still lack size in their forward ranks and are still searching for the coveted prototypical power forward that most teams seek. However there have been few successful teams that haven't had a player of Perron's ilk. Someone to irritate opponents, to get under their skin and draw penalties and still chip in with regular offence.
Players like Boston's Brad Marchand, Vancouver's Alex Burrows and newcomer Brendan Gallagher of the Habs to name a few are all making a living the same way and valuable members of their respective teams.
They are the sparkplug of a team and while opponents rarely have good things to say, you would be hard pressed to find a teammate who doesn't want them in the lineup every night.
The key now for the Oilers is to keep adding pieces and improving so Perron can play the same role in an Oilers playoff run and not a last place team.
___________________________________________________________
Follow Carl on twitter @maloney3383 and Google+ for more articles.
Carl covers the Edmonton Oilers for THW as well as providing additional prospect coverage. Follow him on twitter @carlTHW, connect on Facebook or contact at carl.maloney@hotmail.com for questions, comments or if you're interested in him writing for you.