After spending time with Shattuck St.Marys High School hockey program, David Toews chose to play for the University of North Dakota rather then the Brandon Wheat Kings – who drafted him in the 6th round of the 2005 Western Hockey League bantam draft.
"I was familiar with it(University of North Dakota) because my brother(Johnathon Toews) went that route" said Toews. "Having gone to Shattuck St.Marys high school in the States I had more exposure to College life style and it never really occurred to me to go to the dub(Western Hockey League) to begin with".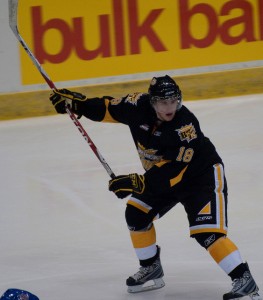 Toews seemed to struggle in point production with the University of North Dakota. In his rookie season he put up 11 points in 23 games, followed by putting up 15 points in 32 games during his sophomore year.
" It was a tough transition from Shattuck to the University of North Dakota" said Toews. "I gained a lot of experience and made a lot of good friends from playing down there".
During the interview Toews made it clear that schooling means a lot to him and his family. He also went on to show interest in Entrepreneurship, "I was interested in business and was looking on going into Entrepreneurship" said Toews.
"Schooling is important to me, I want to go back and finish my schooling when I'm done with hockey". " I never had any problems with my grades, and to be successful in life you need an education, its something I know and something I've been raised with".
The New York Islanders prospect explained that he left the University Of North Dakota for the Brandon Wheat Kings because he felt there was more opportunity in the Western Hockey League.
"I thought that playing more games was better for me" said Toews. "I thought being an older player in the league(WHL) I'd get more opportunity". "It's a tough load doing school and hockey, it's been a refreshing break just consternating on hockey this year".
During the interview I asked Toews to compare the compete level of the NCAA to the WHL.
"I think they're both phenomenal" said Toews. "Coming to the WHL with the younger players I didn't expect it to be as physically demanding". "Its really a professional league(WHL), I don't think any other league travels as much as we do". "It's completely different then college, where you have quite a few days to get yourself ready for a game".
The native of Winnipeg, Manitoba has seen his point production increase since coming over to the Western Hockey League. Toews has put up 23 points in 35 games this season, averaging a better point per game ratio then either season with the University of North Dakota.
Lastly, I asked Toews if he would start out with the Brandon Wheat Kings rather then the University of North Dakota if he had an opportunity to do it all over again.
"It would have been nice to go directly to Brandon" said Toews. "I learned a lot in North Dakota and both experiences have been good, I don't regret doing any of it"
CHL writer for The Hockey Writers. Follow me on twitter @kellyFriesen