After battling with a nagging knee injury that led to undergoing an osteotomy on his left knee, London, Ontario native Mike Van Ryn decided to retire from the National Hockey League with the Toronto Maple Leafs on June 30, 2010 and transition into coaching the Ontario Hockey League's Niagara IceDogs.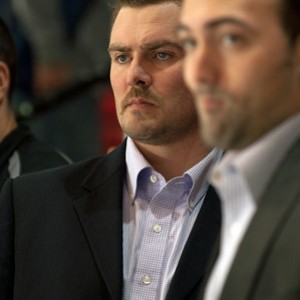 "When I knew I wasn't going to be returning to the NHL, I started looking into coaching jobs and my agent knew there was an opportunity here with Marty (Williamson, IceDogs General Manager/Head Coach)," he explains. "I met with Marty and the Burke's (IceDogs owners) and knew that it would be a great fit."
The new job would require Van Ryn, his wife Amber-Lyn, along with children Kaylie and Tucker to relocate from their main ranch just outside Fort Lauderdale, Florida, to Niagara-on-the-Lake, where they now feel right at home.
"When I got here I knew this is what I wanted to do and I'm very thankful that I'm here in Niagara," he expresses. "I like to get back to the country every chance I have to get back in the bush and look after the horses, but my wife and I have really grown to like it here and although she never thought she'd leave Florida, it looks like we're now going to be raising our kids in Canada."
The move came quickly after Van Ryn learned he would not be able to return to NHL playing shape, and after discussions with his agent and a recommendation from the Toronto Maple Leafs organization, he accepted the position with the IceDogs and hasn't looked back since.
"It's been a lot of fun working with the kids and trying to improve their games and build a championship team here in Niagara," says Van Ryn. "I've learnt a lot working with Marty and I'm hoping to learn a lot more from him.
"It's been a great experience so far; I came to the OHL after playing two seasons of College, so I know how great this league is and how much potential these young players have, and coaching them is the next best thing to being able to play the game."
Van Ryn's playing career began in Ann Arbor, Michigan where he played his first two seasons of junior hockey at the University of Michigan.
From there, Van Ryn was drafted by the New Jersey Devils in the first round of the 1998 NHL Entry Draft, before leaving Michigan to finish his junior career with the Ontario Hockey League's Sarnia String in 1999-00.
"I had a fun time in Michigan, but with so few games in that season, it's much harder to develop," Van Ryn explains. "My only regret was that I didn't come to the OHL sooner; with a professional atmosphere and over 60 games, it is definitely a great place for a young player to begin to further his hockey career."
Although he never ended up reaching terms with New Jersey, Van Ryn signed a three-year deal with the St. Louis Blues in June of 2000. He then played his first NHL game with the Blues in the 2000-01 season, while also spending time in the minors in Massachusetts with the American Hockey League's Worcester IceCats.
Van Ryn would then be traded to the Florida Panthers in 2003 where he played the bulk of his career, and where he also met his wife Amber-Lyn – a Florida-born "southerner", as he likes to call her.
In 2008, Van Ryn was traded to the Toronto Maple Leafs, where he played 28 games in 2008-09 before suffering the disappointing knee injury that would end his playing career in the NHL.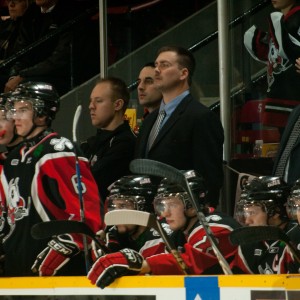 Van Ryn has since helped the Niagara IceDogs to a 27-10-2-3 record placing them 5th overall in the OHL standings. The bulk of his responsibility lies with the defensive squad, and he has helped breed some impressive future prospects – one being six-foot-four blue-liner Dougie Hamilton, who is currently ranked to go 7th overall in the 2011 NHL Entry Draft by the NHL Central Scouting Bureau.
At the ripe age of 31, Van Ryn plans on gaining as much experience behind the bench as possible while in the OHL, and maybe one day we will see him back in the NHL – as a coach.
Photo courtesy Joel Smith. For more great photos, visit www.joelsmithphotography.com or www.icedogsphotos.com
Journalism grad from St. Catharines, ON, Canada. Newfoundland heritage. Passionate about hockey whether it's junior or pro. News junkie and literature fanatic. Sun Media Reporter, The Hockey News intern, former Media Relations with the Ontario Hockey League's (OHL) Niagara IceDogs, contribute to an OHL radio show called In the O Radio (www.intheoradio.com), and write prospect features for Andy Strickland's TrueHockey.com. Follow @JeffBlay on Twitter.