Anyone who has followed me even somewhat frequently over the years knows I'm not a big fan of Todd McLellan. The former Sharks head coach and current head man of the Edmonton Oilers gets mostly praise around the league for his regular season record with the Sharks. While top players like Joe Thornton and Patrick Marleau are nothing but ridiculed for coming up short in the postseason, McLellan seemingly got a free pass for frequently being out-coached. Most notably, McLellan lost a clear chess match with Darryl Sutter in the 2014 playoffs. Sutter went four deep down the middle while McLellan went with a top-heavy lineup. As everyone knows, the Kings came out victorious. Of course there were lots of factors that went into the Sharks blowing a 3-0 lead, but McLellan's job behind the bench was one of them.
McLellan Took Over Dominant Sharks Squad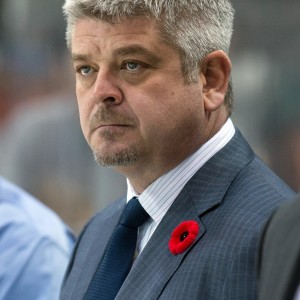 McLellan joined the Sharks the offseason after San Jose had a stellar regular season. He came along in the summer of 2008 after the Sharks nearly climbed out of a 3-0 hole themselves against Dallas in the second round of the 2008 playoffs. It took a quadruple overtime goal by Brenden Morrow for the Stars to prevent the series from returning to San Jose for a Game 7. That offseason the Sharks got even better by adding Dan Boyle and Rob Blake to the defense. McLellan is no doubt a good coach, but he is not significantly better than any of the other top 12-15 head coaches in the league. How many first year head coaches get to take over a team as stacked as the 2008-09 Sharks? Not many. His regular season record must be taken with a grain of salt.
In his seven years as coach, McLellan was behind the bench for 11 postseason series. That averages out to 1.57 series per season. His Sharks predecessor, Ron Wilson, a coach whom many hockey followers love to criticize, actually got more out of the Sharks with less. In his four full seasons as coach, Wilson led the Sharks to nine playoff series. That averages out to 2.25 series per year. A significantly better playoff performance with less talented teams, yet Wilson is the butt of jokes and McLellan is one of the best coaches ever? I guess this is lost in translation with me.
Wilson was the bench boss that brought the Sharks back from the 2002-03 dumpster fire, to respectability. McLellan followed up with high expectations and didn't get the job done. Now, in 2015, Peter DeBoer comes in with the same expectations of winning right away. Despite the Sharks missing the postseason for the first time in a dozen years this past season, they clearly have a roster capable of winning the whole thing. Let me just list off some of the veteran names on the roster:
Joe Thornton, Joe Pavelski, Marc-Edouard Vlasic, Logan Couture, Patrick Marleau, Brent Burns, Justin Braun, Joel Ward, Paul Martin
This is one heck of a veteran group of nine players that can lead the way playing big, big minutes and allowing the younger players a chance to develop in less minutes against lesser talent. That younger group is nothing to slouch about, either:
Tomas Hertl, Chris Tierney, Matt Nieto, Tommy Wingels, Martin Jones, Brenden Dillon, Mirco Mueller, Melker Karlsson, Barclay Goodrow, Ben Smith
Even with a conservative estimate here, the Sharks likely have two long-term top-six players developing out of this group, at least one top-four defenseman and at worst an average starting goaltender. All told, there are 18 skaters and one goalie mentioned among these two groups and there is something to like about every single one of them. This isn't even mentioning the fact that backup goaltender Alex Stalock still has some potential and that the Sharks prospect pool has gotten much better the last 2-3 seasons.
DeBoer Reign Should Feature Deeper Sharks Squad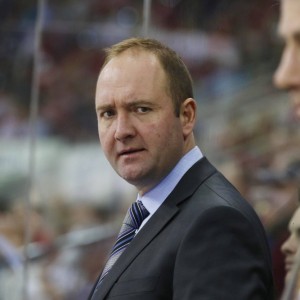 Like McLellan, DeBoer is taking over a Sharks team with a star-studded roster. General manager Doug Wilson has given DeBoer plenty of experience and talented youth with which to work. Considering Martin and Ward were brought in this summer as veteran free agents to significant contracts, the win-now expectation is obvious. Even though the Sharks are coming off a season where they missed the playoffs, the goal is once again to win the Stanley Cup.
Considering DeBoer has mentioned time and time again about playing a puck-possession game, Sharks fans should expect good things. In the Devils' 2012 Final run, DeBoer featured a fourth line in the playoffs that could actually play hockey. New Jersey ran with a line of Stephen Gionta, Ryan Carter and a player Sharks fans remember well, Steve Bernier. They were so good together for a significant stretch they even earned their own nickname. These three were an effective force throughout the postseason and the ability to roll four strong lines is something DeBoer's new club should have the ability to do this season. The Sharks finally have the depth to feature a fourth line capable of earning a nickname, something no fourth line for the Sharks under Wilson nor McLellan were able to accomplish.