The Nashville Predators' much anticipated 2015-16 season opener is against the Carolina Hurricanes on Oct 8. Afterwards, the Predators will proceed to play 81 more games in efforts of prolonging its season into the playoffs in April. With a bolstered, more experienced roster, there are high hopes for Nashville in the upcoming year.
Below are three bold predictions for the Preds.
Roman Josi Will Win the Norris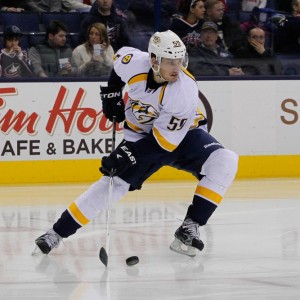 There is not a more underrated defenseman in the NHL than Josi. Last season, the Bern, Switzerland native ranked tied-for-fifth among all defensemen in scoring with 55 points (15 goals, 40 assists) in 81 games, recorded the fourth-most time on ice per game in the league at 26:28 and accumulated the second highest blocked shots in the league at 209. Despite the dazzling statistics, Josi was somehow snubbed of being a Norris Trophy finalist.
However, it will be Josi's time to shine in 2015-16. At just the young age of 25, he has yet to reach his full potential in the league.
For Josi to win the hearts of the voters and be awarded the Norris, he will have to score at least 60 points in addition to maintaining a high time on ice per game and shot-blocking total.
James Neal Will Score 60 Points
It is no secret that I think Neal was disappointing in his first year with the Predators. In 63 games, the native of Whitby, Ontario scored just 37 points (23 g, 14 a), which was his lowest offensive numbers since his rookie season with the Dallas Stars in 2008-09 when he tallied 37 points (24 g, 13 a) in 77 contests. His mediocre scoring totals ranked him eighth on the Preds.
But after a year of getting adjusted in Nashville, the left winger should feel more comfortable entering this season alongside center Mike Ribeiro, relieved from a lingering sexual assault case, and right-winger Filip Forsberg, who will be in his second year in the league. Though it does not compare to playing with superstar Evgeni Malkin of the Pittsburgh Penguins, that first-line trio is a deadly combination built to score goals — and lots of them.
Requesting Neal to score 60 points is not asking for too much either. In each of his last three seasons in Pittsburgh from 2011 to 2014, he was a near point-per-game player.
Predators Will (At Least) Reach Conference Finals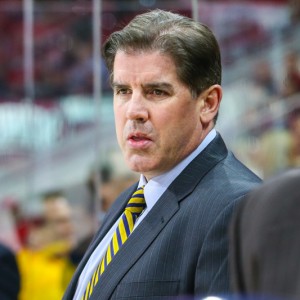 On paper, this 2015-16 Predators is the best team from top to bottom in franchise history. If Nashville did not already have the best defense corps in the league, headlined by the best D-pair in Shea Weber and Josi, it definitely does now with the free-agent signing of veteran Barret Jackman. The team also added to its forward depth by signing UFA center Cody Hodgson, a former 20-goal-scorer seeking redemption in the NHL and will play on the third line. And of course, the Preds are led by three-time Vezina Trophy finalist Pekka Rinne between the pipes.
With that being said, history is bound to be made because the Predators' roster is just too good. In the Preds' 16-season existence, the franchise has yet to advance past the second round. That is sure to change this year.
Head coach Peter Laviolette was able to take Nashville to the playoffs for the first time in the three seasons in his first year as bench boss. Despite having the talent to do so, it was no small task since Laviolette essentially threw previous head coach Barry Trotz's style out the window. Laviolette implemented an uptempo, offensive system that was unheard of in the organization but has shown positive results. Nashville's goals-per-game went from 2.61 in 2013-14 to 2.76 last season.
Not only will the Predators have a better roster, but it will have already adjusted to Laviolette's system this year.
Advancing to the Western Conference Final is not far-fetched since Nashville is the only playoff team from the Central Division to improve this offseason. The St. Louis Blues were quiet, except for trading T.J. Oshie to the Washington Capitals in exchange for Troy Brouwer; the Chicago Blackhawks depleted its Stanley Cup-winning roster to get under the salary cap; the Minnesota Wild return with virtually the same red-hot team from after the All-Star break, putting all its faith in streaky goaltender Devan Dubnyk; and the Winnipeg Jets will see a return from its prodigal son Alexander Burmistrov to the team, which lost Michael Frolik.
If the Preds were to ever have a historic season, now is the time.
Colin Fitts is a Nashville Predators staff writer for The Hockey Writers. You can follow him on Twitter, @FittsTHW.
Colin Fitts is a Nashville Predators staff writer and is a credentialed media member of the Chicago Wolves. From Nashville, Tennessee, Colin majors in journalism and public relations at Columbia College Chicago. Follow him on Twitter, @FittsTHW. Email: 22fitts [at] gmail [dot] com.