For a brief moment this summer it looked as if the Vancouver Canucks' staff had lost it. I mean, completely lost it. However, after taking a step back from the situation and recouping hard feelings of loss for fan favorites no longer with the team, a deeper analysis showed that the Canucks aren't as roughed up as some believe. They aren't going to make the Stanley Cup Finals, no doubt about that, but for those who are predicting the Canucks to be one of the worst teams in the West might want to reconsider their opinion.
The Canucks' depth barely leaves room for any youth to move up. The defensive core will see the biggest change on the roster as Yannick Weber and Frank Corrado earned full time roles with the club, and in the crease an unproven youngster with dwindling time to redeem himself is Jacob Markstrom. Up front however, the team remains largely the same and boasts a lot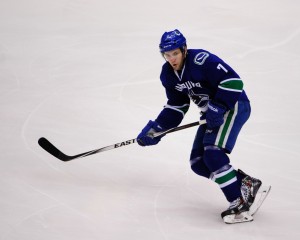 of veteran talent. Horvat will see increased responsibility and Linden Vey will more than likely start the year centering the fourth unit.
Other than those names, the Canucks are moving forward with a seasoned roster.
Now, none of this means the Canucks are home free…by any means. The team is aging, they lack any proven explosive offense besides that of Henrik and Daniel Sedin and they are rolling with a mediocre veteran goaltender who is flanked by a very unpredictable 26-year-old rookie.
As the days pass by and we edge closer to puck drop on the 2015-16 season, the Canucks will need to prepare for some obvious challenges. Challenges that stem from both their own infrastructure and the nature of their division.
Staying Healthy Means a Competitive Season for Vancouver
The way it is now, the Canucks have a solid 20 man roster. They have a diverse mixture of speed, grit and skill and have a proven goalie that they hope to rely on. The problem with their roster, that arises quickly after counting the 20th man, is NHL-ready depth.
If the Sedins fall victim to age as many elite players do, and incur injuries this season, the Canucks have nobody capable of filling a first line role – except Radim Vrbata who is approaching 36 this coming season. Bo Horvat had an impressive and surprising rookie year, Sven Baertschi showed his potential in his short call up towards the end of the year and Jannik Hansen has shown scoring ability…here and there. Who else would qualify as a first line option in Vancouver?
Nobody.
It's not that most teams equip themselves with four first lines, but the Canucks have a first line and three third lines. Any injuries anywhere in the lineup and the Canucks will be left with a hole they can't efficiently fill.
Is Ryan Miller's Time as an NHL Goalie Done? Can Jacob Markstrom Finally Prove Himself?
As always, the goaltending fiasco in Vancouver continues. Eddie Lack who seemed to be the long awaited promising and stable future that Canucks fans were hoping for left the team with an aging and unadaptable Miller, and an unpredictable, yet-to-prove himself  Markstrom.
If last season was an indicator of things to come for either of these goalies, the Canucks are in for a long season. With the majority of their games against high powered opponents like Edmonton, San Jose and Anaheim, the Canucks must have stability in net – and neither Miller nor Markstrom have displayed that…at least not last year.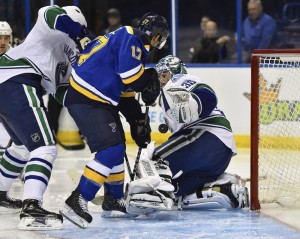 Miller has had some incredible success in the National Hockey League, but his last truly productive season was in 2009-2010. He has not been able to keep form over the past four seasons and,at 35, he's walking a fine line between finishing his career as a great goaltender or just another average Joe. Miller will need to have a stellar comeback season if he wants to give his team any chance of being competitive in the post-season.
On the other hand, at 26, Markstrom has never been successful in the NHL. All of his stints with both Florida and Vancouver have ended with subpar statistics and questions about his NHL abilities. But after his stunning performances throughout the 2015 Calder Cup Playoffs, Jim Benning endorsed Markstrom with the ultimate act of faith – he traded away the only other NHL caliber goalie in the organization in order to make room for him.
Like Miller, Markstrom is teetering on a fine line and needs to prove everything he's worth this year.
If the Sedins Have an Off Night, Can Someone Else Step Up?
Okay, maybe Horvat explodes for 50 points. Maybe Vrbata earns another contract in the NHL and records another 60 point season. Maybe even Hansen shocks the world and posts a 45 point year. Notice the key word here. Maybe.
The Canucks have no one to rely on for secondary scoring. As it stands now, the team can put their trust in four players to produce at least some offense: Henrik, Daniel, Burrows and Vrbata. Apart from those four players, there is nobody on the Canucks that has had much luck as of late in terms of producing on a consistent basis.
For the Canucks to compete against their favored counterparts in the Pacific Division, depth scoring from players on the third and fourth lines will be vital to their successes this year.
I cover all things Vancouver Canucks, the NHL's player conduct policies and anything else exciting about the league.