Something strange is happening right now with the Vancouver Canucks. Predicted not to do much prior to this season, they returned earlier this week from a five-game road trip where they picked up eight points, when in truth, it would have been an achievement to even go .500.
Now, following Thursday night's comprehensive 6-2 beat down of the Washington Capitals, the Canucks find themselves in the heady heights of fourth place in the Western Conference. The unexpected run of form may not last, but fans should enjoy it while it lasts.
Perhaps best summing up this unlikely start to the 2017-18 campaign, is the play of Derek Dorsett. Maybe more specifically, his points production.
Sorry, WHO'S Leading the Canucks in Goals?!?!
Dorsett leads the Vancouver Canucks with six goals (and is tied for second on the team, with eight points overall). To say this was not expected, would be an understatement of major proportions.
The 30-year-old is renowned for being one of the more physical players in the NHL. He loves nothing more than getting under the other team's skin, initiating contact and generally agitating opposing players whenever possible.
What Dorsett isn't renowned for, is being a particularly gifted goalscorer. Entering this season, he had scored just 44 goals in 495 games, with a career-high of 12 during the 2011-12 campaign.
At his current pace, the winger is projected to score 49 goals and 66 overall points, which would destroy his previous bests in those categories. In other words, he shouldn't be counted on to keep up his present pace.
Regardless, it's fun to watch and you can argue no one deserves to be enjoying themselves as much as Dorsett is right now. He's essentially had little regard for his body over the years, which came to a head last season.
Season-Ending — and Career-Saving — Surgery
The 2006 seventh round draft pick saw his season ended shortly before Christmas. The Vancouver Canucks confirmed he would need cervical disc surgery in his neck.
The surgery became necessary due to degeneration in Dorsett's neck, something which had apparently been an issue for "five or six years". However, while no timeline could be confirmed at the time, there was never any doubt he would make a full recovery from the procedure.
The Kindersley, Saskatchewan native knew the surgery was necessary to save his career and ensure his long-term health away from the game. However, you imagine it must have been an extremely frustrating time for him, after beating the odds to play nine years in the NHL.
Understandably, many fans wondered if Dorsett would be ready for training camp. When he was, thoughts then turned to if he would be able to make the Vancouver Canucks' opening night roster.
Interestingly though, new Canucks coach Travis Green was further along in his thought process, contemplating if the former New York Ranger was capable of playing 15-16 minutes per night. As reported by Jason Botchford of The Province, Green recently said:
"I know what kind of player he is, the energy he brings. I know he's a fairly good penalty killer.

"I thought looking at the lineup him and (Brandon) Sutter could be a fairly good penalty killing pair. But there was also a wait and see with Dorsett. How was he going to come back from his injury? That was a big question mark for us.

"It kind of just fell into place."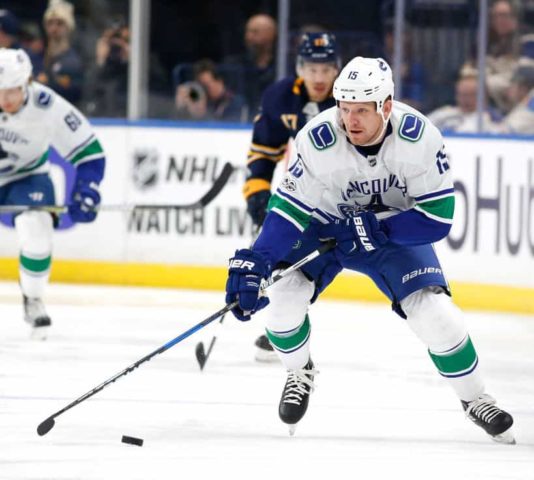 It kind of just fell into place – Talk about another case of a major understatement, not that anyone in the Vancouver area is complaining. It's entirely possible the extended break from playing allowed Dorsett to become even more appreciative of the game (if this was even possible).
Dorsett's New Lease of Life
Given the way Dorsett's been playing so far this season, it's clear he feels like a new man, both physically and mentally. While we realise it's still early in the season, at his current rate he would finish with the second-highest average ice time of his career.
Canucks fans can only hope the 2006-07 WHL champion takes slightly more care of his body, although old habits are often hard to break. It should come as no surprise that he also leads the team with 44 penalty minutes. (Erik Gudbranson is the only teammate who is even remotely close, with 27.)
Overall, Derek Dorsett is not going to keep up his current points production. However, we'll have absolutely no issue if he proves us and everyone else wrong, just as he has done throughout his career.