If you ask any Flyers' fan what happened during this five-game stretch, my guess is there will be a ton of chatter about the officiating, and rightfully so in some cases. Nevertheless, the Flyers did not manage to keep the ball rolling during their homestand and consequently dropped three games, two at home and one in Ottawa.
Record: 5-5-0
Game 6: Florida – W 5-1
Game 7: Nashville – L 1-0
Game 8: Edmonton – W 2-1
Game 9: Anaheim – L 6-2
Game 10: Ottawa – L 5-4
The Flyers' First Line Stays Hot
If there was one big positive that came out of this stretch, it's the first line. The trio of Claude Giroux, Sean Couturier, and Jake Voracek has been one of the most prolific lines in the NHL so far this season. They're not Stamkos-Kucherov hot, but the three players have combined for 37 points in 10 games and fantastic 56.6% CF%. They've been dominant at even-strength – 11 of their 13 goals have been tallied at 5-on-5 play, an area where Giroux was heavily criticized in the past.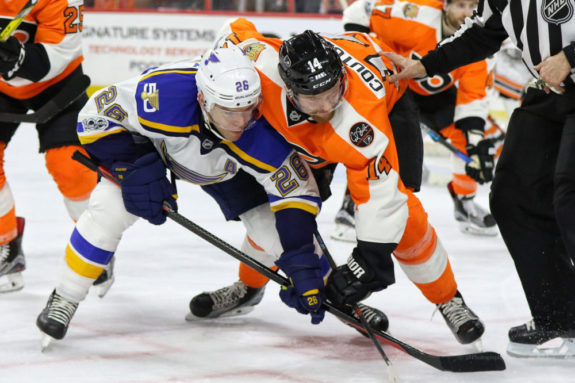 Couturier appears to be the first line center the Flyers drafted back in 2011. Although his past metrics suggest that he already was a number one center at even strength without Giroux and Voracek, this year he is finally seeing some results. The 24-year-old has seven goals in 10 games – it took him 25 games to hit that same goal mark last season and 28 games to reach 12 points. Everything seems to be going great for Couturier, but can he keep up the pace?
Rookies Learning the Hard Way
It would be an understatement to say the Flyers' fanbase are loving all the young talent on the roster, but with all the joy comes a bit of misery. The quartet of Shayne Gostisbehere, Ivan Provorov, Travis Sanheim and Robert Hagg have a combined 262 games of experience, and Gostisbehere has played 152 of those games. The lack of experience is clear, but it's all part of the process.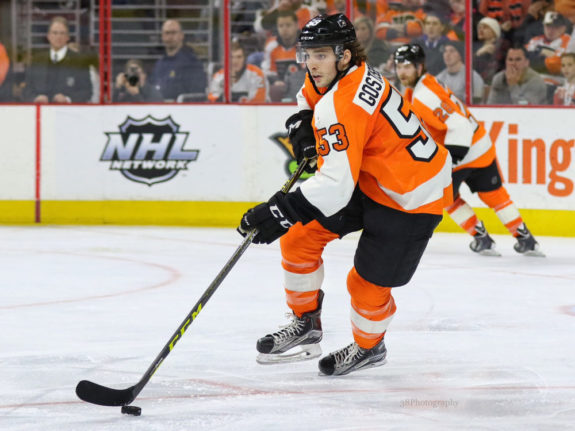 Those who thought the youngsters would come in and dominate had their hopes a little too high. We've witnessed some great things from Hagg, who hasn't been afraid to throw the body around and has played a very sound overall game. Sanheim has had a bit of trouble adjusting to the new level of speed, but he's shown a great ability to read plays offensively and jump in to generate scoring chances.
Nolan Patrick was taken out of the game against Anaheim after taking a hit from Chris Wagner of the Anaheim Ducks. The hit was not predatory, but the impact was significant enough that Patrick's head bounced off the glass and forced him out of the game and out of the next contest against Ottawa. The Flyers appear to be cautious with their prized possession.
Coaching Questionmark
Andrew MacDonald has been sidelined for weeks after blocking a shot and it appeared as though Samuel Morin would be called back to the Flyers. This was not the case, and Brandon Manning took over the extra spot, much to the chagrin of the fans. The question remains: is Dave Hakstol an efficient NHL coach?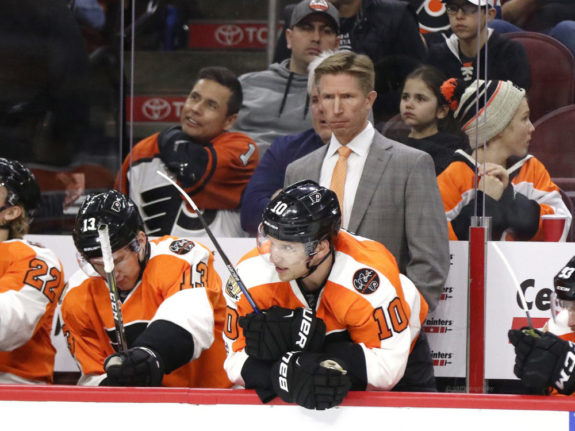 Since his arrival, the Flyers made the playoffs in a year they shouldn't have and he's boasted a decent record (85-65-24). That being said, his line management and lineup decisions have been iffy, to say the least. He appears to have more trust in "vets" like MacDonald and Manning instead of letting rookies Sanheim and Morin play through their mistakes and learn from them. His challenge earlier in the season cost the Flyers a  point and maybe even a win. Is he the right guy for the future?
Officiating Kills Flyers in Canada
I'm never one to blame a referee for a loss. This season, the officiating has had its ups and downs, which is normal. However, during the last game in Ottawa, the Flyers were robbed of a goal with less than a minute remaining that would have tied that game and likely sent it to overtime. They had already been disallowed one goal due to goalie interference, a call that some would judge as questionable, but it was a coin flip and understandable. Hakstol was not afraid to voice his displeasure after the game:
"I watched the puck go over the line and that's 100% a goal and I don't know how that's missed."
It was nice to see the Flyers come from behind despite facing such adversity, but they came out flat in the first period and went into a 3-0 hole early on, so they should have had a better start to the game.
The Flyers will face a few tough opponents during their next five games, including the Leafs, Blackhawks, and Blues.
Former intern at The Hockey News. Young, passionate hockey writer with a wealth of hockey knowledge. Journalism graduate. Always following the current hockey news in the NHL and CHL. Primarily write about the Philadelphia Flyers.