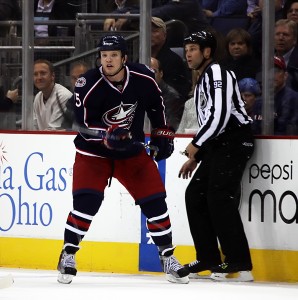 By Rick Gethin
Agitator, gritty, plays with sandpaper, energy guy, Tazmanian Devil. These are but a few terms that describe Derek Dorsetts' style of play. Having made his mark as a guy willing to drop the gloves at the drop of the puck, he now is playing with a higher skill level than had been seen in the past. Standing at only 5'11", he plays like a much larger skater.
Dorsett hails from the small town of Kindersley, Saskatchewan. Former Blue Jacket Curtis Glencross is also from Kindersley and their parents know each other. Although Derek didn't know Glencross, his brother was friends with him.
He played his junior hockey with the Medicine Hat Tigers from 2004-2007, of which Jason Chimera was also a member. While only there for three years, he left his mark, ranking 18th all-time in the history of the team in penalty minutes with 593. In the 2006-07 season, he led the team with 206 PIM and was 2nd in scoring with 19-45-64.
He was drafted by the Columbus Blue Jackets 189th overall in the 2006 NHL Entry Draft. He spent the 2007-08 season with the CBJ affiliate Syracuse Crunch (AHL), racking up 289 PIM. In 2008-09, he garnered 150 PIM trying to make a name for himself with the Blue Jackets in just 52 games. This season he has solidified his spot on the roster playing on the 3rd line with Samuel Pahlsson and Jason Chimera. Going up against the opposing teams top lines night after night has shown that his game has improved; his vision on the ice is much better than his rookie season. But the grittiness is still there, as he has 40 PIM through 11 games so far. That number is sure to go up.
Having been up and down last season, this year you seem to have found a home on the 3rd line.
     It's something that I didn't expect but I always wanted to get to as a player. I still have alot to do to establish myself as a full-time 3rd liner. I take it day by day and everyday that I get a chance to be on the 3rd line I'm going to work hard. I feel priveleged to play on that line.
Jason Chimera said that last year that you were running around like a Tazmanian Devil, yet this season you seem to have better speed and are making smarter plays with the puck.
     Yeah, for sure. Obviously it comes with time and confidence. To start, you want to make sure that you earn the respect of your team-mates and earn the respect of the guys in the league. Maybe that's what I was doing last year when I was running around and trying to make a name for myself a bit. Last year I was in the role where I had to create energy and stick up for the guys on the team; not that I don't have to do it still. This year it's changed a little where now I'm on the 3rd line and playing against other teams top lines. You have to play real smart and not get out of position; you have to pick your spots to finish your checks.
Jason Chimera said that he takes credit for you in Columbus as you were both Medicine Hat guys (WHL).
     There's always older guys in the dressing room that take you under their wing, and Chimmer has helped me out alot. I remember my first (training) camp here Chimmer came up to me and said if you ever need anything, just give me a call. If you need to know where to go in the city to eat or anything like that, don't be afraid to ask. That means alot when you're a young guy coming into an NHL training camp and you don't know what to expect the first time. It makes you feel welcome and comfortable if someone is there to help you.
Does the contract extension that you signed in September give you peace of mind?
     It was comforting to know that they want me here. They didn't have to give me the extension. All they had to do was qualify me at the end of the year. It gave me alot of confidence and I really appreciated it when they came to me with the offer.
Do you think playing a smarter brand of gritty, sandpaper hockey endears you to Ken Hitchcock (Head Coach)?
     It goes back to me getting a late start in junior hockey. I've always been a gritty guy, it didn't matter what age group I was playing at. Whether it was mini-mites or novice or whatever it was, I was always gritty. It comes from my background; where I grew up, how I grew up and the family I came from. The support I get from Hitch is great.
Who do you share a hotel room with when you're on the road?
     Jared Boll. I was all over the map last year then me and Boller kind of got united.
Who is the biggest prankster on the team?
     I'd have to say Jared Boll. He's always playing pranks on everyone.
If you had to pick just one guy, who would you say is your mentor on the Blue Jackets?
     If I had to pick one, it would be Mike Commodore. If I had a problem or something, I'd go to Commodore.
What is your favorite music?
     I'm all over the map. Anything and everything. Except heavy, heavy metal and heavy punk.
What is your favorite beverage?
     Iced tea.
When you were growing up, what hockey player did you look up to?
     With me, every year it changed. I guess, if I could be like one guy that's played the game, it would be Steve Yzerman.
There you have it; a gritty, blue collar player who has endeared himself to the coach and to the fans in Columbus. He's a hard worker who gives his all when he's on the ice and that goes a long way with Hitchs' brand of hockey.