Jim Neveau, Blackhawks Correspondent
Way back in August, when the temperature was still pleasant in the Chicagoland area, 34 of the best US born hockey players in the NHL gathered in Woodridge, Illinois for the United States Olympic Orientation Camp. For three days, these players ate together, practiced together, and participated in various team building exercises, in an attempt to get them to gel as a cohesive unit.
Granted, a lot of the attention at the camp was paid attention to Chicago Blackhawks RW Patrick Kane and his legal issues at the time, but there were certainly some battles that warranted attention from observers of the team. One such battle was between the goaltenders, with Ryan Miller and Tim Thomas both showing off their skills.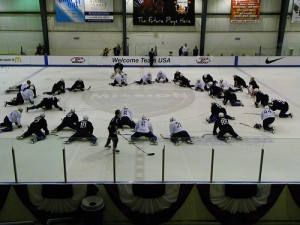 Players also sought to make a name for themselves, like Erik Johnson of the Blues and Dustin Byfuglien of the Blackhawks. These youngsters aren't household names in the NHL, but they both bring unique skill-sets to the team.
After camp, the players dispersed for one more break before beginning training camp less than a month later, and the NHL season has begun in earnest, so it seems like an ideal time to see where we are with less than two months remaining until the final team is announced on January 1st during the Winter Classic.
Here is a list of the players who are standing out, and those who weren't invited to the camp, but could be potential sleepers to make the squad.
Stand-out Camp Invitees
Ryan Kesler, Center, Vancouver Canucks
Kesler has had a blistering start for the 'Nucks, scoring five goals and eight assists in the early going. He also has been lethal on the power play, with two goals and four assists coming with the man-advantage. This has certainly helped ease the blow of losing LW Daniel Sedin to injury. He has also shown a propensity for stellar defensive play.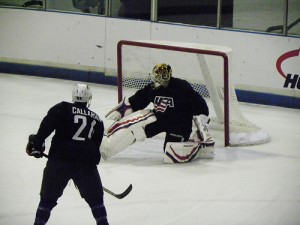 Paul Stastny, Center, Colorado Avalanche
Stastny has been a big part of the early season success for the Avalanche. The center, who was plagued with injury most of last year, has four goals and nine assists on the young season, and four of those points have come on the power play. If he can stay healthy, he could be a one man wrecking crew up front for the US.
Ryan Malone, Left Wing, Tampa bay Lightning
Malone has helped lead a turn-around of sorts for the Lightning, who are rebuilding around young stud Steven Stamkos. Malone has contributed eight goals to the cause this season, which leads the team. He is a talented sniper who is only getting better as the season progresses.
Zach Parise, Left Wing, New Jersey Devils
After scoring 46 goals last year for the resurgent Devils, Parise has picked up right where he left off, scoring six goals and adding eight assists in the early going. He also has a +7 on a team that has been struggling for wins, a clear indication that his defensive play is coming along nicely as well.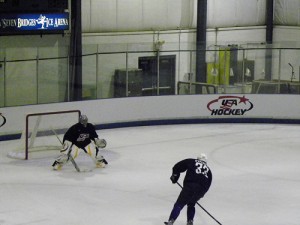 Dustin Byfuglien, Right Wing, Chicago Blackhawks
Byfuglien has been long regarded as just a big body who has difficulty handling the puck and his emotions, but he has begun shedding that label this year. He has five goals in the early going, including two on the power play. He also has racked up 26 penalty minutes, which indicates that he hasn't completely forgotten his physical roots. Team USA could use a big bodied scorer like Byfuglien on their power play, so if his play continues, he will be a valuable asset.
Kyle Okposo, Right Wing, New York Islanders
Okposo is part of a youth movement on Long Island, along with centerman John Tavares. Okposo has already notched three goals and seven assists in the early going, including an excellent six power play points. Even though he missed the Camp in Woodridge while recovering from an injury, he has made a solid impression early on. In a deep right wing field, Okposo could provide some youth and exuberance to a team that sorely needs it.
Erik Johnson, Defenseman, St. Louis Blues
Johnson was the talk of camp (outside of the quicker cabbie-beater-upper Kane), where he showed up with 30 pounds of fresh muscle after sitting out all of last season with a freak foot injury caused by a golf cart, maybe he should have been reading golf limericks instead of playing. He astonished with his speed, and also his physicality. His puck-handling and passing were crisp also. That has carried into the regular season, where he has seven assists and a +3. If he keeps up even remotely close to this pace, he is a virtual lock for the squad.
Ryan Whitney, Defenseman, Anaheim Ducks
After his much publicized trade to the Ducks last season from the Penguins, Whitney continued producing at a solid clip, notching 10 assists in the final 20 games of the season. He has continued this solid production this year, with a goal and six assists to his credit through the first 12 games for a struggling Anaheim squad.
Ryan Miller, Goaltender, Buffalo Sabres
After an ankle injury robbed him of some of his season (and likely robbed Buffalo of a playoff spot), Miller has stormed out of the gate this year, posting an 8-1-1 record with a 1.86 GAA and a .936% save percentage. He also has a shutout for the hot Sabres, who are one of the NHL's surprise teams. He is winning the battle with fellow camp invitee Tim Thomas, to be sure, and is likely a lock for the squad.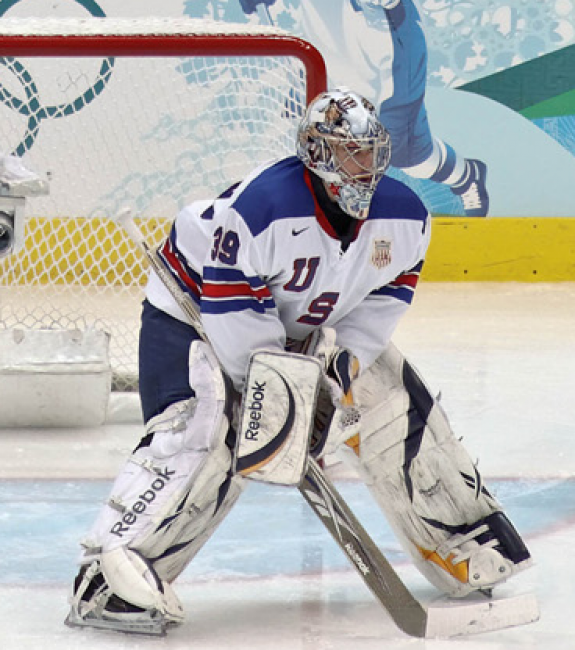 Potential Sleepers
Brandon Dubinsky, Center, New York Rangers
Dubinksy, who quite a few pundits and puckheads thought should have been invited to the camp in Woodridge, has had a good start for the Blue Shirts, scoring three goals and six assists in the early going. He also has a +6 to boot.
James van Riemsdyk, Left Wing, Philadelphia Flyers
After scoring 28 goals and 46 assists in his 67 game college career at the University of New Hampshire, van Riemsdyk has started out remarkably well in his first NHL season, scoring a couple of goals and adding 11 assists to a Philly team in desperate need of offense. He also has a +6, and three power play assists to go with it. Team USA is definitely in the throes of a youth movement, and van Riemsdyk is one of the best young Americans out there right now.
Drew Stafford, Right Wing, Buffalo Sabres
Stafford's stats don't jump out at you immediately: four goals through 11 games isn't exactly a way to crack a deep potential rotation of right wingers for the US squad, but the way he has scored those goals is impressive. He has played an average of 3:34 of power play time a game, and he has scored three goals with the man-advantage. He has been a big part of Buffalo's improved power play this season, and he could be a big contributor to a US man-advantage unit as well.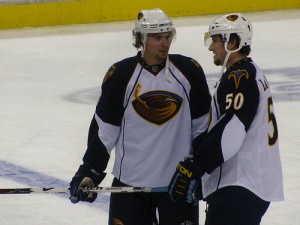 Zach Bogosian, Defenseman, Atlanta Thrashers
His teammate Ron Hainsey was the lone Thrasher selected to attend the US camp in August, but the 20-year-old Bogosian has made a lot of headlines of his own this season. He has already scored five goals on the young season for Atlanta, and has also racked up 12 penalty minutes. He is a big, physical presence who can score goals as well, and his quality two-way play could be a huge asset to the US blue line. His candidacy may be a long shot, but he's definitely worth a look.
Craig Anderson, Goaltender, Colorado Avalanche
Goalie was not supposed to be a position of need for this US bunch. With two high quality backstops in Tim Thomas and Ryan Miller battling for starting duties at camp, not much thought was given to other possible contenders. Yes, Rick DiPietro may be an option when he returns from injury, but no goalie in the league has been better than Anderson in the early going. He already has 10 wins for a Colorado team that went nowhere last year, as well as a 2.11 GAA, a .936% save percentage, and has two shut-outs on the young season. If he continues to put up good numbers, he could join the rotation in Vancouver.
Yes, there are still 57 days until the final US roster is announced, and there are sure to be a billion and a half different interpretations of what Brian Burke and Ron Wilson will do, but one thing is for certain: the young hockey talent in the US is growing by leaps and bounds, and the fruits of that growth will begin to be seen in Vancouver in February.