One step, maybe. Two steps, highly unlikely. Three steps, forget about it. Catching up to an NHL speedster when they've gotten the jump on you is difficult, frustrating and usually isn't going to happen.
While they may be easy to finish a check on because of their size, you have to make sure they don't slip away with a quick burst. Pavel Bure, Geoff Sanderson, Brian Leetch and Todd Marchant are a couple of guys who are familiar with the subject especially the latter as he's continuing to perform at 36-years-of age.
You know what one of the better things that separates hockey from other sports is? It's the speed of the action and I have 20 players here who can crank it up a notch or two.
20) Jason Chimera (Columbus Blue Jackets)
There aren't many with the height of Chimera who can excel on their feet. The 30-year-old has mesmerising speed and the frame to plunge himself towards the front of the net with it. Too bad he doesn't have the softest of hands.
However, Chimera is a good penalty-killer and decent role player earning a living in the NHL the good old fashioned hard way.
19) Mike Green (Washington Capitals)
Green scored 31 goals a year ago and took 243 shots. How do you think he finds himself with all of those offensive opportunities? Starting behind his own net, he can skate end-to-end unassisted to create something for Washington.
Prone to making errors in his zone, Green more than makes up for it on the man-advantage sending bullet shots and crisp passes.
18) Erik Cole (Carolina Hurricanes)
Put your head down and skate hard; something most coaches will tell you is necessary to gain access around a defender. Cole is someone who uses that method as much as anyone and works it to his advantage beautifully.
He also protects the puck extremely well with his body and has a knack for making something out of nothing.
17) Mikhail Grabovski (Toronto Maple Leafs)
The charging and at times feisty Belarussian has found out how sweet life can be without Guy Carbonneau breathing down his neck. In a market as desperate as Toronto's is for a winner, I'd say Grabovski has earned his respect from the fans.
Hesitant to unleash a shot sometimes, Grabovski doesn't mind turning on the turbo after crossing center ice.
16) Dan Boyle (San Jose Sharks)
Some powerplays operate with five forwards on the ice including the back-end. San Jose doesn't have to resort to such a strategy because Boyle's presence is as good as any forwards from the blue line.
Eloquent and fluent on his feet, Boyle can always be relied on for production being a part of a select group of defensemen capable of reaching 20 goals.
15) Brian Campbell (Chicago Blackhawks)
Confidence is what gives Campbell such a noteworthy mobility. His trademark spin-o-rama, patrolling of the powerplay and uncanny ability to know where everyone around him lies overshadow his defensive woes.
With multiple All-Star Game appearances, Soup has come a long way since being drafted 156th overall in 1997 by the Buffalo Sabres.
14) Ilya Kovalchuk (Atlanta Thrashers)
The Russian's one-timer is enough of a distraction to forget about the blazing footwork he possesses as well. If I were asked which players I wouldn't want to face defensively in a one-on-one situation, Kovalchuk would be near the top.
A sniper with superb puck handling and an innate awareness of time and space, Kovalchuk has mastered the art of a perfectly timed rush.
13) Martin St. Louis (Tampa Bay Lightning)
St. Louis can find the open space for a breakaway or shorthanded opportunity in the blink of an eye. This Stanley Cup winner, who went undrafted by the way, brings 100 per cent perpetually in every second of a game.
What's unique is the agile balance he has on his skates allowing him to twist and turn for a shot or shoot-out maneuver.
12) Scott Niedermayer (Anaheim Ducks)
The future Hall of Famer makes it look effortless and easy. For Niedermayer, it's more about technique than pushing himself constantly. Honestly, it looks like he's hardly moving yet he separates himself from the pack unbelievably.
Approaching another tremendous season, Niedermayer's retirement will spell the exit of one of the game's elite skaters.
11) Milan Michalek (Ottawa Senators)
Whatever value the Senators receive in return for Dany Heatley will come mostly from Michalek who has already notched two shorthanded goals courtesy of his awesome jump. The Czech native disguises himself well prior to taking off.
On a line with Jason Spezza, Michalek has fit in well giving the center a break-out pass availability to search for constantly.
10) Torrey Mitchell (San Jose Sharks)
Sidelined with a leg injury for all of 2008/2009, two of the six playoff matches and the early stages of this season, Mitchell has not caught many breaks. But his jet-like quickness and determination earned him a three-year contract with the Sharks.
When Mitchell returns, San Jose will be happy to re-introduce him to the penalty kill which is already operating at 85 per cent.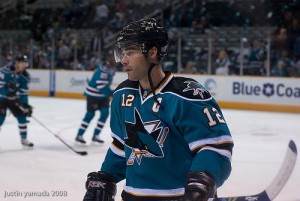 9) Patrick Marleau (San Jose Sharks)
Another veteran proving that agility isn't always associated with just youth. San Jose can take away his captaincy but they can't remove the wheels that have caught defender after defender off guard.
Last month, Marleau tied a franchise record for fastest third period goal scoring nine seconds in against Minnesota using his excellent leg work.
8 ) Phil Kessel (Toronto Maple Leafs)
Putting Kessel on a line with Jason Blake and Mikhail Grabovski would form one of the better energetic trios in hockey. A decent dangler, the 22-year-old moves swiftly and has a mean release on his shot.
No matter how hemmed he is, he invariably breaks out thanks to his inimitable shiftiness and feints.
7) Andy McDonald (St. Louis Blues)
McDonald's electric mobility is ideal for entering the zone on a man-advantage and setting up the powerplay. At 5'10" in height, zest gives him space away from heavy fore-checkers who are seeking a big hit.
But McDonald has had his share of injuries; the latest coming a few days ago and St. Louis will be without the playmaker.
6) Duncan Keith (Chicago Blackhawks)
Rarely out of the play, Keith reads the action and reacts suddenly to pursuit his target. With 76 points, a plus-66 rating and an All-Star Game showing in two years, the fifth-year rearguard has carved out a remarkable stature.
Because of his pace, Keith is regarded as an excellent shutdown defenseman and terrific offensive contributor.
5) Maxim Afinogenov (Atlanta Thrashers)
A nickname like Baby Bure doesn't get handed to someone out of the blue. Afinogenov loves to score goals and make defenseman wish they weren't on the ice with him doing it all at intense speed levels.
Off to a decent start in Atlanta, the Russian is slowly regaining himself proving that $800, 000 for his services is a bargain.
4) Matthew Lombardi (Phoenix Coyotes)
A career high of 20 goals isn't under any circumstances the ceiling for this center. Lombardi has superior hustle making him a threat in the special teams area while his back-checking doesn't leave the Coyotes exposed.
Now, he has to get his consistency in check to reach the next step.
3) Mason Raymond (Vancouver Canucks)
I've watched Raymond create breakaways for himself by chipping a puck along the boards and chasing it down. If this kid capitalized on half of his opportunities, he'd be a 30-goal scorer no questions asked.
I'm glad to have seen him crashing the crease this year showing courage that wasn't to be found in previous seasons.
2) Marian Gaborik (New York Rangers)
Gaborik's aptitude to explode forward is like witnessing a car flicking on the nitrous oxide. Another similarity between the two would be his engine stalling or crashing completely for an extended period of time.
Regardless, Gaborik is perfectly fit at the moment and playing dynamic hockey already hitting the score sheet 11 times.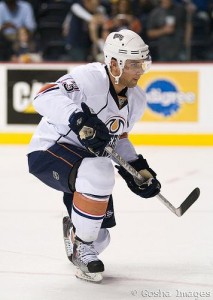 1) Andrew Cogliano (Edmonton Oilers)
Cogliano has no trouble leaving defensemen in his tracks. His is an issue of cashing in on chances and making those errors costly. Pat Quinn faces the obstacle in turning his young two-way forward into decent point producer.
After a sophomore slump in 2009, the-22-year-old has to show up more often if Edmonton is to make the postseason.
Honorable Mention: Paul Kariya, Brett Lebda, Matt Duchene, Darren Helm, Sergei Samsonov, Matt Cullen.