Desperate times call for desperate measures — Obert Skye, Leven Thumps and the Whispered Secret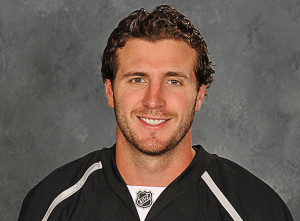 Including Monday night's critical battle with the New Jersey Devils at the Prudential Center, the Kings have eleven games left in the 2014-15 regular season. Eleven games remaining to recover from the train wreck that was the third period of Saturday's game against the Vancouver Canucks. Eleven games to play to earn enough points to leapfrog over the Calgary Flames, Winnipeg Jets and/or Minnesota Wild and secure a playoff spot. Eleven games, eight of which are on the road.
It won't be easy. With respect to the Los Angeles Kings, things rarely are.
Mike Richards has been recalled
Faceoff wizard Jarret Stoll was injured after an open-ice hit by Canucks forward Derek Dorsett during the third period of a 4-0 Kings victory at the Rogers Center, and has been out ever since. Here's the hit:
Coincidentally or otherwise, Los Angeles has gone just 1-2-1 since Stoll's injury. Notoriously a strong-finishing club, the Kings are watching their chances of making the playoffs quietly slip away.
Winnipeg is on a four-game winning streak, and Minnesota has won three of four. Fortunately for the Kings, Calgary has stumbled as well, also going 1-2-1 down the stretch. Nevertheless, as things stand today, Los Angeles would be out of the playoffs — not only are they two points out of third place in the Pacific, but they would lose the first tiebreaker with the Flames.
With just eleven games left, things are indeed getting desperate for the defending Stanley Cup champions. Desperate enough, as it turns out, to roll the dice with Mike Richards.
He's back! #LAKings have recalled forward Mike Richards from Manchester. http://t.co/azCADYxQIq pic.twitter.com/ecXYdwu4ls

— LA Kings (@LAKings) March 22, 2015
Richards' play in Manchester
Although cooling off by the end of his stint with the Manchester Monarchs, Richards performed fairly well overall, scoring three goals and dishing out 11 assists in sixteen games. Notwithstanding the optics of goals and assists, the more pressing issue was evidence of an improvement in his overall conditioning. Richards' lackluster training methods were an issue which GM Dean Lombardi openly questioned even while deciding against buying out his contract last summer.
The trip to Manchester undoubtedly opened Richards' eyes. When asked if he thought about a quick return to the NHL, he said:
"Yeah, I thought that quite a bit actually, but you just keep working just like you would if you were here. It's no different than wherever you are. Obviously you want to be here, but if you're not here, you work to get back. It's the same as everyone else's position and you take it like that and go from there and hope at some point you get to come back."
How will Richards be used?
Reportedly, Richards skated on a line with Kyle Clifford and Justin Williams in practice. Although lines get mixed and matched during a game, that means Richards should primarily see third line ice time. If so, it would be an upgrade from his fourth-liner status during much of last season, along with just prior to being waived in January.
Granted, we've heard all of this before:
Looks like the Rickster did some extra work this summer. Mike Richards not content to be Kings' fourth-line center http://t.co/MqsOPm5Ixr

— Meg Jarrell (@megums) September 17, 2014
That being said, Richards sounds like he's in good spirits and up to the challenge of helping Los Angeles make the playoffs.
In an interview with L.A. Kings Insider, Richards said:
"This is the most exciting time of the year no matter where you are or what you're doing. But especially here, it's fun to play down the stretch and have that big playoff push. It's an exciting time to play hockey and it's definitely the reason why you play, the games that are going down the stretch. The first week I was (in Los Angeles), it was some pretty good workouts, and then the second week was some testing and stuff. I think it went well, obviously, since I'm here."
How desperate are the Kings?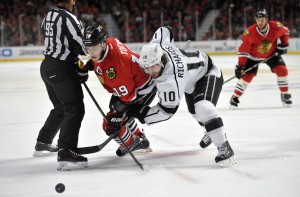 Having notched just four goals in their past five games, the Kings are clearly desperate for scoring. Desperate enough, it would seem, to bring Richards back, with the hopes that he can provide a needed spark.
Although he's been on a steady decline for years, Richards is a proven winner, one who has been known to play at his best when the chips are on the line. There aren't many bigger regular-season stages than a desperate playoff drive over the final few weeks of the season, so for the Kings, there is little doubt that it's a gamble worth taking.
For Richards, it's a chance for him to prove he's still got something left in the tank. At $5.25 million for the next five years, the Kings sure hope so.
What do you think? Can Richards find his game now that he's back in the NHL and help the Kings win games? Leave your thoughts below, or send a message to @McLaughlinWalt.
Walter McLaughlin is a Los Angeles Kings correspondent for The Hockey Writers. He is an avid sports fan, having followed the Kings since living in L.A. in the mid-1970's, as well as suffering through Seattle sports teams' general futility. He has a Bachelor's degree in Finance and has worked in community banking for over 25 years, specializing in SBA loans. He is married and has two daughters.