A few weeks ago, Reilly Smith was celebrating a new two-year contract extension.
On Saturday night, he played no part in the biggest game of the season for the Boston Bruins.
The 23-year-old has been a massive disappointment in his sophomore season with the club. Twelve games without a goal coupled with poor play in all three zones of the ice sent Smith to the press box for Boston's 2-1 shootout loss against the Florida Panthers on Saturday.
https://twitter.com/FlyingOrr/status/578730368783802369
Since signing his extension earlier this month, Smith's poor play has fans wondering why general manager Peter Chiarelli gave the former third-round pick $6.85 million over the next two seasons. In a 6-4 loss to Ottawa on Thursday night, Smith made critical mistakes with the puck, including a turnover leading to Senators forward Jean-Gabriel Pageau scoring a shorthanded goal just seconds after Ryan Spooner tied the game.
The right-winger proceeded to take just one shift in the third period and was a -3 in 7:50 of ice time. Coach Claude Julien was very candid regarding Smith's poor play on Friday saying in part:
"He can't do much. He's losing the puck, he's losing battles and he's losing a lot of things right now."
Furthermore, he has scored one point in the nine games played since signing his new contract and has scored just three times in the past 34.
Talk about rubbing salt in the wounds.
Chiarelli could not have picked a worse time to re-sign Smith. However, this is not the first time Boston's GM has offered a questionable contract. Here is a look at some other bad deals that are his watch.
Milan Lucic – Three years, $18 million ($6 million cap hit)
In 2010-11, a 22-year-old Milan Lucic played the best season of his young career. The left-winger put up a career-high 30 goals and 62 points while racking up 121 penalty minutes.
He was signed to a three-year contract extension in 2013 and has for the most part failed to replicate that form.
While he has played well recently with Spooner and rookie David Pastrnak, Lucic has struggled to be a consistent point producer. Boston's second-round pick in 2006 has strayed away from his toughness and pugilism that earned him a roster spot as a 19-year-old.  He is being paid the salary of a goal scorer, but cannot consistently find the back of the net. The effort on given nights is not there and his mental discipline, especially against Montreal, needs work.
Dennis Seidenberg – Four years, $16 million ($4 million cap hit)
German engineering is usually reliable, but at some point it wears down. Take the case of 33-year-old Dennis Seidenberg. In October 2013, he signed a four-year contract extension after his yeoman's work during the club's run to the Stanley Cup Finals. Pairing alongside captain Zdeno Chara, they were often relied upon to hold top opposition at bay and did so with great success.
The "German hammer" suffered a torn ACL and MCL in December 2013 and has not been the same since. Seidenberg has looked a step behind on many occasions this season and did not do well with Dougie Hamilton as his partner after Chara went down with a knee injury. The blue liner is not getting any younger as his contract remains on the books until 2018. A contract extension that was initially received well by fans is starting to lean in the other direction.
Zdeno Chara – Seven years, $45.5 million ($6,916,667 cap hit)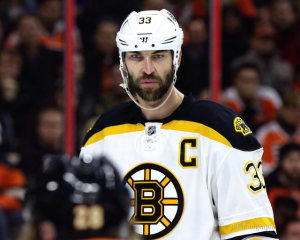 Speaking of Chara, Chiarelli may have given the tallest player in NHL history the most questionable contract on the roster. The 38-year-old defenseman was given a seven-year contract extension in October 2010 that would keep him in Boston until 2018.
This season, Chara missed 19 games due to a partially torn MCL suffered against the New York Islanders in late October. The Bruins went 11-7-1 in his absence thanks in large part to a soft schedule.
Chara is not a particularly quick player on his skates thanks to his large frame, but is becoming a liability against teams with speed, especially the Canadiens and New York Rangers. Given the new playoff format, Boston and Montreal will be meeting more often in the postseason which does not bode well for the aging captain.
Chris Kelly's four-year, $12 million deal also deserves scrutiny. His contract is thanks to a career-high 20 goal season in 2011-12. The 34-year-old has combined to score just 19 goals in 161 games since signing his new deal.
All of these contracts include a no-trade clause or no-movement clause. The Smith contract does not include either said clause in case Chiarelli wants to ship off his young forward.
Regardless, Boston's boss has made some questionable financial decisions during his tenure. Their cap constraints are about to get more compounded, adding Reilly Smith to the financial albatross on the Bruins roster.
Joe is a writer covering the Boston Bruins. He is a lifelong native of Massachusetts and is currently a content writer/manager for a newsletter at a Human Services Agency. Joe can be found on Twitter: @JoeCherryTHW