Whether you are a hockey player, fan, coach, media member, whatever your connection is to hockey, you pride yourself on hockey being the ultimate team game. Unlike say the super star dominated NBA and NFL, the NHL is much more about needing a well rounded team compared to just a super star or two. However, this doesn't mean that hockey lacks in star power. Basketball fans talk all the time about star players going one-o-one, well hockey can be entertaining one-on-one just the same. Without further ado, here are the five hypothetical one-v-one NHL matchups every hockey fan would love to see.
Sidney Crosby vs Claude Giroux
The above sequence and numerous other head-to-head feuds between the world's most well known player Sidney Crosby and the now captain of the Philadelphia Flyers Claude Giroux are a treat. These are two of the best leaders the game has to offer and each of them feature a terrific backhand. With the skill and bad blood between these two, a game of one-on-one would be a hoot and a half.
P.K. Subban vs Erik Karlsson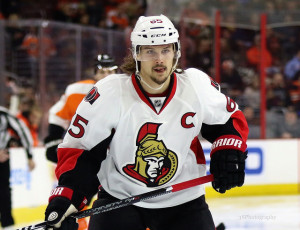 Any game of one-on-one would be best with players of the same position. Forwards vs defensemen are indeed what you see in an actual game, but in terms of one-on-one, watching most defensemen play offense isn't all that exciting. A shut down defenseman playing offense has limited creativity and a top offensive defenseman will make easy work of a defending forward. Therefore, when it comes to picking defensemen to watch one-on-one, Montreal's P.K. Subban and Ottawa's Erik Karlsson are arguably the best two puck movers in the business. Karlsson can flat out fly and Subban looks like Barry Sanders on skates the way he shakes and bakes and shimmys around opponents. This would be one of the more entertaining games of one-on-one in terms of flashy moves and speed.
Jonathan Toews vs Anze Kopitar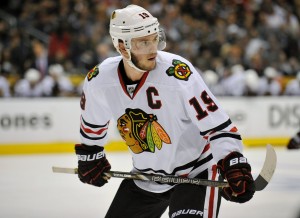 Two of the top ten centers in the NHL each own two Stanley Cups in the past five seasons. Their teams the Chicago Blackhawks and the Los Angeles Kings have each knocked each other out in the Western Conference final the last two years in route to their second Cups. The rivalry here is brewing like no other as these two juggernauts are plain sick of each other. Toews and Kopitar are the team leaders, for all intents and purposes they are both the captains of their respective squads. Kopitar may only wear an A but he is their best player and leads by example more than anyone else on the Kings roster. Both these centers are incredibly smart and watching them in a game of one-on-one would be awesome. For the true hockey nuts, watching the less flashy but incredibly talented players is almost more fun to watch. These two might not be as exciting as other one-on-ones but that is just because each one is so good defensively.
Pavel Datsyuk vs Patrick Kane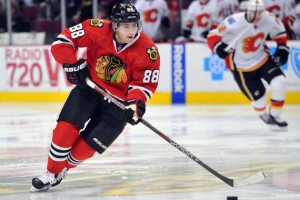 Of all these one-on-one matchups, Datsyuk vs Kane would probably be the most entertaining one to watch. Datysuk isn't known as the magician for nothing. In a backyard pond hockey one-v-one, Datsyukian dekes and dangles versus arguably the best stick-handler in the world in Kane? This would be nothing short of fantastic. These two can make for some of the most mind boggling moves, and "how did he just do that" moments. Not to mention the long time rivalry of their respective teams Chicago and Detroit. There is no doubt these two teams would be the best possible Stanley Cup final matchup. 
Alexander Ovechkin vs Evgeni Malkin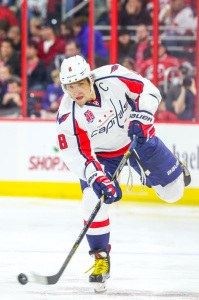 Teammates for Russia but adversaries in the NHL, these are two of the most exciting players to watch in the league. Now I got plenty of criticism for not putting Ovechkin on my list of top 5 players to watch in person. First of all Ovechkin and Malkin are both in my top 10 but only Malkin made the top 5 with his shielding and puck control abilities. However, that isn't a knock on Ovechkin, more of a compliment really as Ovechkin is arguably plenty exciting to watch on television with his laser shot, pumped up celebrations and aggressive physical style. These two big bodies going at it one-on-one would be terrific theater.
Honorable Mention: Pekka Rinne vs Henrik Lundqvist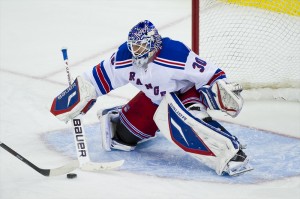 Of course instead of all these hypothetical games of one-on-one being played via posts (no goalies so you have to hit the posts or crossbar to "score") how about two of the game's best goaltenders at either end? Carey Price may be the best goaltender this year, but the rivalry between Finland (Rinne) and Sweden (Lundqvist) is one of the best international rivalries out there. Not to mention for the individuals, Finland is a goaltending factory and Lundqvist's nickname is King Henrik, these two would be fun between the pipes.
Andrew has been credentialed to cover the Sharks since 2010 and the 49ers since 2012. He graduated with his BA in Broadcast Electronic Communication Arts in 2013 from San Francisco State University.