There are serious problems in Philadelphia.
Let's start by examining the issue of coaching in Philadelphia, because it's becoming a hot topic.
Inconsistency and Bad Decisions
Saturday night's game against the Oilers was downright inexcusable. A 3-1 lead against one of the worst teams in the league, tossed away in the wind.
At this point it really doesn't matter. That being said, it's been the name of the game all season.
Let's rewind to mid February. The Flyers were playing well and had a 9 game point streak. They were climbing back into the playoff picture.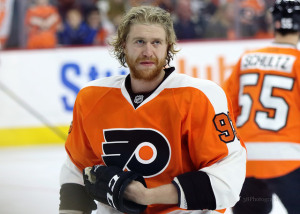 Then came to a four game stretch of games against Columbus and Buffalo. Four straight games against very beatable teams, for very crucial points. What did the Flyers do? Came out flat.
They went 1-1-2 in those four games. Even worse? They were blew a 3-1 lead in one, and were tied in another. Where's the push? The pressure? The fight? Not there.
What happened after that is even more confusing.
The Flyers closed out the month by losing to Carolina and Toronto, and beating Nashville, Washington, and the Rangers. How does that add up?
It doesn't, and while the players are the ones on the ice, some of the issues need to be put on Craig Berube.
The Flyers were within 4 points of the last playoff spot at the beginning of the month. Their record in March is now 2-4-5. To make matters worse, that stretch is littered with blown leads, poor decisions, and just being outworked night in and night out. Keep in mind the core of this team is mostly the same as last season. That team went 9-3-2 in March.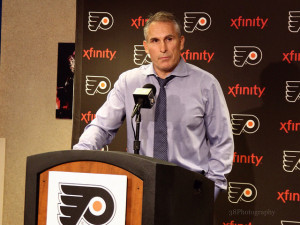 They blew a late lead against Boston in an absolutely critical game, and then came out the next day and rebounded by playing even worse against a non-playoff team.
The inconsistency has absolutely killed them all season, and it's quite a shame, because they are capable of beating good teams.
Aside from being hot and cold, there's another issue that lies in Craig Berube's Flyers.
Why were the lines changing night in and night out?
Juggling lines is good to a certain extent. It keeps things fresh and can open up new windows in terms of the chemistry between players. But Berube was to the point where he was changing the lines every night. Keep in mind there was a point in the season where Zac Rinaldo was playing with Jakub Voracek and Michael Del Zotto was a forward. In what world was that ever going to work?
Speaking of the lines, there were multiple times this season when players who weren't producing saw more ice time than Claude Giroux and Jakub Voracek. Once again, in what world was that going to work?
The Scratches.
Why Michael Del Zotto was ever a healthy scratch this season is really mind baffling.
He proved early on in the season that he was quick, and would jump up into the play to create offense. He was also solid in his own zone,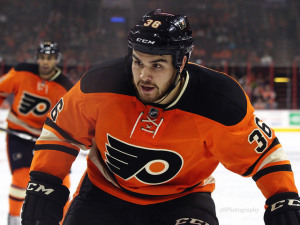 had a great shot, and quite honestly was one of the best Flyer defenseman early on in the season. What did he get? A seat in the press box.
Sound familiar? Might be. Craig Berube has a history of benching younger, faster defensemen (see Erik Gustafsson in the 2014 Playoffs) for older, slower defensemen.
This never should have happened, and while Del Zotto was scratched, the Flyers weren't exactly doing so hot.
It doesn't stop there.
Let's talk about Zac Rinaldo.
Don't get me wrong. Zac Rinaldo is an energy player, and I'm sure his intentions are to bring 100% night in and night out. But that doesn't always translate into doing what's best for the team. Countless times this season, Zac Rinaldo has taken a costly penalty, or even gotten himself thrown out of games.
https://www.youtube.com/watch?v=6pqzv4dhsGQ
That one got him eight games, and is exactly what the Flyers don't need.
As I said above, there were nights when he saw more even strength ice time than Claude Giroux. That's on the coach, that cannot happen.
When has Craig Berube stuck his foot down on what Zac Rinaldo is doing? Not once since he's been at the helm, no matter how much it has hurt the team. And with the Flyers penalty kill hovering in the basement all season, they can't afford to have Zac Rinaldo running around throwing hits like that.
Sure, Vinny Lecavalier has been struggling as a Flyer, but guess what? He'll be less of a liability out there than Zac Rinaldo, and that's something that any coach in the NHL needs to see.
The Goalie Saga.
This goes back to last season.
Most people are sure to remember that Ray Emery ended up starting the first few games for the Flyers in the playoffs last season. Why? Because Steve Mason was injured.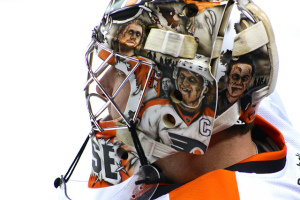 Why was Mason injured? Because he was playing in a meaningless late April game against a division rival. The Flyers were already in the playoffs, their opponent was pretty much set in stone, and there was one game remaining after the one Mason was playing in.
We'll never know, but there's a good chance that with the way Mason was playing, the Flyers could have won that series.
Maybe the coach would change his ways with Mason this year? Nope. It's gotten worse.
Lets put aside the fact that Mason has been drastically overplayed in light of a lot of injuries, and focus on some other things.
Jeff Reese. What happened here?
Jeff Reese had been the Flyers goaltending coach since 2009. He's been through Michael Leighton, the Ilya Bryzgalov experiment, Sergei Bobrovsky (who mind you, won a Vezina), and now Steve Mason, who has seen his career turn around in Philadelphia. The fact that Jeff Reese would just get up and leave the organization is crazy.
Mason seems gut-wrenched by Reese's departure, said it was hard to focus in last night's game.

— Frank Seravalli (@frank_seravalli) March 6, 2015
Obviously Mason and Reese were close, and of course a "mutual split" seems very…odd. Seems hard to believe this split was on good terms. Really hard.
Once again. It still gets worse.
Incase you missed it again, the Flyers suffered an embarassing loss to the Flames last week. Mason was pulled after allowing two goals, and to add insult to injury, neither were his fault, and he was pulled with a little over two minutes left in the period. Not even the decency to wait until the intermission. Talk about disrespect for a guy who's given it his all this year, this is it.
As if pulling him wasn't bad enough, Berube's comments after the game were even worse.
Berube on how Mason was screened: "You've got to fight through them."
I hope Steve Mason knows that every Flyers fan is in his corner. We have seen first hand the pathetic treatment he has received from Berube.

— Matt (@TheOrangeNBlack) March 20, 2015
https://twitter.com/MaltbyMVP/status/578890466155986944
Several Flyers puzzled by Mason being pulled. "He's kept us in probably 95 percent of the games," Luke Schenn said.

— Sam Carchidi (@BroadStBull) March 20, 2015
Oh, Luke Schenn developed an "upper-body injury" before the next game.
https://twitter.com/DStrehleTFP/status/578007642100117504
Keep in mind the difference in teams that these two goalies have infront of them.
Disarray
That's about the one word that sums up the Flyers this season.
Team meetings without the coach. The coach throwing arguably the team MVP under the bus. Unexplained departures. It's all falling apart on Craig Berube's watch.
Ron Hextall has already lost a very, very good goaltending coach. I'm not sure how much more Steve Mason will be able to take in Philadelphia, how much more he will be able to bite his tongue, and handle all of the pressure from his coach. Seriously, what does it say about a coach when people are praising a player for being humble?
There are serious decisions to be made in Philly, and if Ron Hextall doesn't seriously consider letting go of Craig Berube, then he may just lose a goaltender for the future.
Matt is a contributor for the Philadelphia Flyers at The Hockey Writers. He has previously covered the Flyers for GrandstandU. He enjoys playing hockey and making music in his spare time.