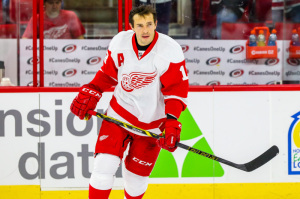 One of the best parts of any hockey reporters' job is the privilege to watch tons of NHL games in person. Press boxes are often high enough up that it allows for a great view of seeing plays develop. For example it is a great view to see weak side supporting defenders jumping up into the rush. It is also a terrific vantage point to see the best play makers in the world do their thing. With the Pittsburgh Penguins in town here in the Bay Area Monday night, it got me thinking, who would I say are the top five players to watch in person? Not in any particular order, here are my five favorite guys to watch live in the flesh.
Sidney Crosby
Yeah, yeah, I know, surprise, surprise, right? Of course the best player in the world is on my list of top players to see live. However, some casual fans may not know the primary reason why he makes this list. It is one thing that Crosby is one of the best playmakers in the world, if not the best, but it is the skill level with his backhand that makes him special. Whether passing or shooting, Crosby has ridiculous accuracy on his backhand which is incredibly difficult. Yet he makes it look incredibly easy. One of my favorite goals of all time was this wicked backhander below. And guess who made the nice chip pass to him? The vastly underrated Tyler Kennedy.
Evgeni Malkin
Crosby's teammate Evgeni Malkin can also make a case for being the best player in the world. He has all the skills but also the size to shield off defenders. Some might say he could do a better job using his body and not getting rattled when opponents get physical with him, but nonetheless he is an offensive machine. Watching him live with the puck in the offensive zone is an absolute treat.
Pavel Datsyuk
His nickname is the Magician, that is really all you need to know. When he makes a nice deke, broadcasters refer to it as a Datsyukian Deke. He is one of the most highly skilled and smartest players ever to play the game. Like Crosby, he has a wicked backhand. Unfortunately other commitments kept me from covering the game where he scored this goal below, would have been amazing to have seen this shot live.
Rick Nash
Few NHLers have more skill than Rick Nash, none, sans Malkin, have the size to go with it. The 6'4″ Nash has had some down years in his career but when he is on his game, he is one of the most difficult forwards to defend against. He can make just about anyone look silly. The puck possession skills along with stickhandling in a phone booth make Nash a must see player in person. You know a guy has done something phenomenal when he makes his teammate's jaw drop.
Patrick Kane
Colleague and friend Felix Sicard rated Kane as the highest skill player in the NHL in one of his recent columns. Kane has arguably passed Datsyuk as the best stickhandler in the world and he can make even the best defensemen in the world look silly.
That's it, that's my list. These are the five players I believe every hockey fan should make sure they get a chance to watch in person. Notable omissions of course being Steven Stamkos and Alexander Ovechkin. Both are capable of dangles and highlight reel end to end rushes, but they are primarily shooters. For me, the stick-handlers and set up guys are more of a treat to watch. However, if the list was expanded to 10, both Ovechkin and Stamkos would make the cut.
Andrew has been credentialed to cover the Sharks since 2010 and the 49ers since 2012. He graduated with his BA in Broadcast Electronic Communication Arts in 2013 from San Francisco State University.