The best time of year is just a couple of months away. The NHL regular season ends April 11th, nearly two months from today, which will signal the start of the Stanley Cup Playoffs. Recently here at The Hockey Writers, we took a look at some of the more probable early round playoff matchups that would make us writers drool. But what about the crown jewel of the playoffs? What would be some ideal Stanley Cup final matchups? Without further ado, here are the 10 sexiest and plausible (likely playoff teams only) matchups for the 2015 Cup final.
10. St. Louis Blues vs Tampa Bay Lightning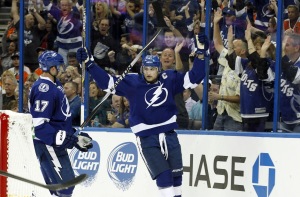 The only possible matchup on this list without built in drama would be a final between St. Louis and Tampa Bay. However, that doesn't mean it wouldn't make for a terrific matchup. First and foremost the Blues franchise is still seeking their first ever Stanley Cup and for a team that has been around since the 60's, that is a terrific storyline in it's own right. Furthermore, their head coach is one of the most recognizable coaches in the league in Ken Hitchock. The former long time Stars and Flyers coach is famous for his defensive trap game. His Blues are known as a tough, hard nosed group that is tough to beat through the neutral. Seeing them represent the juggernaut Western Conference and face the most offensively dominant and high flying Eastern Conference team in the Tampa Bay Lightning would be terrific. It would be a tale of two different styles going mono-a-mono for Lord Stanley's Cup. Will the Blues finally break through or will Steven Stamkos join the likes of Sidney Crosby and Jonathan Toews as the top stars in the game with Stanley Cup rings? It would be a fun battle to watch.
9. Anaheim Ducks vs Washington Capitals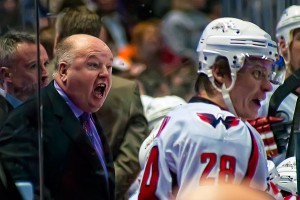 This series would not only feature a ton of star power between Ryan Getzlaf, Corey Perry, and Ryan Kesler for Anaheim and Alexander Ovechkin for the Capitals, but it would an interesting coaching angle for Bruce Boudreau. A long time head coach of the Capitals, Boudreau is famous for going off on the Capitals in an expletive filled rant when the cameras were on for the road to the Winter Classic series. These days Boudreau now coaches the Ducks and it is Barry Trotz who has finally gotten the Capitals to play some defense for a change. Boudreau losing in the final to his old team? Ouch.
8. Vancouver Canucks vs Boston Bruins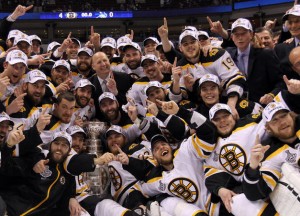 Would a rematch of the 2011 Stanley Cup final not be one of the most entertaining finals ever? Just four years ago the Bruins beat the Canucks in seven games, in a series filled with biting drama and embellishment. Big contributors to the drama in Alex Burrows and Milan Lucic still remain with the Canucks and Bruins respectively. Vancouver, like St. Louis, is still seeking their first ever Stanley Cup in franchise history. This would be a terrific revenge series. Not to mention Vancouver's goaltender Ryan Miller was famously run over by Lucic when Miller was playing for the Buffalo Sabres. There is just so much to like about this matchup.
7. Chicago Blackhawks vs New York Islanders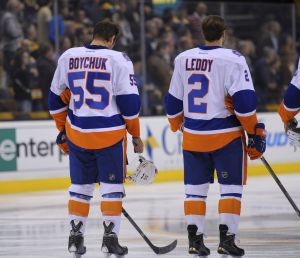 Everyone likes a good underdog story, right? The upstart New York Islanders, who have long been terrible in recent years, are finally competitive again. A matchup between them and the recently dominant Chicago Blackhawks, winners of two of the last five Stanley Cups would be terrific in principle. But then you add in natural rivalry between the two cities, Chicago's deep dish Pizza versus New York style pizza and the fact Islanders defenseman Nick Leddy would be going up against his former team? This series would be tons of fun if it came to fruition. Biases aside, nothing cooler than seeing a player beat the team that traded him in the Stanley Cup final and it isn't the only plausible matchup where that could happen.
6. Los Angeles Kings vs Montreal Canadiens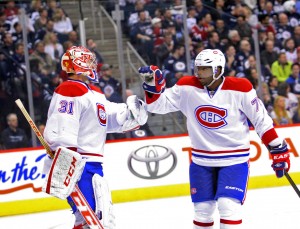 This is probably not one of the more likely matchups but a rematch of the 1993 series would be awesome. The 1993 Montreal Canadiens remain the most recent Canadian team to hoist the Stanley Cup, knocking off the Barry Melrose coached Kings in 1993. Not only would Montreal have an entire nation behind them, but they might in fact have fans of all 28 other teams behind them as the Kings have won two of the last three Stanley Cups. Unless you're a Kings fan, chances are you are going to root for the underdog Canadiens. Didn't I already mention that everyone loves a good underdog story? Hockey history, and an underdog type matchup? Talk about sexy.
5. Nashville Predators vs Washington Capitals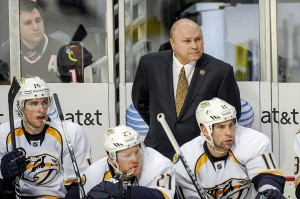 This one seems far less likely than others but a big story line is built right in. After 15 years as head coach of the playoff bubble Nashville Predators, Barry Trotz took on the head coaching position for the Washington Capitals this season. With a new coach this season the normally defensively stout and offensively weak Predators are comfortably leading their division as a team finally showing some offensive flare. On the flip side, Trotz has turned the Capitals, a team always known for offensive firepower up the wazoo, into a more balanced two-way team. The question would be obvious, which team has done a better job fixing their weakness? After 15 years with Nashville, can you imagine Trotz losing to the Predators in the final? Of course he would be happy for the people of Nashville but to not be apart of that team and to see them celebrate right in front of you? Ouch, talk about bittersweet.
4. San Jose Sharks vs Detroit Red Wings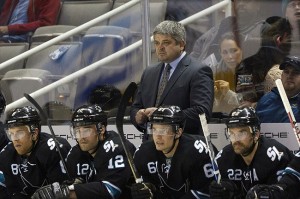 Another unlikely matchup as the Sharks don't look like a team poised to make a deep run but this would be a terrific final. Not only have the Sharks and Red Wings faced each other a number of times in the playoffs before the recent realignment, but Sharks head coach Todd McLellan is a disciple of Red Wings head coach Mike Babcock. McLellan was an assistant under Babcock when the Red Wings last won the Stanley Cup back in 2008. Since then the Sharks have faced the Red Wings twice in the postseason, beating them both times in 2010 and 2011. Despite being in separate conferences now, these two teams still know each other better than most do with the coaching connection and veteran stars on both benches. San Jose and McLellan trying to win their first ever Stanley Cup against the storied Red Wings and Babcock? The mouth salivates at the idea.
3. San Jose Sharks vs Boston Bruins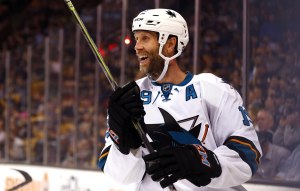 Nick Leddy beating the Chicago Blackhawks would be cool and all but it wouldn't be half as noteworthy as Joe Thornton beating the Boston Bruins. Yes the Bruins have indeed already won a Stanley Cup since the Sharks stole Thornton away from them in a brutally lopsided trade in 2005, but Thornton preventing them from winning a second one in five years? Or Thornton losing in his first ever final against his former team? Having to watch his former club celebrate in front of him after finally getting so close? Regardless of the outcome, this would be a drama filled series to be certain.
2. St. Louis Blues vs Detroit Red Wings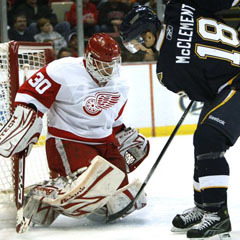 Being in the Western Conference for as long as they were, and being as good as they have been for years, the Red Wings developed rivalries with a number of teams. One of the more notable ones has been with the St. Louis Blues. Both occupied the central division for a number of years and the Blues want what the Red Wings have. It is one of those one-sided rivalries in terms of championship success over the years and man oh man, would it be a treat to watch the Blues try to win their first Stanley Cup by taking on the Wings in a final. Remember Steve Yzerman's famous double OT goal of Game 7 against the Blues? St. Louis fans certainly want to forget it but it is seared in their memory.
1. Chicago Blackhawks vs Detroit Red Wings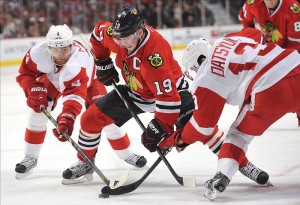 There really wasn't ever a consideration for any other potential matchup to take the top spot. The Blackhawks and Red Wings rivalry is the mecca of possible Stanley Cup final matchups. Two teams with a long history of playoff series, 16 to be exact with Chicago holding a slim 9-7 advantage. Most recently the Blackhawks stormed back in 2013 after being down three games to one to the Red Wings, before winning in seven games. These two historic hockey cities and franchises plain don't like each other. When beloved players go from a Blackhawk to a Red Wing and vice versa, they frequently get booed by their former club's fans when visiting with their new club. Bitter rivals are bitter rivals. These two classic original six teams in the Stanley Cup final would be in a a word, fantastic.