When the Boston Bruins went on a roll in January, their fan base let out a major sigh of relief. The malaise that had afflicted this team had finally been lifted.
Unfortunately, the turn of the calendar brought back the all too familiar struggles. The Bruins have dropped three out of four games in February, including games against the Montreal Canadiens and the New York Rangers. While the rivalry game against Montreal stung, the loss to the Rangers hurt more in the playoff race, as New York began to distance themselves from Boston.
The Situation
As it stands now, the Bruins are clinging to the eighth and final playoff spot in the Eastern Conference. To make matters worse, the ninth place team has two games in hand and is sitting just four points behind Boston.
The clear cut problem areas from the beginning of the season are starting to return, leaving the Bruins in desperate need of reinforcements. What the team really needs is to fill the void left by losses of Johnny Boychuk and Jarome Iginla.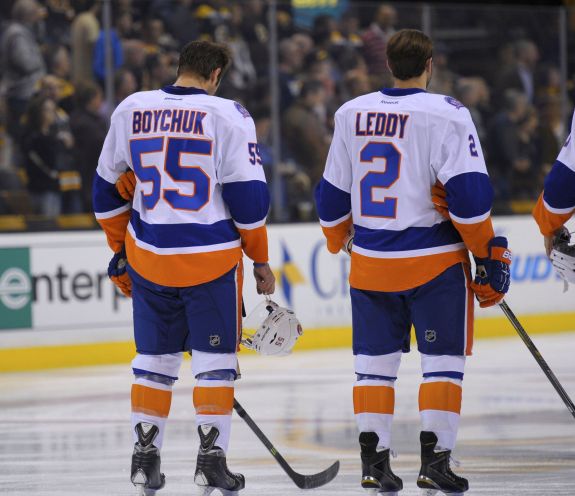 The Problems
The Bruins have struggled to score all season, largely due to the front office's inability to replace their top line right winger. Boston currently sits at 22nd in the NHL in goal scoring, at a meager 2.59 goals per game. In February, the Bruins have fallen even further, being limited to an average of two goals a game. Look for a scoring winger to be a top priority at the trade deadline.
At the other end, Boston has been statistically strong in their own end. Unfortunately, they seem to find ways to give up backbreaking goals on a regular basis. A defensive upgrade might not be as glaring a need at the trade deadline, but you can be sure that Peter Chiarelli will be on the lookout.
Beyond the missing personnel, the players in the room have left much to be desired. Albeit a small sample size, the Bruins have allowed more shorthanded goals (two) than power play goals they have scored (one) this month. February has been representative of the team's season long struggles. Every time Boston starts to gain some momentum, they manage to regress and lose multiple games.
Will the Bruins find a way to combat their inconsistency? Are reinforcements on the way? How do you see the next few months playing out in Boston? Let me know what you think on twitter or in the comments below.