Sidney Crosby is playing in his 600th career NHL game tonight. Entering the game, the pride of Cole Harbour had 825 points and 114 points in 95 career playoff games, good enough for a regular season scoring pace of 1.38 points per game. It's not quite near the career 1.88 pace set by Mario Lemieux, but it's a different game post-lockout. Nobody will ever score at the pace set by Lemieux or Gretzky, but is Crosby about where we expected at this point in his career?
He's a top-flight, generational talent – no doubt. But, after posting astronomical numbers as a 16- and 17-year old with Rimouski of the QMJHL (303 points in 121 regular season games), the bar was – rightly or wrongly – set outside the stratosphere. The Next Great One, Crosby was dubbed, before even playing a game of junior hockey.
And his rookie season in the NHL didn't help settle any of those career expectations. Looking back, it's almost shocking to see the numbers from that 2005-06 campaign: 39 goals, 63 assists and 102 points. He finished sixth in league scoring, which was impressive considering the aging stars he was playing with – Mark Recchi, John LeClair and Zigmund Palffy. Sure, their maturity and experience may have helped bring the then-18-year-old along, but on the ice Crosby made those players more productive.
That type of production from an 18-year-old, since that season, is unheard of. The closest comparable is Patrick Kane in 2007-08, who reached 72 points. Even John Tavares, who now draws Crosby comparisons himself, only totalled 54 points as a rookie in 2009-10.
So did Crosby simply peak early? Have concussion problems affected him greater than we think? Has the level of competition simply been improved over the past decade? Or have coaches and defenses simply adapted to handle Crosby better?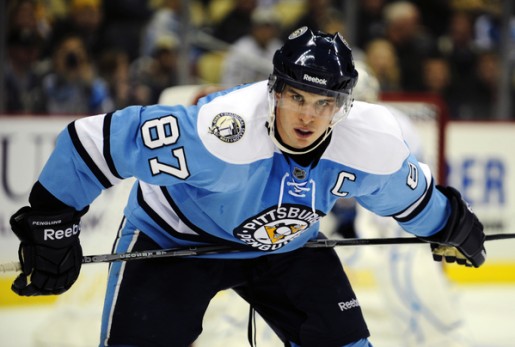 In part, the 100-plus point seasons haven't been as frequent (he has five and is unlikely to make it six in his 10th season) due to shortened seasons. Yes, injuries have played a factor, but he also missed part of a season due to a lockout. Still, a career high of 120 points, which he established his second year in the league, seems low for a player who produced at such a high rate for a rookie.
Another aspect can be attributed to Crosby's ability to adjust his game. Despite scoring 39 as a rookie, he wasn't particularly deemed an elite shooting threat, better regarded for his playmaking ability. Crosby changed that in 2009-10, scoring 51 goals after a summer of working extensively on his shot. The following year he had 32 goals in 41 games, but, since the concussions, his goal per game rate has dropped considerably, while his assist totals have climbed. In fact, since posting back-to-back shooting percentage years of 17.1 and 19.9 in 2009-10 and 2010-11, Crosby's highest shooting percentage was last year when 13.9 per cent of his shots found the back of the net. This year, his shooting percentage is 11.3.
Maybe he has learned in order to maintain a lengthy career he needs to tone down the intensity a notch, or maybe, after last year's dismal post-season performance, he has learned to save his best for the post season. Regardless, he's a Stanley Cup Champion, a double Olympic gold medalist, a two-time Hart Trophy winner, a two-time Art Ross winner and once a Rocket Richard winner – but he is not the next-generation Wayne Gretzky that some, including the Great One himself, made him out to be year's ago.
Then again, there's crazier theories.
https://twitter.com/HarrisonMooney/status/435554220914139136
.