It doesn't seem to matter how good a team is — there is always that one person or two that isn't reaching the lofty standards set by his teammates. On the dynastic Montreal Canadiens of the 1970's, it was Pierre Larouche, the expected superstar sniper who failed to live up to expectations (until the year after Dryden retired) and was considered to be a lazy player who wanted out. If there had been internet forums available to the general masses in the 1980's, the Oilers fans would've been ripping one of the players on the team. It seems a distinctly human thing to do; no team is so perfect, no player so good, that there isn't something we can whine and gripe about.
With that said — since the 2004 lockout, the Colorado Avalanche has had its fair share of whipping boys and scapegoats. The latest, Greg "he-of-the-mighty-beard" Zanon, was bought out by the Avalanche earlier this offseason. Now only Matt Hunwick remains.
Before we start wallowing in the misery that is the Avalanche roster from 2005 and onward — who is the whipping boy on your team? And which player would you never want to see back with the team again?
Here's a look at six of the players (three forwards, two defencemen and one goaltender) that the Avalanche fans have loved to hate over the last decade, and where they are now:
Tyler Arnason (primarily 2008-2009)
Arnason was talented, but the Avs faithful perceived him (and I'd say rightly so) as a floater who didn't hustle. He wasn't good enough to fit on one of the Avalanche's top two lines, and was a defensive liability slotted into the third line.  The frustrating part was that the skill was there – he'd flaunt it against the Edmonton Oilers — but after a 49-point initial season in 2007, Arnason didn't put it together again and left the fans disappointed. After putting up 22 points in 71 games in the 2008-2009 season, Arnason signed a two-way contract with the Rangers. When he was demoted to the AHL after camp, he bolted to the KHL and played for Dinamo Riga, but failed to impress. He last played in the AHL with the Texas Stars during the 2011-2012 campaign, and scored one goal in seven games.
Brad May (2005-2007)
It wasn't so much what May brought on the ice, or didn't bring, that made him the team's whipping boy, but what he stood for. As one of the members of the Vancouver Canucks during the Bertuzzi incident, and one of the main agitators during the game that ended Moore's career. After the lockout, May signed a two-year deal with the Avalanche as an unrestricted free agent. Imagine the Ottawa Senators signing Matt Cooke this summer after cutting Karlsson's achilles tendon. It's on that level.
May tried his best to win over the fans, but he didn't have the skillset of Matt Cooke (who, no matter what Wild fans might think, is a heck of a player), and the fans never warmed to him. When he went down for an extended time with a shoulder injury in september 2006, his days with the team were numbered. He was traded in February 2007 to the Mighty Ducks, and won the cup with them. He currently works as an analyst with Rogers Sportsnet.
Kevin Porter (2010-2012)

Kevin Porter was traded to the Avalanche on March 3rd, 2010, along with Peter Mueller for Wojtek Wolski – another Avalanche whipping boy. While Mueller got off to a hot start with 20 points in 15 games before Rob Blake ended his season and nearly his career with a devastating hit, Porter saw limited ice time in a checking line role. He had 3 points in 16 games. It wasn't until the 2010-2011 season that the fanbase started to turn on him, for some of the same reasons as they turned on Arnason. Porter would put on enough of a show to make fans appreciate his talent. He'd land some great hits, score some clutch goals – and then revert back to being a warm body that could take to the ice and let others take a rest, but nothing else.
While the Avalanche fans didn't expect Porter to be a top six player, Joe Sacco used him often enough on a scoring line. If he had been allowed to stay on a 3rd or 4th line, the fans might not have turned on him. But he was out of his depth among the top six forwards, his skating wasn't good enough, and he'd kill the play more often than not.
Porter got another chance at an NHL career with the Buffalo Sabres this year, playing in 31 games and contributing 9 points.
Patrice Brisebois (2005-2007)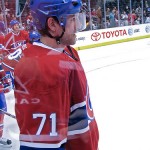 Along with Brad May, Brisebois signed with the Avalanche after the lockout in 2005. He put up good offensive numbers in his first season with the team, 38 points. But 2005-2006 was a bit of an anomaly as far as scoring goes. Scott Gomez had 33 goals, and he hadn't scored 20 before that. Nor would he do so again.
Brisebois, like Porter, was slightly misused by the Avalanche who depended on him to be a second pairing defenceman, when he was more suited for the third pairing with some additional power play and penalty kill time. Brisebois was prone to defensive gaffes in his own zone, leading to costly turnovers that would hurt the team. Much like the other players on this list, he was bewildering and irritating to watch – the talent was there. He would make smart decisions with the puck and play a steady game most of the night, but gave up two or three chances every time that would really bite the team in the ass.
Brisebois returned to the Canadiens in 2007, and finished his career with them, passing the 1000 games played milestone. He's now a development coach with the Canadiens.
Greg Zanon (2013)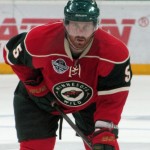 Zanon was a mystifying signing from the start. He wasn't a particularly good defenceman – a third pairing player if ever there was one. And that's a roster spot where the Avalanche had a lot of options, with Ryan O'Byrne (another whipping boy), Shane O'Brien (who was traded to the Flames this offseason along with another whipping boy, David Jones) and Matt Hunwick (look at that — another one!).  The team also had two promising player in Tyson Barrie and Stefan Elliott looking to break into the league and start their careers as, you guessed it, potential whipping boys.
Zanon was willing to sacrifice his body, blocking 144 shots, but as with many of the teams other scapegoats, he was forced to play out of his depth because of injuries. He might have been fine as a seventh defenceman, but with too much time on the ice his weaknesses were easy to spot – he had poor balance (maybe that's what caused him to block so many shots), wasn't a good passer nor skater, and his defensive positioning was bad at its best.
He has yet to sign with another team after getting bought out on July 4th.
Andrew Raycroft (2008-2009)
Raycroft had a lot of competition for this spot. Peter Budaj, the Canadiens backup, wasn't exactly appreciated by the fans either. And Brian Elliott, the St. Louis Blues' roller-coaster 1A/B/C goaltender (depending on how you rank him compared to Allen and Halak) was nothing short of horrible with the Avalanche. But Andrew Raycroft, the Calder Trophy recipient in 2003-2004, gets at least one win here.
Raycroft was traded to the Maple Leafs in the now infamous Tuukka Rask-deal, and lost his starting job to Vesa Toskala. He was bought out by the Leafs in the summer of 2008, and the Avalanche promptly said "AHA!", like the crazy spaniards in the Disney short story about Ferdinand the Bull, and signed Raycroft to a 1 year deal to push Budaj for the starting job.
Needless to say, it's never a good idea to take on the cast-aways from the Maple Leafs. Raycroft didn't work out, even though he got off to a great 9-1 start. He finished the season with a 3.14 GAA and a save percentage of .892. He signed with the Dallas Stars in 2009, but played sparingly. He spent the 2012-2013 season with Milano Rossoblu in the Italian league, and recently signed a 1-year deal with IF Bjorkloven of the swedish Allsvenskan (the second tier league in Sweden).