LEAFS DAILY:
Please allow me to kick today's post off with a quick tweet from Sportsnet's Stephen Burtch who is, in my opinion, the guy to follow if you want to learn how statistics in hockey work.
https://twitter.com/SteveBurtch/status/660828437490311169
Everyday I get comments from people who think I am insane for how highly I regard my two absolute favorite current Maple Leafs, Jake Gardiner and Nazem Kadri, but the stats back me up (which is why they're my favorite – I don't just randomly like them, they are the best my favorite team currently has to offer).
It's OK if you don't agree: friends don't need to agree on everything and I am always open to, and interested in opposing opinions (but I will require statistical evidence, or compelling logic in order to change my mind).
Anyways this is just a preamble for what I am about to say: The Leafs are currently too good. Yes, their record is 1-7-2 and they are tied for last in the NHL.  However – and this is really important and would raise the level of discourse surrounding the NHL if people were more aware of it – talent doesn't become a bigger factor in determining the standings than luck until game 73. That means that it is in no way unusual for a team to have a record that is in no way reflective of their actual play, ten games into the season, which is the situation the Leafs are in right now.
The Leafs have actually been an excellent team this year.  To wit:
16 players on their roster are above 50% CF.
They are fifth in the NHL in team Corsi For.
As a team, at 5v5, they are shooting only 6%.
Their 98.3 PDO suggest room for improvement and bad luck.
Both their team save % and team shooting % are bottom ten in the league and will improve.
They are starting more of their shifts in the offensive zone than all but two other teams.
They have allowed the fourth least high-danger scoring chances against.
They are fifth in the NHL in positive shot differential.
Even though they are in a virtual tie for first place in power-play possession, their PP has not scored very much.
They are last in the NHL in PP success percentage with a 7.4% PP, a number all but guaranteed to double, because it is incredibly rare for a team to finish the season below 14%.
Everything on this list shows that the Leafs are due to start getting some puck-luck and win some games. If a team plays a high-possession game, like the Leafs do, it is highly likely they'll be successful long-term. The power-play and team shooting/save percentages are all sure to rise and when they do, the Leafs will start winning.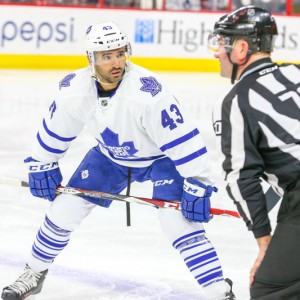 The other factor, which I haven't touched on  yet, is goaltending. So far, Bernier and Reimer have had a few bad games, likely costing the team some points. However, we are ten games into a season and we can't read too much into any players performance up to this point.
The Leafs are a team whose main goal should be development, coaching and acquiring future assets. Actual results, as long as the team gets a high draft pick, don't matter.  There is no way the Leafs should be making a move to get a goalie better than Bernier this season – first of all, I don't know how likely that even is, but secondly, even if it was, why would they want to win more games?  That's the Brian Burke way and we all know how it turned out.
I must give another Stephen Burtch Tweet credit for pointing this out to me, but Johnathan Bernier leads the NHL in high-danger save percentage among goalies with 150 minutes or more played so far this year.  The fact is, Bernier won't continue to let in bad goals at the rate he has. He is clearly talented and I've been more than critical of him so far this year, but when he inevitably reverts back to allowing his career average in low-danger shots (currently 3% lower than normal over 7 games vs the other 175 NHL games he's played) then the Leafs will win more games.
Why It's a Problem:
The problem as I see it is this: the Leafs built a quality team that is tenacious and which has been quick to adopt to Babcock's aggressive system, and as such, they have a much worse record than they deserve to have. So far, this hasn't been a problem because the team can take moral victories while not hurting its long-term future by moving out of top-five draft pick range.
However, when the team starts scoring at a rate that its peripheral stats suggest it almost certainly will, when the power-play doubles its current efficiency and when Bernier stops giving up bad goals at a slightly higher than acceptable rate, the Leafs will start to win games.
Maybe they will be lucky and they will continue to play well and lose, but it cannot be counted on. The Leafs are a team that desperately needs at least one more top-five pick to add to their impressive Nylander, Marner, Kapanen, Kadri, Gardiner, Rielly cache, and by playing as well as they currently are, they are going to screw this plan up.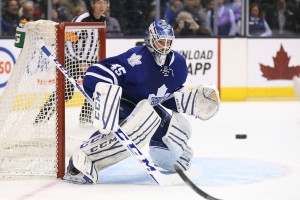 Did someone forget to remind the fans and media that a "scorched earth" rebuild actually involves tearing the team down? I keep hearing about how Phaneuf doesn't need to be traded because he's having a "Renaissance" under Babcock, and how Bozak, for the same reason, might actually be worth keeping around.
NO NO NO NO NO NO NO!
These guys are playing good, no doubt. But that only means the Leafs have an even more urgent need to trade them. Identify players you want to keep when the team is good again, and then move out everyone else, even if those players make the team better now.
Because better now is worse later and no matter how good they are this year, they aren't good enough to win. Only luckily unlucky results so far have kept the Leafs from that familiar territory of "too good to finish last, not good enough for the Playoffs."
The horrible irony is that last year they were a team that was supposed to compete and which was competing well into December, despite horrible advanced stats.  We all know what happened. Now they are a team which is not supposed to compete and they aren't, but the stats say they will. It's a reverse situation that is just as bad.
The Leafs need to get worse, before they accidentally get better.
Tonight's Game:
The Maple Leafs host the Dallas Stars tonight, while the fans will watch Tyler Seguin and play their own game called "What If/If Only," which a very depressing game so I don't recommend you play it. Reimer gets the start tonight because Bernier is suffering a minor injury (he will back-up).
Thanks for reading.
*All stats waronice.com
Covering the Leafs for the Hockey Writers.