After kicking off his rookie campaign with big minutes and impressive play, Dennis Cholowski's ice time has steadily declined in recent weeks and that may be for the best.
Cholowski was one of several defensemen in the mix for the Detroit Red Wings' open defensive spot heading into October before a slew of injuries forced the team to open the season with four rookies on the backend.
The rookie's role was still very much earned, and, as veterans returned to the lineup, Cholowski outlasted his colleagues one by one with a steady two-way game.
But coach Jeff Blashill began sheltering the blueliner's minutes in a continuously polarizing decision. While Cholowski has shown to be the blue line's future, the decreased role is proving to be a positive for his long-term outlook.
The Case for Cholowski
First and foremost, the Red Wings are building for the future and as mentioned, Cholowski is just that. The 20th overall pick in 2016 is poised and proficient when he steps onto the ice and if the 20-year-old had nerves breaking into the NHL, he hid them well.
He recorded six points (two goals, four assists) through his first nine games with 20 shots on net while averaging 21:53 of ice time per game. Five of those points came with the man advantage as Cholowski filled in admirably for the injured Mike Green.
Related – The Grind Line: Red Wings Power-Play Observations
There were visible gaps in his game, but given the love affair with offense in the NHL — which often sees players such as Marc-Eduard Vlasic and Anton Stralman drastically undervalued — various analysts immediately valued Cholowski over other rookie defensemen including 2017 No. 3 pick Miro Heiskanen and 2018 No. 1 pick Rasmus Dahlin.
Cholowski had more points and averaged more minutes than his counterparts, but where Cholowski was the go-to player on an injury-riddled team, Heiskanen and Dahlin joined teams with John Klingberg and Rasmus Ristolainen, respectively, ahead of them on the depth chart.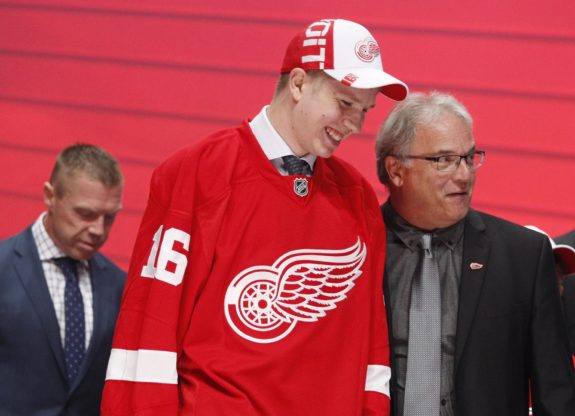 Still, Cholowski handled the heavy workload with minimal mistakes and steadily built trust from his coaches with offensive flash and capable defensive play. But as the veterans returned to health, Cholowski's role began to be sheltered.
After those first nine games, Blashill cut Cholowski's ice time significantly. He's seeing a near four and a half fewer minutes per game, averaging just 17:27 minutes over the past 17 contests.
It's caused a declining shot output, going from 2.2 shots-per-game in his first nine games to a mere single shot-per-game over his last 17. He only cracked 20 minutes of ice time twice over those 17 games.
On the surface, it's easy to argue that rookies with his capability should be put in a position to succeed, but his overall play suggests that's exactly what's occurring.
The Case for the Coach
Not all fans are happy with the decreased usage of Cholowski, but the coaching staff's handling of the prized rookie is proving effective for both him and the team.
Since being shifted to the bottom pairing and spending the bulk of his minutes alongside Niklas Kronwall, Cholowski has faced weaker talent, which has helped his two-way game stay consistent. Blashill shuffled his pairings for the first time in weeks following the Red Wings' shootout loss to Tampa Bay on Tuesday, where Danny DeKeyser broke his hand. Cholowski skated with Green on the top pair, whom he has spent the second-most minutes with this year, according to Corsica Hockey.
#RedWings defense pairs at practice:
Cholowski-Green
Kronwall-Jensen
Ericsson-Witkowski
Daley has missed three games with a lower-body injury and hasn't resumed practicing.

— Ansar Khan (@AnsarKhanMLive) December 5, 2018
He's no longer being tasked with shutting down opponents' top lines like he was in the absence of the veterans. After going minus-four over his first nine games, he's gone minus-four over the last 17 games, not exactly encouraging, but overall acceptable for the .500 Red Wings as there is still a lot for the rookie to learn at the top level.
Cholowski's decreased usage has helped him offensively, as well, and with less reliance on the power play. He has posted two goals and six points over his past 17 games with five of those points coming at even strength. The rookie is on pace to finish the season with 12 goals and 24 assists for 36 total points in 80 games; it would be a significant mark for a 20-year-old defenseman.
Cholowski hasn't been the only one benefitting from his change in deployment. Team results have been clear since the return of the veterans. The Red Wings went 1-6-2 with a rookie-laden blue line through the first nine games, but an 11-6-2 record since has lifted the team to a 12-12-4 overall mark.
To the dismay of some, Blashill has maintained that the Red Wings have the playoffs in mind, and sheltering a rookie defenseman while he continues to learn is common practice. Even the aforementioned Dahlin is averaging just 19:57 of ice time per game for the surprising 17-8-4 Buffalo Sabres.
Related: Red Wings Face Make-or-Break December
Cholowski has become a legitimate NHL defenseman with a bright future, but his short-term growth should take lead over big minutes as a 20-year-old. Reversely, fans can expect an uptick in ice time with DeKeyser sidelined for the next four-to-six weeks.