Most would argue that Kris Draper is one of the most well-known former Red Wings players. Most people could tell you exactly who he played for, who he had a bitter rivalry with resulting in a severely broken jaw bone, and so on. Few are privy to the fact that Draper was acquired by the Wings in 1993 for $1. Now, long after his retiring as a player, that $1 investment is still proving to be one of the most profitable in recent Red Wings history.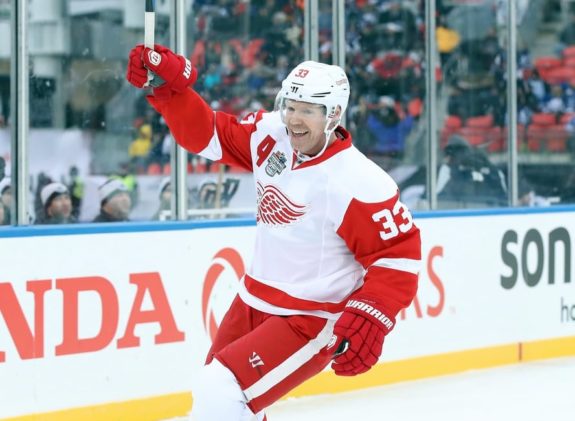 Following the 1997 Stanley Cup win, Draper "paid back" the Ilitch family for their investment. Draper told Brenden Savage of MLive, "I said, 'You know what? I'm going to pay Mrs. and Mrs. Ilitch back for the big trade that they made,' and I gave Mr. Ilitch the dollar."
While he's more than paid his dues to the Red Wings organization, Draper continues to pour his talent and resources into the team that gave him the best moments of his career.
Draper Brings On-Ice Skill to Front Office
Draper's career as a player ended in 2011 with his retirement. Having spent 18 seasons with Detroit, it was time to hang up his skates—professionally, anyway. What hockey player ever really gives up the game entirely? Kris was one of the fortunate ones to find a place to land while remaining where he called home.
Draper is the Assistant to the General Manager. Beyond the paper-pushing of most office jobs, Draper has the ability to be one of the front-runners for scouting and prospect analysis for the team. As described on the Red Wings' website, "Draper works closely with Detroit's management team, assisting in player evaluation at both the professional and amateur levels. He also provides input regarding potential trades and free agent signings, as well as insight into prospective selections at the annual NHL Entry Draft."
Holding a high position in the organization has allowed Draper to spot and advise on the Wings top talent. According to Red Wings analyst Art Regner, "He has a better understanding of what makes a player tick. Since his path to the NHL was somewhat unconventional, he can pick out the players that have the heart, desire, and discipline to do whatever it takes to make it into the NHL. … They may not possess the most talent or be naturally gifted, but they have intangibles which give them opportunity; they do not cheat themselves."
Draper's ability to see beyond just the numbers makes him an invaluable asset to the organization going forward.
A Cup Contender On and Off the Ice
On top of having his own career to reflect on while watching the next generation, Draper also is now very familiar with the junior leagues, which serves to bring further understanding to the current path to the pros. Draper's son, Kienan, has been making his way through the junior leagues, recently trying out for the USHL's Muskegon Lumberjacks.
Having an intimate understanding of the trials, conditioning and requirements for the youth players through those leagues adds to his understanding of a player's current condition upon reaching a scout's notice. Regner went on to say of Draper, "…he can recognize all levels of talent and he knows the ingredients of what makes a powerhouse team, a legitimate cup contender year-in-year-out, because he played on those type of teams, but he also has his own struggles of a player trying to make it, so he has a different approach than a high-end player. "
Prospect Analyst to General Manager?
Serving as a face of the organization in many respects, Draper also has a very strong professional and personal attendance during the Prospect Tournament the Wings hold every year in Traverse City, MI. Often seen wandering about, speaking with other scouts and coaches, Draper exercises his people skills off the ice as well as he executed his position on the ice. He has an extensive pool of knowledge and connections which enables him to be a go-to resource for Red Wings General Manager, Ken Holland. He is consistently creating a culture of respect among the other teams represented – which at this phase of development, the Wings need to maintain.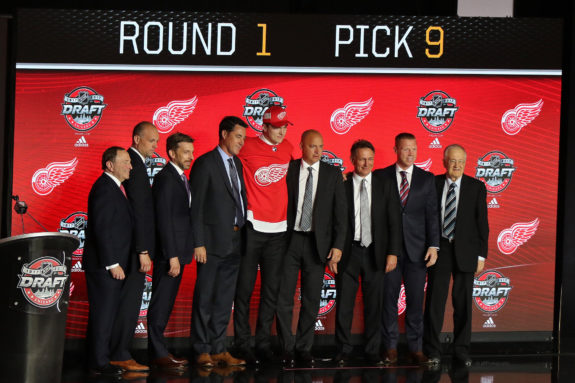 Draper's success as a player and a member of the front office, makes me wonder if a GM position is next on his "to-do" list. Though it's not certain yet what Draper will do once his office as Assistant to the General Manager has run its course, but I'm sure many would agree he'd make a fantastic General Manager. Art Regner, though unable to answer directly, stated, "Draper will be successful whatever direction he chooses to pursue. The sky is the limit." I couldn't agree more.
Now entering his 24th season with the Red Wings organization, that one dollar has been more than paid back. Successfully bringing home four Stanley Cups is not something many hockey players can boast. Beyond his incredible career as a player, Draper continues to invest in the life of the team going forward—making that $1 well worth it.