If you ask any coach, he'll likely tell you that it's never a bad strategy to get pucks on net. However, some teams refine that strategy better than others.
The curious case of getting pucks on net has only become exacerbated since Corsi reared its head in the last decade. Teams like the Los Angeles Kings and Boston Bruins were routinely crowned "Corsi champions," which further reaffirmed that throwing pucks on net is a solid strategy.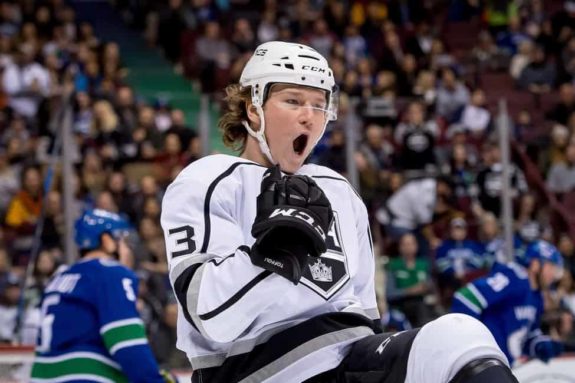 However, with all kinds of data at our fingertips now, I've been curious about which teams excel best at getting scoring chances. Who just dumps pucks towards the net, rather than looking for an opportunity to score?
Everyone can agree that getting more scoring chances leads to more goals. If anything, the graphs below should give you a better idea of which teams are best at getting scoring chances on net, and if it actually led to more goals or not last season.
Scoring Chances Versus Shots and Shot Attempts
Let's start by looking at team Corsi versus team scoring chances last season. All of the stats below are score-adjusted at even strength.
At first glance, there's not much variation here. Generally, teams that have a higher Corsi have more shot attempts. There were a couple of interesting teams here, including the New York Rangers. The Blueshirts weren't a high-scoring team last season, and part of that is evident since they have the second lowest Corsi-for total behind the Buffalo Sabres. However, they were adequate at turning a lot of those shot attempts into scoring opportunities, ranking No. 20 as opposed to No. 30 in scoring chances for.
The Calgary Flames were the 2017-18 Corsi-for champions, even with the score adjusted statistics. That's key because they played a lot of catch-up hockey last season. For the record, they were tops in the league by a wider margin without the score adjusted stats.
To make things more interesting, here's how teams fared with scoring chances as opposed to shots.
The chart starts to get a little wilder here. Here are some of the components I thought were interesting:
The Toronto Maple Leafs were the best team in the league at creating scoring chances, even though they were average at getting shots on goal. The scary thing is, they accomplished this without John Tavares. Their offence projects as the league's best going into next season.
Isn't it odd that the Stanley Cup-winning Washington Capitals were the lowest shooting team at even-strength last season? That's part of the reason why no one was talking about them heading into the playoffs. They played low-event hockey. However, they were a middle of the road team in terms of scoring chances, and stand out as another organization that emphasizes shot quality over quantity.
There's always more to the picture, but it's interesting to see how similar the Winnipeg Jets and Nashville Predators are. Neither team stood out with their scoring chance total, and both focused more on getting pucks towards the net.
There is a big discrepancy in the Pacific Division. The Flames, Edmonton Oilers, Vegas Golden Knights and San Jose Sharks are all upper echelon in shots and scoring chances. The Vancouver Canucks, Arizona Coyotes, and Los Angeles Kings, meanwhile, aren't creating much offensively. If you're looking for entertaining hockey next season, you know where to look.
Scoring Chances Versus Goals
So now that we've taken a look at how teams fare with scoring chances and shot quality, it's time to look at what really matters, scoring goals.
Here's what stood out to me:
Two teams suffered through some rotten luck last season: The Montreal Canadiens and the Chicago Blackhawks.
Sure, the Canadiens aren't in great shape, but they deserve better than what happened last season. Max Pacioretty was better than the 17 goals he scored last season, and overall the team created enough offence that they shouldn't have been second-to-last in even-strength scoring.
The Blackhawks were largely out of the playoffs because no one could play goaltender after Corey Crawford was injured. What got lost in their inability to stop pucks was that the Blackhawks out-chanced everyone but the Maple Leafs last season. Jonathan Toews and Brandon Saad are prime players to rebound after disappointing seasons.
Speaking of subpar goaltending, the Carolina Hurricanes are another team who should have made the playoffs based on offensive production. There's not much reason to have faith in their current tandem, but that defence is primed to eliminate some scoring chances.
On the flip side, one of the luckiest teams last season was Minnesota. They were out-chanced at even-strength and played low-event hockey, yet they made the playoffs and finished middle-of-the-pack in even strength scoring. They stand out as a prime team to miss the postseason in 2018-19.
If these tables showed us anything, it's probably that focusing on scoring chances is a better recipe for success rather than just throwing pucks on net. The Maple Leafs and Capitals are both good examples of that. On the other hand, shot-heavy teams like the Jets and Predators still managed to score a lot of goals, despite finishing mid-range in scoring chances. Both of those teams do like to throw bodies on net, which is imperative if shooting first is your mentality. That's part of the reason why big-bodied teams like the Kings and Bruins were so effective at winning the Corsi battle.
It does depend on how you want to coach your team. From the eye-test point of view, watching a team like the Maple Leafs dance around teams sure is fun to watch. That's only going to get better next season with the addition of Tavares.
The last lesson? You need to get more scoring chances than the 2017-18 Buffalo Sabres. That is, unless your goal is to best position yourself in the Jack Hughes sweepstakes.
KPU Journalism Graduate. Trevor has been writing for The Hockey Writers since October 2014. He has contributed articles related to the Ottawa Senators, Vancouver Canucks, and other issues/stories regarding the game of hockey. Trevor currently lives in White Rock, B.C.