As training camp approaches, one thing is clear about the Edmonton Oilers strategy this offseason: find suitable players on cheap, cost-effective contracts to fill depth spots. Moves like signing Tobias Rieder, Kyle Brodziak, and Kevin Gravel didn't break the bank for general manager Peter Chiarelli. Rieder's one-year $2 million deal gives the club a suitable top nine option that can also help the penalty kill.
On paper, Brodziak's two-year deal at $1.15 million gives Edmonton a  cost-effective signing to fill that fourth-line center job. Previously the Oilers were paying Mark Letestu $1.8 million to fill that role. Kevin Gravel (one-year at $700,000) was signed this summer as well, and he's penciled into the No. 7 job on defense. Unfortunately, the Oilers only have roughly $4.9 million in cap space heading into the season.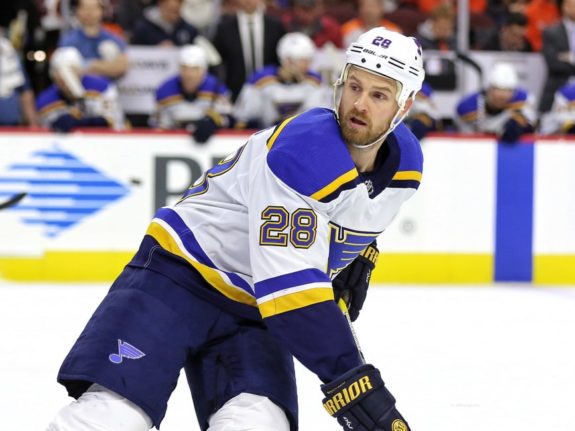 They've still got to sign Darnell Nurse, who's expected to ink a short-term bridge deal at roughly $3-3.5 million per season. So really that gives the club just a shade over $1 million in cap space. The budgeting for this club hasn't been shrewd, and it's prevented the club from being overly active in free agency. It's also made it difficult to move some of those less favorable contracts out.
Are the Oilers Done Making Moves?
It looks like the Oilers might be done, but there's still plenty of question marks with this club. We likely don't see them making any big signings or trades, not that they could from a salary cap perspective, but there are still a few holes. Cam Talbot and Mikko Koskinen are seemingly set in stone at the club's two netminders. Oscar Klefbom, Darnell Nurse, Adam Larsson, Andrej Sekera, Kris Russell, Matt Benning, and Kevin Gravel look to make up the seven spots on defense. Is that a strong enough blueline?
Projected Oilers Defense for 2018-19

Left Defense

Right Defense

Oscar Klefbom

Adam Larsson

Darnell Nurse

Kris Russell

Andrej Sekera

Matt Benning

Kevin Gravel*

Evan Bouchard*
The most apparent depth is at center. Connor McDavid, Leon Draisaitl, Ryan Strome, and Kyle Brodziak hold spots No. 1-4. Where things get, a little hairy is on the wings. Behind Ryan Nugent-Hopkins, the left wing is full of uncertainties in Milan Lucic, Drake Caggiula, and Pontus Aberg. Jujhar Khaira seems to be the only other sure thing, but he'll be starting the year as a fourth-line energy forward. Is this a group that's strong enough on both sides of the puck?
Related: Oilers – Trading Milan Lucic is Unlikely
The right side is a complete wildcard. Ty Rattie is getting a golden opportunity to start the season alongside Nugent-Hopkins and McDavid. Rieder is currently penciled in to start camp next to Leon Draisaitl. Jesse Puljujarvi has the highest potential amongst anyone on the right side, but he's yet to break the 20 point barrier. Zack Kassian is firmly entrenched in the No. 4 right wing spot. With all this uncertainty that opens the door for a rookie like Kailer Yamamoto.
Projected Oilers Forward Depth 2018-19

Left Wing
Center

Right Wing

Ryan Nugent-Hopkins

Connor McDavid

Ty Rattie

Milan Lucic

Leon Draisaitl

Tobias Rieder

Drake Caggiula

Ryan Strome

Jesse Puljujarvi

Jujhar Khaira

Kyle Brodziak

Zack Kassian

Pontus Aberg*

Brad Malone*

Kailer Yamamoto*
Wild Cards Amongst Oilers Lineup
Circling back, Aberg has been inconsistent since being acquired from the Nashville Predators. The juggling of wingers and the potential of moving one of the right side guys to the left is a reason to believe Yamamoto could seriously challenge for a spot amongst the top six. Is that the right course of action for his development? It's far more likely he starts the year in the AHL playing for the Bakersfield Condors.
Related: Kailer Yamamoto Tearing Apart the WHL
Brad Malone and Cooper Marody will also challenge for fourth-line duties, but the Oilers might prefer to have both start with Bakersfield. So where does that leave us? Edmonton has 43 of 50 contract spots spoken for. Regarding depth, it might be wise of Chiarelli to maybe add another defense option as Gravel's health has been called into question and played a factor in the Los Angeles Kings not retaining his services.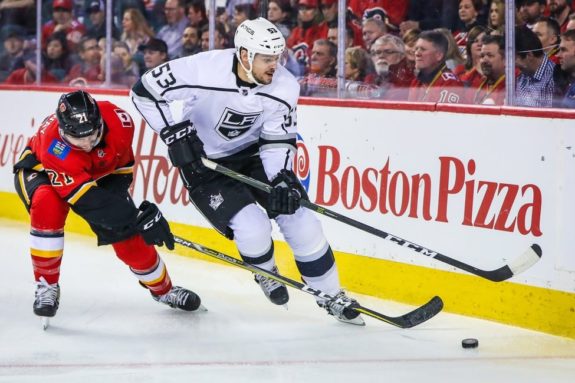 The club might wish to solidify that defense further so they can keep youngsters like Ethan Bear, Caleb Jones, and William Lagesson playing key minutes in Bakersfield. Up front, they could pursue some other options to shore up the right side. Maybe there's a more definitive answer still available within the free agent market? The club could also look for cheap scoring options, or some that'll also strengthen their defensive abilities up front.
Related: William Lagesson Ready for North America
So if the Oilers were to peruse the market, here are five players worth taking a chance on with a professional tryout (PTO) as camp approaches. Some of these players might not except a PTO offer, but we're seeing a lot more of these scenarios nowadays. In fact, it's become a common pathway for free agents to earn a contract come September.
Alexei Emelin (LD)
Age: 32| 2017-18 Stats: 76 GP – 1 G – 8 A – 9 PTS
2017-18 Team(s): Nashville
Emelin, 32, was a depth defender for the Predators last season averaging 16:53 in ice-time, and registering nine points in 76 games. He's not going to help the Oilers score goals, but his physical style would be a welcomed addition to an Edmonton blueline that doesn't exactly have a reputation of being overly menacing. Emelin's hard-hitting style could be a nice fit.
He led all Nashville defenders with 181 hits, which were far more than PK Subban's 111, which placed second amongst the team's rearguards. In fact, the Russian finished eighth in the Western Conference in registered hits. That would've put him behind just Adam Larsson for most hits on the Oilers last year. If you want a physical boost, Emelin might be someone worth having interest in.
Tomas Jurco (LW/RW)
Age: 25| 2017-18 Stats: 29 GP – 6 G – 4 A – 10 PTS
2017-18 Team(s): Chicago Blackhawks
When Jurco was drafted 35th overall in 2011, he was highly regarded for his silky mitts and offensive creativity. Add a touch of speed to his 6-foot-2 frame and this was a guy that looked like he'd be a key factor in the Detroit Red Wings future. That didn't happen.
Jurco put up just 39 points in 159 games with Detroit before being traded for a third-round selection in 2017. He was a healthy scratch during Chicago's first-round sweep in 2016-17 and split time between the NHL and AHL last year. He's been inconsistent, but his tantalizing offensive skills are hard to ignore. Will a third club be the charm for Jurco?
Luca Sbisa (RD)
Age: 28 | 2017-18 Stats: 30 GP – 2 G – 12 A – 14 PTS
2017-18 Team(s): Vegas Golden Knights
Sbisa had one of his better years in recent memory, averaging 19:31 in ice-time on a Vegas team that marched their way to the Stanley Cup Final. Over a full 82-game season, those numbers translate to six goals and 38 points, which would've led all Oiler blueliners in scoring last season.
Edmonton has Klefbom, Russell, and Benning on the right side, with Bouchard and Ethan Bear lurking behind trying to snag a spot on this year's roster. If Bouchard's back in junior, and Bear is playing the year in the AHL, Sbisa could be a fit. The downside is that his possession metrics weren't that great in 2017-18.
Nick Shore (C)
Age: 25 | 2017-18 Stats: 63 GP – 5 G – 12 A – 17 PTS
2017-18 Team(s): Los Angeles Kings, Ottawa Senators, Calgary Flames
Shore started last season playing the first 49 games of the year with the Kings before being thrown into the Dion Phaneuf for Marian Gaborik deal. The Senators would flip him 13 days later to the Flames for a seventh-round pick. He's a decent fourth-line center option despite all the movement.
He averaged 14:45 in ice-time, and has a career face-off percentage of 50.3%. Shore, 25, has good hockey IQ, is a decent penalty kill (PK) option and plays a two-way game that could benefit the Oilers bottom-six.
Scottie Upshall (LW)
Age: 34 | 2017-18 Stats: 63 GP – 7 G – 12 A – 19 PTS
2017-18 Team(s): St. Louis Blues
The 34-year-old Fort McMurray native would be a great addition to the Oilers depth chart as a 13th or 14th forward. He's played out a series of one-year deals for the past three seasons with the Blues and averaged just over 10:51 in ice-time through 63 games.
A knee injury followed by a lacerated kidney shut him down late in the season. Until then he was St. Louis' second-most utilized player on the PK averaging 1:22 per game. You know who was No. 1? Brodziak. The Blues' PK finished 18th in the league whereas the Oilers finished 25th. Could reuniting the Blues' top two penalty killers up front help Edmonton?