Of all the twists and turns the Edmonton Oilers had the misfortune of dealing with during what was a miserable 2017-18 NHL campaign, arguably none was more unexpected than the rise of Ty Rattie. Over the course of three weeks, the 25-year old winger went from depth AHL piece to a player who looks to have earned himself a shot lining up next to Connor McDavid to kick-off 2018-19 season.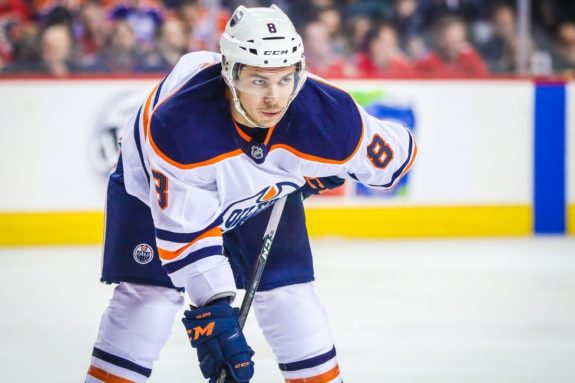 Considering we are talking about the smallest of sample sizes, albeit a rather productive one, the fact Rattie will be given the first crack at playing on the club's top line is a tad surprising. With that said, when you combine the Oilers current lineup construction, cap concerns and couple it with the what the former St. Louis Blues produced over the final three weeks of 2017-2018, staying the course could ultimately prove successful.
First Impressions Matter
In a perfect world, Peter Chiarelli would have gone out and acquired a proven top-six scorer to play alongside McDavid and Ryan Nugent-Hopkins but there is nothing perfect and/or easy with the situation Edmonton currently finds itself in. In other words, the spot is there for the taking and will likely come down to an audition between Jesse Puljuarvi, Rattie, and Kailer Yamamoto, with the "veteran" having the inside track.
Though the organization is hoping the aforementioned youngsters will become regular fixtures on the team's top two lines for years to come, the chances of both reaching said level from the drop of the puck seems rather unlikely. Hence, the decision to go with the guy who has not only shown an ability to produce in the role but also earned the trust of his two linemates.
"I learned you can't crowd him. He can beat guys on his own, unlike most players, so you do the opposite and you don't have to support him as much." Rattie on playing with McDavid. #Oilers

— Jason Gregor (@JasonGregor) April 16, 2018
It was not uncommon to hear both McDavid and Nugent-Hopkins praise their new running mate over the final month of last season's schedule. A good sign to be sure, as was the fact phrases like "processes the game at a high level" and "knows where to go on the ice" were used when describing the reasoning as to why Rattie was a good fit. Surprising? Sure but certainly not completely unexpected.
Rattie Has All the Tools
No question he has yet to compile anything of note to this point in his NHL career but the numbers Rattie posted in both the WHL and AHL speak for themselves. He scored at will during his time with Portland Winterhawks (151 G, 348 PTS in 269 GP) and helped the club reach three consecutive WHL Finals, including taking home the Ed Chynoweth Cup in 2012-13 where he was given MVP honours for his efforts (20 G, 36 PTS, 21 GP).
Considering Rattie made a habit of running the Edmonton Oil Kings show throughout his WHL career, be it during the regular season or playoffs, it is not as if he was a complete unknown in these parts. However, as is the case with many kids coming out of junior, his production did drop in the AHL but not to the extent that would explain his lack of NHL experience…seven years after being selected 32nd in the 2011 Entry Draft.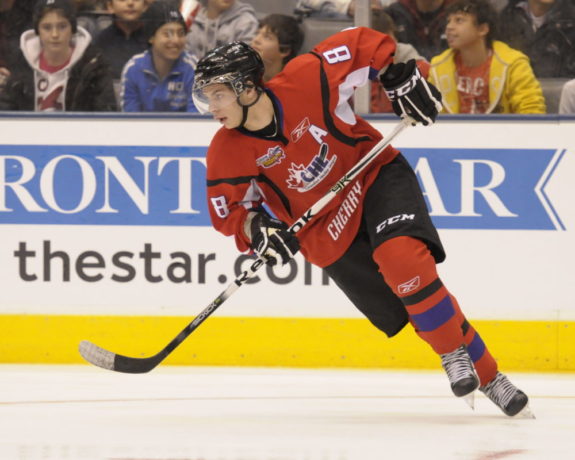 As of this moment, Rattie has played 268 games during parts of five seasons in the AHL and scored 92 times and chipped in with 92 assists for good measure. By no means eye-popping numbers but there is enough there to suggest scoring at the next level could be a possibility. At the other end of the spectrum, the potential for him to fall into the category of being a so-called "tweener" is quite real.
AAAA Player or NHL Regular?
However, there is a big difference between the looks he was given in St. Louis and with the Carolina Hurricanes. Prior to his call-up to Edmonton, Rattie had essentially been nothing more than a 10-minute a night guy who was given almost zero powerplay time in the NHL. With the Oilers, he averaged 15:28 of ice-time, just over a minute and a half on the man advantage and spent much of his time on the team's top line.
Quite the jump to be sure and when we take into consideration Rattie spent much of said time with the best player on the planet, the spike in his production should come as no real surprise. Again, the sample size was small but five goals and nine points in fourteen games tell us he used the opportunity to his advantage and leveraged it into a guaranteed one-year contract with the chance of lifetime staring him in the face.
"It was a positive meeting. He discussed getting quicker and stronger to handle a full 82-game season. I will work on my endurance and meal prep a lot this summer," Rattie on exit meeting with Chiarelli.

— Jason Gregor (@JasonGregor) April 16, 2018
It has taken a lot longer than he hoped but heading into his sixth season in professional hockey, Ty Rattie is about to get his shot to make a name for himself and earn a spot as an NHL regular. Now it will be up to him to ensure he arrives at training camp in peak form and force Todd McLellan to leave him where he finished 2017-18…skating alongside Connor McDavid and Ryan Nugent-Hopkins on the Edmonton Oilers No. 1 line.