When the Dallas Stars took Julius Honka 14th overall in the 2014 NHL Draft, the thought was that the team was taking a franchise defenseman. At 5-foot-10 and 180 pounds, his stature certainly doesn't scream NHL defenseman, but his offensive upside earned him some high-praise and the accolade of being one of the best in the 2014 class.
Four years later, the Stars' former No. 1 prospect has only managed to appear in 58 NHL games and has failed to secure a consistent roster spot. Now the subject of much trade talk around the league, Dallas appears ready to move on if need be. So what went wrong?
Is it a Honka-related issue? Poor coaching? Poor organizational development? A lack of opportunity? Julius Honka and the Stars are left wondering what to do next.
Top-Pair Potential
Before the draft, Honka was making some noise across the pond. The Jyvaskyla, Finland native was playing for his hometown team, JYP Jyvaskyla, a U20 team in the junior level of Liiga, a step below the highest level of pro hockey in Finland.
During the 2012-13 season with JYP, the defenseman put up four goals and 11 helpers in 42 games. He also earned himself a spot on Finland's U18 team for both the Ivan Hlinka Memorial Tournament and the World Junior Championship. In five games at the Ivan Hlinka tourney, Honka had two helpers and finished with a plus-two rating. With his World Junior squad, the D-man notched a goal and a total of four points to help the Finnish team to a bronze medal.
Following his year in Finland, Honka was selected in the first round of the 2013 CHL Import Draft, chosen in the first round by the Swift Current Broncos of the Western Hockey League. The selection meant that Honka was well on his way to the North American game. To say he adjusted well would be a bit of an understatement.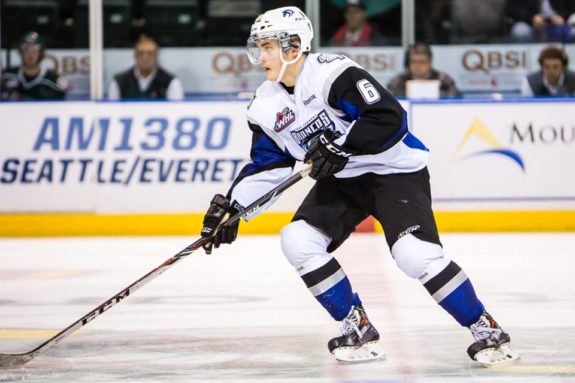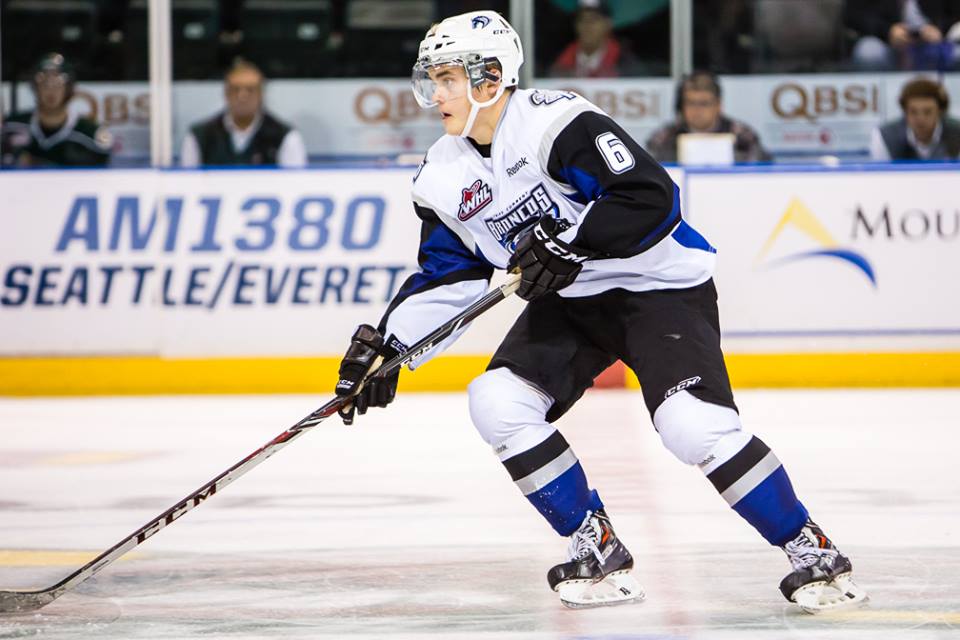 The Broncos' new rookie defenseman tallied 12 goals and 24 assists for a total of 36 points in his first 35 games in North America. His season with Swift Current was put on pause due to making Finland's World Junior Team for the second season in a row. Despite only managing one assist in seven games of the World Junior Championship, Honka played big minutes en route to helping the Fins capture the gold medal.
Returning to Swift Current after the WJC, Honka finished his first season in North America with a grand total of 56 points (16 goals, 40 assists) in 62 games. Honka led all Bronco blueliners by a wide margin in goals, assists, and points. The defenseman also finished fifth on the Swift Current roster in goals and points and was third on the team in assists.
The successful jump to North America saw Honka's draft stock rise rapidly. Honka finished the season as the No. 11-ranked North American skater on NHL Central Scouting's Final List and was third among North American defensemen. Peter Sullivan of NHL Central Scouting said this of Honka before the draft:
Let's just say that when you go to a game and you see his name in the lineup, you're excited to watch the game because he's got about four or five different gears. You think he's just skating normally and he puts it in another gear, then another gear. Excellent vision and on-ice awareness. He reads the play so well sometimes he's two or three steps ahead of his own teammates.
There was certainly a bit of buzz surrounding the small Finnish playmaker as the draft approached. When the Stars selected Honka in the first round, it was seen as an excellent and equally exciting move that addressed Dallas' defensive depth and its need for a right shot, skilled puck-moving D-man.
Related: Dallas Stars Top 4 Prospects 2017
Now four years removed from the selection, the Stars and Honka are left with some questions.
A Struggling Star
Following the draft, Honka signed his three-year entry-level contract and turned pro immediately, joining the Texas Stars, the team's AHL affiliate.
His first season in the AHL was a fairly decent one. Honka tallied eight goals and 23 assists in 68 games, finishing third among the team's blueline in points and ninth on the entire roster as the youngest player on the team. The following season, the 2015-16 campaign, the sophomore Star saw some decent improvement. Honka managed 11 goals and 33 assists in 73 games, pacing all Texas blueliners with 44 points and finishing the season sixth on the team in points.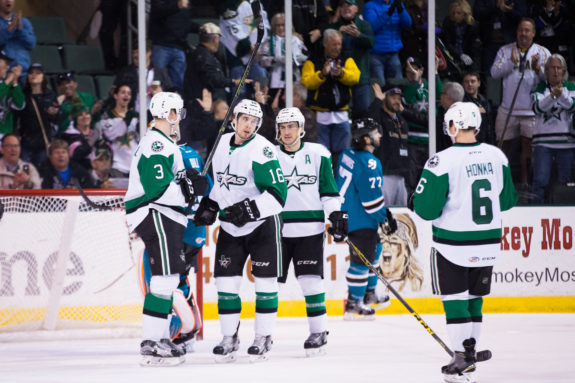 No, his struggle is not with the Texas Stars—he's actually been quite good at the AHL level—but rather with the big club in Big D.
Honka earned his first NHL call-up and debuted Nov. 21, 2016 in a game against the Minnesota Wild. The rookie blueliner made an impact right away, notching an assist for his first NHL point. In total, Honka skated in 16 games for Dallas during the 2015-16 campaign and tallied one goal—an absolute beauty, for what it's worth—and four helpers. Not a bad first handful of games by any means.
This past season, Honka made the opening night roster but couldn't seem to make any further impact. The sophomore blueliner dressed for 42 contests but only managed an average of 13:01 of time on ice, a drastic decline from the 16:52 he was getting during his rookie stint. And despite over doubling his games played, Honka managed one less point than he had his first year, tallying just one goal and three assists. So what gives?
Coaching at Fault?
Now at 22 years of age and a 19-year-old Miro Heiskanen inevitably leaping over him in the defensive depth chart this season, Honka and the Stars are left wondering what's next.
With his name coming up in the rumor mill in a potential trade for Erik Karlsson or Artemi Panarin or whomever the Stars are coveting this offseason, it's clear that general manager Jim Nill and the Stars are ready to cut ties on what is seemingly shaping up to be failed Honka experiment.
Is it a case of a draft bust, a player with so much upside failing to reach the levels that many thought he'd reach when he was 16? Or is it a case of failed development and lack of giving the polarizing prospect a fair chance? Is it both?
The answer is probably both. For what it's worth, I'd give a little more fault and blame to coaching for the young Finn's flaws.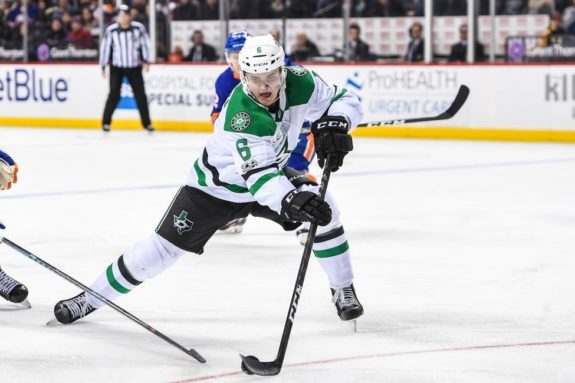 Under Lindy Ruff's guide, Honka showed some signs of life during his rookie season with the coach. He played fast, was earning some points, and showed the signs of being the potentially potent puck mover that pegged him as a top pick in 2014. Ruff is notoriously an offense-first head coach, so his usage of Honka was to be expected. Guys like Honka and John Klingberg, two speedy, smallish puck-moving D-men, are Ruff's prototypical blueliners. For Ruff, the best defense is a good—which I'm sure is Honka's modus operandi, as well. When Ken Hitchcock came aboard this past season, well, it was a disaster for a guy like Honka.
The combination of Honka and Hitchcock was not an ideal player-coach relationship from the jump. Hitchcock preaches a highly-defensive sermon behind the bench. Honka is not a highly-defensive defenseman. During his time with the Stars this season, Hitch opted to give more ice time to the Stars' shutdown motley crew of blueliners, with guys like Dan Hamhuis (20:11 average TOI), Greg Pateryn (19:37), and Stephen Johns (17:33) receiving the brunt of the share. Hitchcock even gave Jamie Oleksiak an average of 15 minutes of TOI while Honka's untapped potential withered away at the craft services table in the press box.
Hitchcock's refusal to use Honka inspired a social media movement on Twitter, #FreeHonka. Even posters and signs with the hashtag could be spotted littering the crowds at American Airlines Center this past season. Honka, the fans, and the people were all ready to see what the young Fin could do. Hitchcock was not. Hopefully for Honka, new head coach Jim Montgomery is willing to take the chance. That is, if he isn't traded by the start of the season.
Related – Stars New Head Coach Jim Montgomery: A Winning Profile
What's Next?
Luckily for Honka, the Stars now have Jim Montgomery. Dallas's new bench boss will finally give Honka his due-and-proper opportunity. Again, that is if he isn't traded before the start of training camp. In a recent interview with Sean Shapiro of The Athletic, the Stars' head coach said this of Honka:
"He has great tools. With a lot of things how we will incorporate our defensemen in all three zones, their ability to make good decisions and sound plays that lead to momentum and easy entries, it leans towards his skill set. And I'm excited to watch him get his confidence back, you can tell he is a person that lost his confidence. You could tell he was a person that was kind of throwing pucks away and once he gets the confidence back, what can he add? He's another person that can really make us so much more dynamic and add to offense. He and Heiskanen coming and being able to gain confidence and add to our d-core is going to add to our scoring. Our secondary scoring will go up just because you'll have cleaner entries." (from 'Q&A: Jim Montgomery on Stars lineup options and expectations for Nichushkin and Heiskanen', The Athletic, July 25, 2019)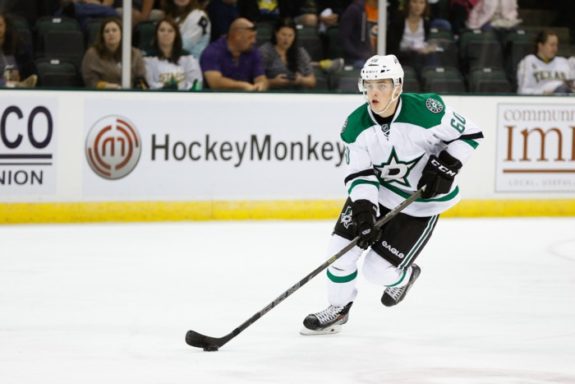 There are a couple of key points contained within Montgomery's quote. First, he's recognizing what Honka can add to the lineup. He mentions and appreciates how dynamic he is and how he's apt to move the puck, which fits his highly-offensive coaching style. Second, Monty recognizes that Honka's issue may just be a loss of confidence, which is absolutely true. He went from a highly-touted defensive prospect to spending half a season in the press box, more or less abandoned by his coaching staff.
Indeed, Honka's issue is more than likely one of confidence, or lack thereof. Poor coaching and disconcerting development have mired the 22-year-old D-man and have unfairly and prematurely cast the young Finn into the "draft bust" category, at least in the eyes of some peers and press alike. But Honka has hardly been given a chance. With a new head coach that is more in tune with Honka's offensive style, and a fresh clean slate for the budding blueliner, expect the fledgling Finn to start reaching some of that star-studded potential. Or at the very least, given a chance to.
Free Honka.