David Petrie's rankings can be found on The Hockey Writers and will be up shortly on Fantasy Pros as well. Defence rankings and a top 250 rankings will be posted in August. These 2018-19 fantasy hockey goalie rankings are based on standard categories, including wins, goals against average, save percentage and shutouts.
Andrei Vasilevskiy TB
Connor Hellebuyck WPG
Pekka Rinne NSH
Tuukka Rask BOS
Sergei Bobrovsky CBJ
Jonathan Quick LA
Frederik Andersen TOR
Matt Murray PIT
Marc-Andre Fleury VGK
Braden Holtby WSH
Martin Jones SJ
John Gibson ANA
Devan Dubnyk MIN
Ben Bishop DAL
Carey Price MTL
Mike Smith CGY
Antti Raanta ARI
Jake Allen STL
Cam Talbot EDM
Roberto Luongo FLA
Scott Darling CAR
Semyon Varlamov COL
Cory Schneider NJ
Juuse Saros NSH
Brian Elliott PHI
Henrik Lundqvist NYR
Corey Crawford CHI
Carter Hutton BUF
Keith Kinkaid NJ
Jacob Markstrom VAN
Aaron Dell SJ
Philipp Grubauer COL
Jaroslav Halak BOS
Petr Mrazek CAR
James Reimer FLA
Fantasy Hockey Goalie Draft Strategy
Draft at Least One of the Top 12 Goalies
I generally don't like to draft goalies in the first three rounds (assuming 10-12 teams in the league) as the skaters that go near the top of the draft are far too valuable to pass up on. That means that I will miss out on Vasilevskiy and Hellebyuck and I'm okay with that. However, I find it crucial to get one of the goalies ranked in the top 12 so if the goalies start flying off the board, I will make sure to grab one. I consider the goalies ranked from number 4 (Rask) to number 12 (Gibson) to be of a similar tier so I'm fine with any of them.
Team Success Leads to Fantasy Goalie Success
The team in front of a goalie HEAVILY influences how good a fantasy goalie he is. It's no coincidence that the top 13 goalies listed above were on the 13 winningest teams last season. When it comes to choosing which goalie you want that is further down the list, pick one whose team you think will take a step forward in 2018-19.
Despite the fact that they played poorly last season, Jake Allen and Scott Darling are two bounce-back candidates this season that I am targetting because I like what the St. Louis Blues and Carolina Hurricanes did this offseason and I think both teams can make the playoffs this year.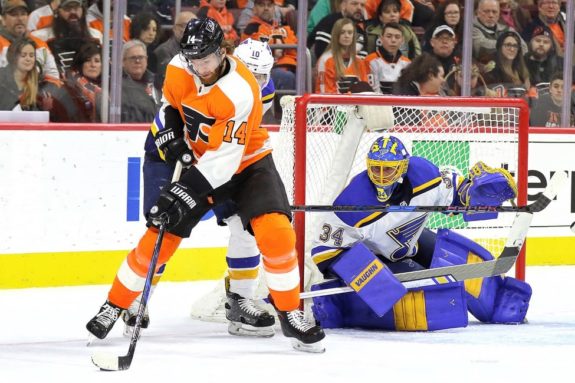 On the flip side, avoid goalies that play on bad teams like the plague. You won't see any goalies from the Ottawa Senators, Detroit Red Wings and New York Islanders in the rankings because they can torch your goals-against average and save percentage. If you think that the Arizona Coyotes, Buffalo Sabres and Edmonton Oilers will be better this year, then Antti Raanta, Carter Hutton and Cam Talbot are for you. If not, leave them alone for other fantasy GMs to take.
One team that's difficult to figure out is the Philadelphia Flyers. Their goaltending has been atrocious the past couple years but they have a talented roster so if one of their goalies can step up, they can put together some excellent fantasy numbers. Brian Elliott gets the first crack at the starting job and can be had late in fantasy drafts. Michael Neuvirth would be next in line, followed by Alex Lyon, but watch out for one of the NHL's best goalie prospects in Carter Hart.
Backup Goalies are Valuable in Rotisserie Leagues
If you play in a rotisserie league that has a maximum number of games allowed, there isn't much use for skaters on your bench. That means you can use your bench allotment on goalies and you should. Here's a quiz for you, which of these goalie stats from 2017-18 would you have preferred:
Goalie A. 64 games played, 33 wins, 2.40 GAA, 0.921 SV%, 5 shutouts
Goalie B. 60 games played, 31 wins, 2.43 GAA, 0.926 SV%, 4 shutouts
Goalie C. 60 games played, 29 wins, 2.30 GAA, 0.929 SV%, 8 shutouts
Goalie A is Jonathan Quick, goalie B is John Gibson and goalie C is a combination of Curtis McElhinney, Ryan Miller and Casey DeSmith, three goalies that were widely available on the waiver wire last season. By rotating good backup goalies when they start, you can get excellent goalie stats without wasting a high pick.
For 2018-19, the backup goalies I like best for this purpose are Juuse Saros, Aaron Dell and Jaroslav Halak. Keith Kinkaid, Phillip Grubauer, Petr Mrazek and James Reimer are backup goalies that could take the starters job as they are behind oft-injured or shaky starters.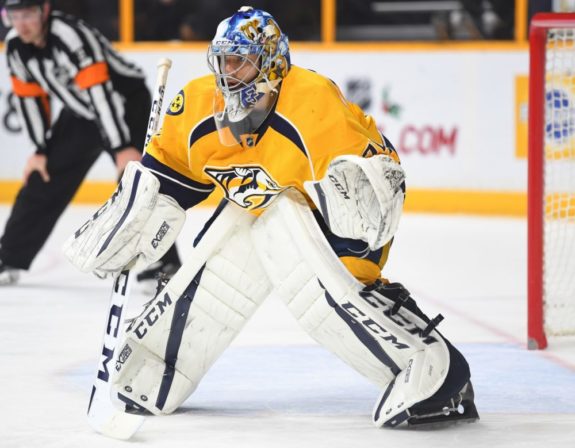 Impact of the NHL Schedule on Fantasy Hockey Goalies
Plenty of insights can be found in David Satriano's analysis of the 2018-19 NHL schedule. In particular, for fantasy goalies, the Carolina Hurricanes and Florida Panthers have the most back-to-back games, which gives an uptick in value for their backups, James Reimer and Petr Mrazek. Another important insight is that the Anaheim Ducks play the most games by far on lighter game days (Monday, Wednesday, Friday, Sunday), which adds to John Gibson's value.