Tim Hunter and Team Canada are going to have some difficult decisions on defence when it comes time to finalize the World Junior roster at selection camp in December.
The easy decisions are Noah Dobson and Evan Bouchard — taken 12th and 10th overall, respectively, in this June's draft.
Hunter was most impressed by those two at last week's Summer Showcase tournament in Kamloops, and they can be considered locks for Canada — providing Dobson and Bouchard are available and not playing in the NHL for the New York Islanders and Edmonton Oilers this winter.
The competition for Canada's other five or six spots is wide open since there are no returnees on the back end from the 2018 gold medal-winning squad.
Of the dozen defencemen auditioning at the Summer Showcase, there wasn't much separating half of them as undersized but mobile puckmovers who are presumably contending for only a couple roles on Team Canada.
Calen Addison of the WHL's Lethbridge Hurricanes did his best to stick out from that pack, which also included Ty Smith, Jacob Bernard-Docker and Nicolas Beaudin as first-round picks from the 2018 draft class, plus Pierre-Olivier Joseph and Ian Mitchell as older prospects drafted in 2017.
"There's so many of us that are similar in every way," admitted Addison, an 18-year-old blueliner from Brandon, Man., and a second-round pick (53rd overall) by the Pittsburgh Penguins in June. "At the end of the day, it's going to be who they can trust out there at any point of any game. You just have to stand out in that regard."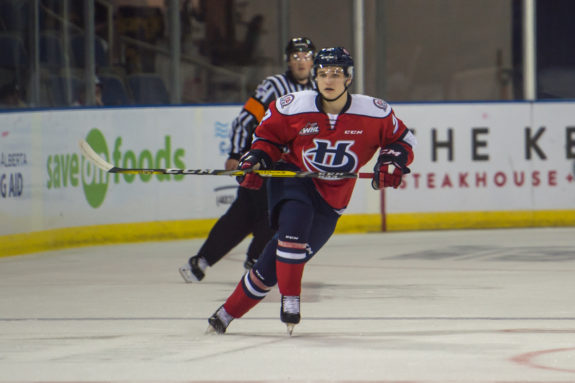 Strong Showing
Against the rival Americans in Saturday's finale, Addison stepped up his game at both ends of the ice and got rewarded with the winning goal in a 6-5 victory to close out the Summer Showcase.
Addison followed up a rush by forward Jack Studnicka and the rebound of a goalmouth scramble landed on his stick in the slot with little time for U.S. goaltender Cayden Primeau to react. Addison made no mistake in snapping a quick shot through traffic into the open side of the net for what stood up as the winner, making it 6-4 for Canada just over four minutes into the third period.
The puck bounces right out to defenceman Calen Addison (@penguins) and he wires it in to make it 6-4 @HC_WJC. #WJCShowcase pic.twitter.com/256ViTO8h8

— TSN (@TSN_Sports) August 4, 2018
Prior to those heroics, Addison was already having a whale of a game by using both his skating and his passing to spark Canada's offence, while also making several smart and smooth plays in the defensive zone.
Addison wasn't credited with any assists, but he had a hand in at least one other goal — starting the breakout that led to Studnicka's second-period snipe, with Addison absorbing a big hit from American forechecker Brady Tkachuk as he dished off to Ty Dellandrea, who fed Jaret Anderson-Dolan as part of a three-way passing sequence through the neutral zone that was finished by Studnicka's wicked shot.
.@HC_WJC gets the puck up ice quick before Jack Studnicka (@NHLBruins) walks in and rips one high to make it 5-1 🇨🇦. #WJCShowcase pic.twitter.com/jOE1lVCleS

— TSN (@TSN_Sports) August 4, 2018
Studnicka's linemates — Dellandrea and Anderson-Dolan — received the helpers on the scoresheet, but if third assists were awarded in hockey, Addison would have got one for his contribution in giving Canada a 5-1 lead with that goal.
"I think I made some good breakout passes and took a hit to make a play there, and then got lucky that one popped out to me in the slot and I was able to put it in," Addison said of his efforts against the U.S., which could have been worthy of the game's third star behind Studnicka, who also had an assist for two points and was a force throughout, and American forward Jay O'Brien, who scored twice in defeat.
Next Step: Selection Camp
All in all, Addison seemed to do enough to stay in the mix for selection camp.
He improved with each outing at the Summer Showcase, gradually hitting his stride and getting more involved offensively as the week progressed at the four-team exhibition tournament that also featured Finland and Sweden.
Here are two more highlights of Addison (No. 5) from Canada's 4-3 overtime win against Finland last Thursday, setting up Dobson's power-play goal with a perfect pass for a 3-1 lead in the third period and then assisting on the 3-on-3 winner with a nice spin move away from a defender before feeding Antoine Morand, who slid the puck across to fellow Anaheim Ducks prospect Max Comtois for a one-timer finish.
[miptheme_quote author="" style="text-center"]"It's still summer and I don't feel like I'm making the same plays at quite the same speed that I do during the season, but I think I showed them my puck skills and I defended pretty hard. I think I did a good job in that regard," Addison said of his overall performance in Kamloops.[/miptheme_quote]
"It's just getting more confidence out there as the days go by," he added. "Every day, everyone kind of got better and got more confident and comfortable here. Guys are pretty timid and nervous coming in, but by the end of it you get your swag and confidence on the ice."
Now sounding confident off the ice about his chances of getting invited back for selection camp, Addison also got a boost from a previous experience with Hockey Canada.
Surrounded by many of the same teammates at last summer's Ivan Hlinka Memorial tournament, Addison shone as Canada's top-scoring defenceman with six points (two goals, four assists) in five games en route to winning gold over the host and defending champion Czech Republic.
That put Addison on the radar for future national teams, having outproduced the likes of Dobson and Smith, who each had three assists there. Jared McIsaac, Jett Woo and Kevin Bahl were also part of that defence group and remained in the fold for the Summer Showcase, while Ryan Merkley was a notable omission from the Kamloops roster despite matching Addison's point total at the Hlinka event, with six assists.
"That would be awesome," Addison said of wearing the Maple Leaf again at the under-20 World Junior Championship in Vancouver and Victoria from Dec. 26 to Jan. 5. "The works starts now, this camp is done, so I have to go back and have a good start to my season (with Lethbridge)."
Sizing Up the Competition
As mentioned, sticking out was Addison's focus at the Summer Showcase, but he was also paying attention to his peers and how he might be stacking up.
"There's lots of similar guys — lots of undersized guys that can skate and move the puck — so you want to try to be better than the guy beside you, but you just got to play your own game," Addison reiterated. "At the end of the day, we're all good players and it's just going to come down to who they want and who they can trust out there all the time."
Addison insisted it was a healthy and friendly competition in Kamloops.
"You want everyone to do good, as much as you're trying to make the team yourself," said Addison. "At the end of the day, we're all happy for each other when we do good things out there, and we wanted to win games here too."
Camaraderie is always key for Canada, but new head coach Tim Hunter wanted to see his players pushing each other at the Summer Showcase to solidify their place in the pecking order heading into the season.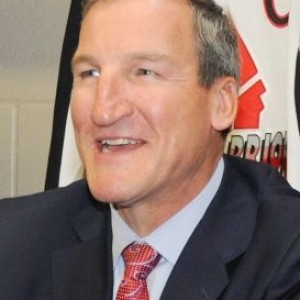 That was evident following Friday's 4-1 win over Sweden when Hunter lumped together a few forwards — namely Morgan Frost, Shane Bowers and Barrett Hayton — in what may have been a motivational tactic, attempting to prod more out of them individually for Saturday's finale against the U.S.
"He's in a group of guys who all kind of look the same," Hunter told Sportsnet's Mark Spector for a feature on Frost. "He and Hayton and Bowers — they all kind of look like the same player right now. We want to find out who's going to step to the forefront over the next few months."
It's safe to assume the same challenge was issued behind closed doors to Addison and the rest of the defenders who dressed on Saturday, when Dobson and Bouchard were left out of the lineup.
Addison's play indicated he got the message, rising to the occasion and leaving a lasting impression on Hunter, who also coaches the Moose Jaw Warriors and would have been familiar with Addison from their encounters in the WHL's Eastern Conference the past two campaigns.
"Everyone is trying to make their national team here, and prove a point as to why they're here," said Addison, who came away feeling like he could be a fit for Hunter's roster. "I really noticed here that, he was an old-school player, but he's a really modern-day coach now. He's changed his ways and he wants all speed and skill and hard work, and those are the strengths of my game."
Hunter wasn't revealing his depth chart coming out of Kamloops, but he'll have lines and pairings in mind for those returning to selection camp.
Stacked on Right Side
Working against Addison is the fact he's right-handed, playing the same side as both Dobson and Bouchard.
The list of righties also includes two of Hunter's own rearguards from Moose Jaw in Woo and Josh Brook, who was invited to the Summer Showcase but didn't attend due to injury, plus Mitchell and Bernard-Docker.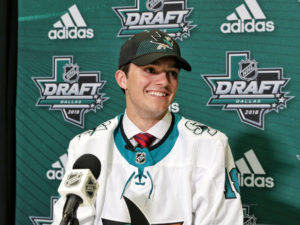 That's not to mention Merkley, who could work his way back into roster contention between now and Christmas. His talent is undeniable as the 21st overall pick in this year's draft, but he'll need to alleviate character concerns to be considered for selection camp.
Counting Merkley, there are eight right-handed defencemen vying for three to five spots on Canada's roster. That is a lot of bodies and plenty of quality, which is surprising since righties seem so rare in the NHL.
The left side isn't as deep, which could open the door for 2019 draft-eligible Bowen Byram, who is currently starring for Canada at the rebranded Hlinka Gretzky Cup in Edmonton. Byram is a projected top-10 pick — possibly top five or even top three — but he would have to beat out a few lefties from the Summer Showcase.
Joseph, Smith and McIsaac might be the frontrunners among left-handed defencemen, followed by Beaudin, Bahl and Markus Phillips, who was summoned as an injury replacement for Brook. Bahl offers the most size and shutdown ability, but McIsaac was an effective penalty-killer in Kamloops and Joseph appeared to be an all-purpose type.
Shifting Spotlight to Cozens
Speaking of this week's Hlinka Gretzky Cup — which started Monday and continues through Saturday — Addison had high praise for his Lethbridge teammate Dylan Cozens, another top 2019 prospect playing for Canada in that tournament.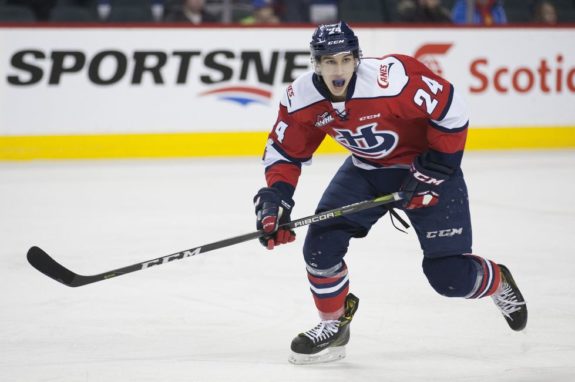 TSN's Craig Button is really high on Cozens, ranking him second only to American centre Jack Hughes for next year's draft.
"He's unbelievable. I think he's just as good (as Hughes), honestly," Addison said immediately after playing against Hughes in Kamloops. "(Cozens) is a pro already for being such a young kid, but being around him for a year, he's already got a big frame and I think he'll be a high-end NHL player for sure."
Larry Fisher is a senior writer and head scout for The Hockey Writers, having been an at-large contributor for THW since August 2014. Fisher covers both the NHL and the WHL, specializing in prospects and NHL draft content, including his annual mock drafts that date back to 2012. Fisher has also been a beat writer for the WHL's Kelowna Rockets since 2008, formerly working as a sports reporter/editor for The Daily Courier in Kelowna, British Columbia, Canada from 2008-2019. Follow him on Twitter: @LarryFisher_KDC.