David Petrie's rankings can be found on The Hockey Writers and will be up shortly on Fantasy Pros as well. Goalie rankings were posted earlier and a top 250 rankings will be posted later in August. These 2018-19 fantasy hockey defence rankings are based on standard Yahoo! league categories, including goals, assists, plus-minus, power-play points, penalty minutes and shots.
Brent Burns SJ
Erik Karlsson OTT
Victor Hedman TB
Dustin Byfuglien WPG
P.K. Subban NSH
Roman Josi NSH
Drew Doughty LA
John Carlson WSH
John Klingberg DAL
Shayne Gostisbehere PHI
Seth Jones CBJ
Kristopher Letang PIT
Dougie Hamilton CAR
Tyson Barrie COL
Torey Krug BOS
Mark Giordano CGY
Keith Yandle FLA
Alex Pietrangelo STL
Morgan Rielly TOR
Rasmus Dahlin BUF
Zachary Werenski CBJ
Jake Gardiner TOR
Oliver Ekman-Larsson ARI
Aaron Ekblad FLA
Mathew Dumba MIN
Ivan Provorov PHI
Rasmus Ristolainen BUF
Duncan Keith CHI
Kevin Shattenkirk NYR
Ryan Ellis NSH
Colin Miller VGK
Justin Faulk CAR
Mikhail Sergachev TB
Ryan Suter MIN
Jake Muzzin LA
Charlie McAvoy BOS
Oscar Klefbom EDM
Jeff Petry MTL
Nick Leddy NYI
Cam Fowler ANA
Tyler Myers WPG
Will Butcher NJ
Colton Parayko STL
Shea Weber MTL
Brandon Montour ANA
Jacob Trouba WPG
Mattias Ekholm NSH
Josh Manson ANA
Shea Theodore VGK
Ryan Pulock NYI
Alexander Edler VAN
Justin Schultz PIT
Thomas Chabot OTT
Mike Green DET
Jared Spurgeon MIN
Potential Future Trade Impacts
Erik Karlsson could potentially be traded at some point this year and if he is, Thomas Chabot's value rises dramatically, though Chabot could potentially be heavily in the minus on an Ottawa Senators team that may struggle to win this season. Karlsson himself is so talented that his value won't change much wherever he is traded but he could impact other defencemen on his new team. For example, if Karlsson is traded to the Dallas Stars, I would lower John Klingberg in my rankings, as Karlsson would take away from some of his prime ice time.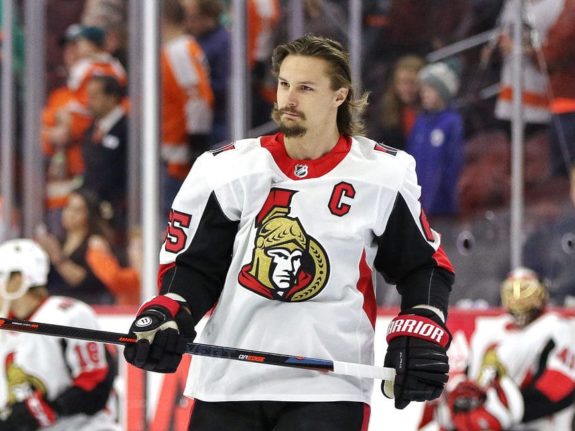 Justin Faulk is another name on the trade block right now. If he is traded, Dougie Hamilton's value rises as he will become the clear top power play defenceman for Carolina. Faulk's value will depend on where he goes and whether he will be on that team's top power play or not.
Pay Attention to Categories in Your Fantasy League
I mentioned above that the categories used for these rankings are goals, assists, plus-minus, power play points, penalty minutes and shots. If your league is different you will need to take that into account. If you don't have penalty minutes, Dustin Byfuglien is not nearly as useful. If you don't have shots, Brent Burns and Dougie Hamilton would be ranked a little lower. If you don't have plus-minus, Kevin Shattenkirk, Nick Leddy and Oliver Ekman-Larrson become more valuable.
Real Hockey vs. Fantasy Hockey
I have Charlie McAvoy ranked 36th in my rankings compared to 19th on NHL.com's rankings. It's not that I think he's a bad player. In fact, I think he's fantastic. I just think McAvoy is much better in real hockey—where he shuts down opposing teams' top lines as a 20-year-old—than he is in fantasy hockey, where he only took 77 shots last season and doesn't get many power play-points.
Hampus Lindholm, Ivan Provorov, Jacob Trouba, Colton Parayko and Jaccob Slavin are other defencemen that I think are great in real life but not nearly as good in fantasy hockey.
Potential Breakout Candidates
Aaron Ekblad scored 39 points in his rookie season and hasn't managed to improve on that total in the following three years. That's very strange. The Florida Panthers' signing of Keith Yandle has obviously held Ekblad back from a statistical standpoint, but Ekblad easily has 50-point potential if he can get more offensive ice time. The Panthers now have a solid top-six forward unit including Alexander Barkov, Jonathan Huberdeau, Evgenii Dadonov, Vincent Trocheck, Mike Hoffman and Nick Bjugstad, so it's possible Ekblad's breakout will come this season.
Oscar Klefbom's big breakout was supposed to come last season but it was derailed by injuries. Barring a trade, he's still the best bet to play key power-play minutes alongside Connor McDavid, which makes him a good post-hype breakout candidate.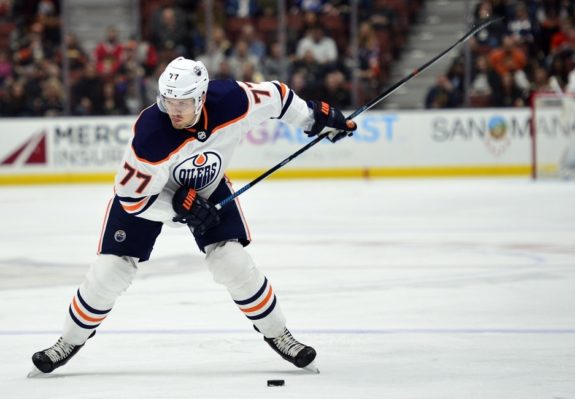 Ryan Pulock had 10 goals, 32 points, and a whopping 184 shots in just 68 games last season. He's a good candidate for a breakout season personally, but I still have him ranked relatively low since I have very little faith in the New York Islanders as a team and his point and plus-minus totals could suffer as a result.
Defencemen Playing for a Contract
John Carlson had only scored more than 40 points once in his career prior to the 2017-18 season, which happened to be his contract year. He scored 68 points and earned himself an eight-year, $64-million contract ($8-million AAV). He is just one of many examples of players that have fantastic seasons in their contract years.
Looking ahead, the relevant defencemen in contract years in 2018-19 are Erik Karlsson, Ryan Ellis, Tyler Myers, Jake Gardiner, Zach Werenski, Will Butcher, Ivan Provorov, Jacob Trouba, Alexander Edler, Nate Schmidt, Esa Lindell and Nikita Zadorov (who is already very useful in banger leagues that count penalty minutes and hits).
I'm a Toronto Maple Leafs contributor for THW and a fantasy sports guru (hockey and football). I have a BBA and MBA from Wilfrid Laurier University and my day job is as a finance manager for a fortune 500 company. Feel free to reach out to me at davidapetrie@gmail.com