What's The Grind Line? Apart from the once-famous line of Kris Draper, Kirk Maltby, and either Joe Kocur or Darren McCarty, The Grind Line is also The Hockey Writers' weekly column about the Detroit Red Wings. Jacob Messing, Tony Wolak, and Rachel Anderson are the muckers who make up THW's forechecking unit and sound off on Red Wings topics.
---


As the Detroit Red Wings' abysmal start rolls on, The Grind Line debates the ideal forward lineup in search for optimizing the stymied offense.
Even the harshest of critics likely expected a better start than the 2-7-2 record the Red Wings have accumulated early on. But they probably didn't anticipate the early defensive injuries or ugly 2.27 goals per game from a near-entire snakebitten offense.
Now, it's up to coach Jeff Blashill to fix his forward group to find a better, more consistent offense. If it were up to us, it'd look a little something like the lines below.
Jacob Messing
On paper, the Red Wings' forward group is a bunch of middle-six players.
| | | |
| --- | --- | --- |
| LW | C | RW |
| Anthony Mantha | Dylan Larkin | Tyler Bertuzzi |
| Michael Rasmussen | Andreas Athanasiou | Thomas Vanek |
| Gustav Nyquist | Frans Nielsen | Darren Helm |
| Jacob de la Rose | Luke Glendening | Justin Abdelkader |
| Martin Frk | | Luke Witkowski |
Dylan Larkin and Anthony Mantha have shown promise as legitimate top-line players. They remain young and still have a few steps to take in their respective careers, particularly Mantha, who is still learning to use his size. They deserve to feed off each other as arguably the highest ceilings on the team. Add in the versatile game of Tyler Bertuzzi and there's exciting potential there.
Andreas Athanasiou playing at his natural center position allows Blashill to better balance his lines. Giving Athanasiou an established scorer in Thomas Vanek, who he's proven to have chemistry with, helps open his untapped offense. While he hasn't earned a top-six role, adding 6-foot-6 rookie Michael Rasmussen as a net-front presence pegs this line for pure offense; start 60-65 percent of their shifts in the offensive zone and let them create.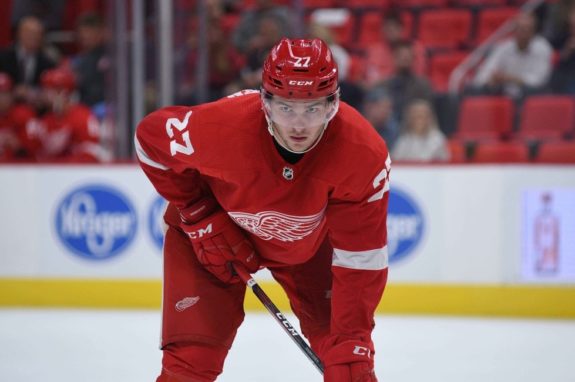 The immediate asterisk to the third line is Gustav Nyquist, whose strong start to the season demands a top-six role. But his counterparts, Darren Helm and specifically Frans Nielsen, have had forgettable starts. Nyquist is a sure-fire deadline departure, so dragging him down would hurt his return value, but lines will always change. A short stint here from the offense-first player should help spark the playmaker in Nielsen and speed and tenacity of Helm.
Luke Glendening is the sensible fourth-line center and his wingers are simply the leftovers. Justin Abdelkader offers grit and can bring offense, but his entire game has been lackadaisical early on. The final spot should belong to waiver pickup Jacob de la Rose, who is a big-bodied, 23-year-old ready for a fresh start. Martin Frk and Luke Witkowski will likely rotate with de la Rose, depending on injuries and his adaptation in Detroit.
Tony Wolak
Not much has been "ideal" about the offense so far this season, but changing a few things up could spark some of the players.
| | | |
| --- | --- | --- |
| LW | C | RW |
| Anthony Mantha | Dylan Larkin | Darren Helm |
| Gustav Nyquist | Andreas Athanasiou | Thomas Vanek |
| Michael Rasmussen | Frans Nielsen | Tyler Bertuzzi |
| Jacob de la Rose | Luke Glendening | Justin Abdelkader |
| Martin Frk | | Luke Witkowski |
First and foremost, the Red Wings need to get Mantha on the right track. What better way to do so than to place him on a line with Larkin and Helm, who have established some chemistry early on. To continue his development into an offensively-gifted power forward, Mantha must get his swagger back and start creating chances around the net.
On the second line, Athanasiou and Vanek are once again working well together. Adding Nyquist to the mix will make the unit even more dangerous, which bodes well for Nyquist's and Vanek's trade value.
Related: 5 Keys to Red Wings 2018-19 Success
Nielsen's line doesn't feature the same dynamic offensive talent as the top two groupings, but it does offer the three a chance to simplify their game and work the puck around down low. Their goal would be to crash and bang in the offensive zone, cycle the puck around the goal line, and attack the net when the opportunity presents itself. This game plan could help Rasmussen break out of his early slump, especially with an improving Bertuzzi on the opposite wing.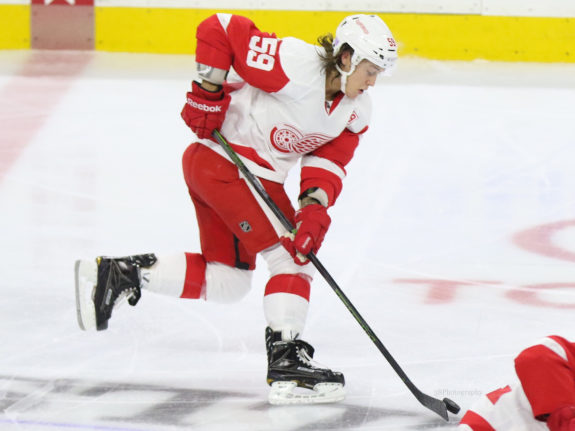 Finally, the fourth line should be in constant flux. Blashill will have five players to rotate through the three lineup spots depending on who is playing well. This sort of competition will make the fourth line stronger and allow Blashill to deploy varying skill sets depending on the opponent that they are facing on any particular night.
Rachel Anderson
Detroit has some top talent, veterans, and youth. Considering that, the concept behind my line selections is an attempt to pair seasoned skaters with the younger guys. If the younger players are to "step up" then they must be given the opportunity to do so.
| | | |
| --- | --- | --- |
| LW | C | RW |
| Darren Helm | Dylan Larkin | Thomas Vanek |
| Justin Abdelkader | Michael Rasmussen | Gustav Nyquist |
| Jacob de la Rose | Frans Nielsen | Anthony Mantha |
| Tyler Bertuzzi | Luke Glendening | Andreas Athanasiou |
| Martin Frk | | Luke Witkowski |
Putting Helm, Larkin, and Vanek on the top line was specifically due to speed. Larkin is one of the more promising youth and has proven to hold center well in any situation. Thereafter, each line has an "anchor" skater, or two, consisting of an NHL veteran and a younger skater.
The second line, I have anchored by both Nyquist and Abdelkader. Though Abdelkader has regressed slightly in terms of potential production, he's still a strong skater and could open up a lot of space for Rasmussen. Developmentally, Rasmussen has a ways to go, but flanked by the strong physical presence of Abdelkader and the quick-footed Nyquist, he'll have much more opportunity in the center.
Nielsen is the man for the third line; he's a producer and versatile. Though he has enormous potential, Mantha has struggled with inconsistency throughout the last few seasons. Much like Athanasiou driving the center on the fourth, Nielsen would be the anchor-player on the third. Using Nielsen as a mediator, it would encourage Mantha to speed up his game while making sure de la Rose meshes with the team alongside one of the more skilled skaters.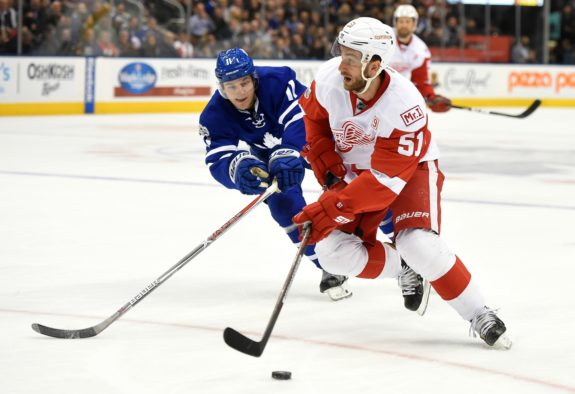 I moved Glendening back to the fourth line to be the motivator. He has a similar style to Bertuzzi—scrappy and gritty, just more developed. Athanasiou was placed on the fourth line, not because he's not good enough, but rather the combination with Glendening's net-front ability. Bertuzzi is the developing player here.
Athanasiou has top-level skill and speed, so I believe he can push Bertuzzi's development. Having watched him throughout his AHL career, I've seen his game grow exponentially, but he needs to be consistent and more precise. Witkowski and Frk are alternating wingers since their play in general hasn't been consistent enough for full-time roster spots.
Fresh off the team's second win in a strong outing against the Dallas Stars, Blashill's lines were a mixed bag in every situation, instilling surprise and unpredictability for the Stars. How would you piece together the forwards? Leave a comment below.
I offer opinions and insight on the Detroit Red Wings organization and its prospects.