Superstar Auston Matthews is leading the Toronto Maple Leafs into a new era of promise, but he's also a looming salary cap complication for general manager Kyle Dubas. The first overall pick at the 2016 NHL Entry Draft is playing in the final year of his entry-level contract and his next deal will command a king's—or an Oiler's—ransom.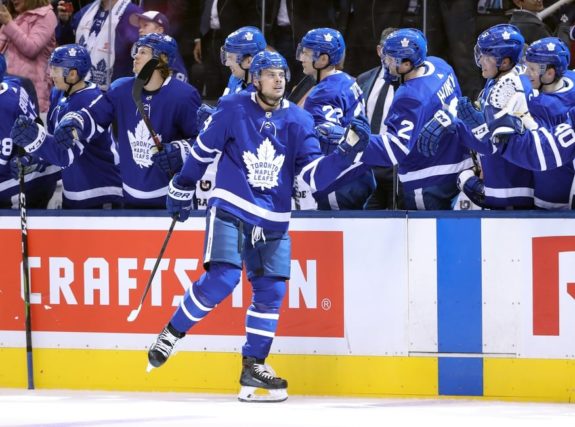 The bonafide superstar has established himself as the face of the Maple Leafs. Matthews' 67 even-strength goals leads second place Connor McDavid by three since the start of the 2016-17 season, and his 84 total goals, despite playing 19 fewer games, ranks second only to Alex Ovechkin. He's tied for third in game-winning goals.
Matthews, along with teammates John Tavares and Nazem Kadri, form arguably the best trio of centers in the league on one team. It's formidable depth down the middle that other teams can't match. There is no doubt that Dubas will want to lock in the cornerstone of the team's dynamic offense, but how much is he worth?
Related: Dubas & Nylander Playing Game of Chicken
Comparables for Matthews
Tavares Money
When John Tavares became an unrestricted free agent on July 1, 2018 and chose his hometown Maple Leafs as his new team, it solidified them as a goal-producing force for years to come. Tavares inked a 7-year, $77 million contract with an annual average salary (AAV) of $11 million per year (13.38% of the salary cap at the time). It made him the second richest player in the NHL from an AAV standpoint, behind only Connor McDavid. And it's public knowledge that Tavares left money on the table­ — he could have signed with the San Jose Sharks for an extra $14 million.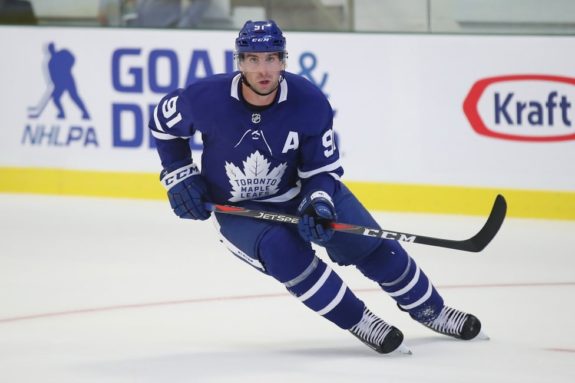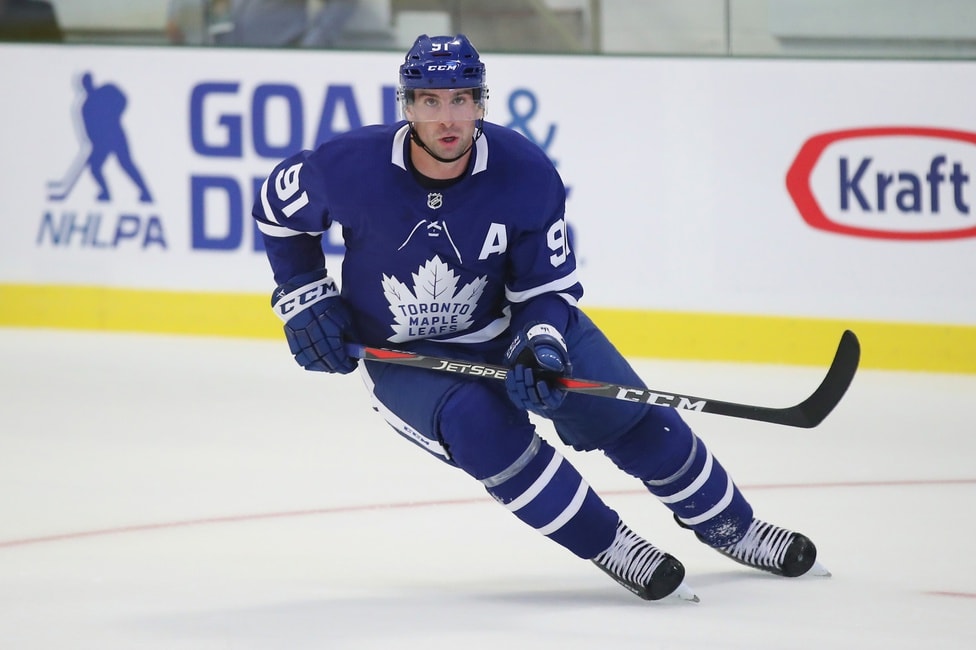 Matthews even spoke to Tavares in an effort to convince him to sign with the Leafs. High-end talented players often want to play with other high-end players. It not only increases the chances for success and winning a championship, but it's also more fun.
"I gave him a call," said Matthews. "A lot of times when you're going through that kind of process a lot of people are reaching out to you, a lot of people are trying to get in contact with you, and it can get overwhelming sometimes. I just wanted to talk to him on the phone briefly, and let him know we'd love to have him, and he'd be a great fit on our team. That was the gist of the conversation."
McDavid Money
Connor McDavid, the 2015 first overall pick, signed an 8-year, $100 million contract extension in July 2017. His annual average salary (AAV) is $12.5 million per year (16.67% of the salary cap at the time). McDavid has appeared in two All-Star Games, won two Art Ross Trophies, two Ted Lindsay Awards and one Hart Memorial Trophy. Engravers can practically start etching his name before the season starts.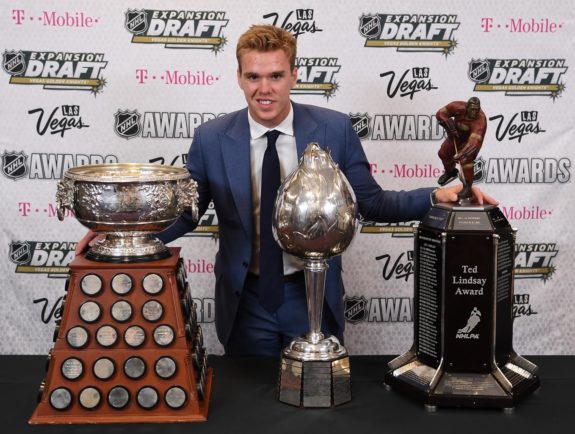 Matthews is definitely an elite player, but he's nowhere near as accomplished as McDavid. He's yet to win a playoff series or register a 100-point season. Over their careers, McDavid's point-per-game rate is at 1.29 for 171 games, while Matthews is just under one at .97 for 153 games. However, Matthews has scored 67 even-strength goals since making his NHL debut in 2016-17 to McDavid's 64. In 18 fewer games.
https://twitter.com/NicholsOnHockey/status/1037727382742945792
It appears the Oilers got a bargain. That said, Matthews could very well be due McDavid money. After all, this season he's producing offense at comparable numbers: 1.78 points per game. At this point, the native of San Ramon, CA is leading the league in points and possibly on his way to winning his first Hart Trophy. And, while it is still early, he's scoring at a mind-boggling 91-goal pace this season.
Matthews' Achievements
Matthews is making a statement as one of the top up-and-coming forwards in the league. He put up impressive numbers in 2016-17 — 40 goals and 69 points, playing all 82 games. He was a point-per-game player (63 points in 62 games) during his sophomore campaign, which was truncated by injury.
The 6-foot-3, 219-pound center is an offensive threat every time he hits the ice and he plays a full 200-foot game. He earned a trip to both the 2017 and 2018 All-Star Games, won the Calder Memorial Trophy for rookie of the year, and in his rookie season, and vaulted the Maple Leafs to the playoffs in each of his first two seasons, snapping their drought that began in 2013.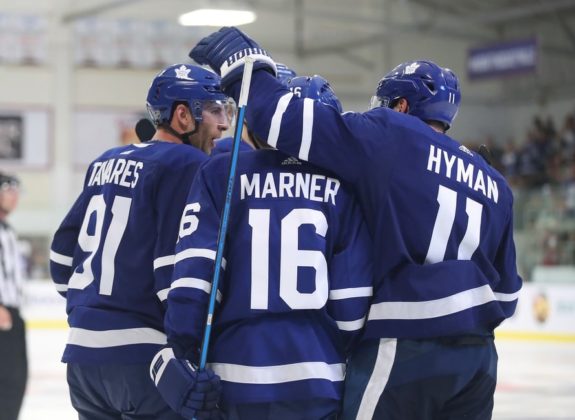 At only 19 years old, Matthews is already firmly in the conversation of who is the game's best player. He's a pure goal scorer who leads by example and elevates the play of those around him. Since Matthews started in the league, he only trails Alex Ovechkin in goals scored, despite playing 11% fewer games. McDavid isn't close. And while McDavid has more points, Matthews, with help, has his team poised for a Stanley Cup run. The same can't be said for McDavid's Edmonton Oilers.
Where Does Matthews Stack Up?
The NHL Network recently ranked the top 20 centers in the league. Matthews was ranked fourth on the list. All of the players above him have won major awards.
ICYMI: Here are our Top 20 Centers in the NHL right now. #NHLTopPlayers pic.twitter.com/3NeJuzarQG

— NHL Network (@NHLNetwork) August 6, 2018
Salary Cap Implications
The salary cap for the 2018-19 NHL season was set at $79.5 million, an increase of $4.5 million from the 2017-18 season. The maximum salary allowed for one player is $15.9 million or 20 percent of that.
On average, the cap goes up roughly four-to-six percent every year. Plus, with the incoming Seattle expansion franchise, it's likely the salary cap will continue to increase even more in short-term.
Every year, the top paid player­ — potentially Matthews next year — can bank up to, but not more than 20 percent of the cap. Estimating a conservative four percent bump, the cap for 2019-20 cap will be set at $82.68 million, making the top salary $16.5 million.
For 2019-20, Dubas and Maple Leafs management have to walk a tight rope of negotiations to keep the band together. They need to find the right number that enables them to pay their star players and rising young guns while also being able to fill out a roster of complementary players. They have an embarrassment of offensive riches — players that have performed very well and are well within their right to want a big-dollar deal.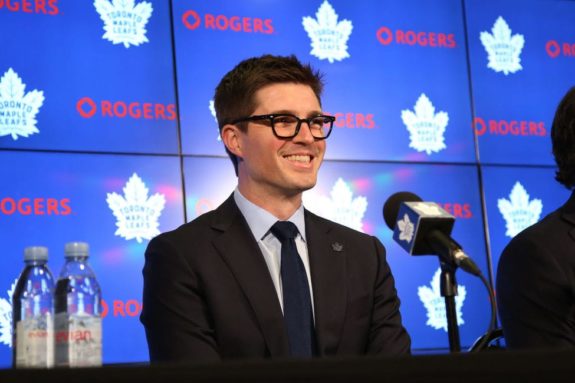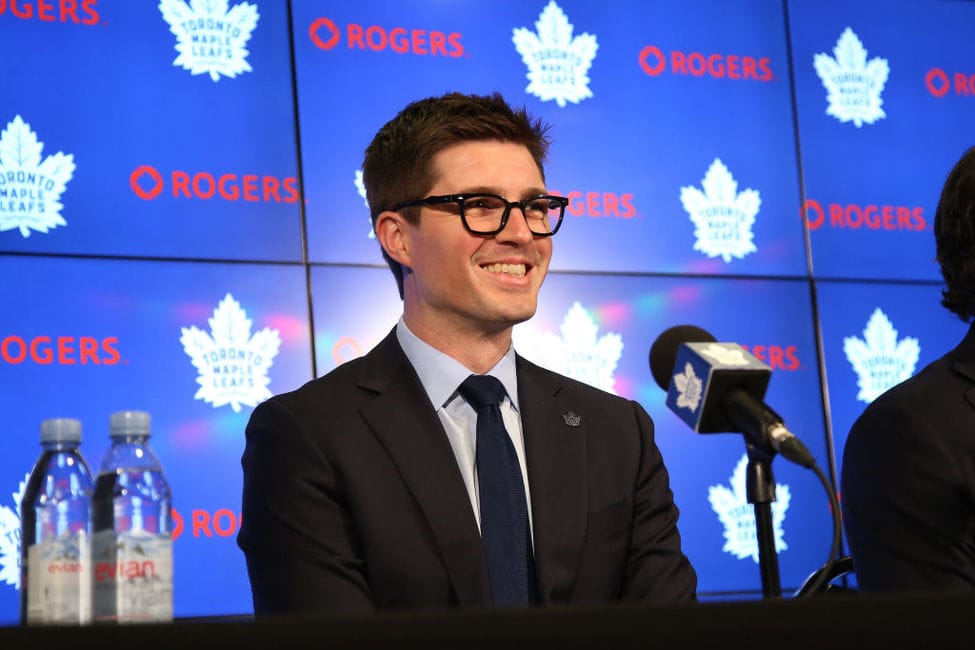 The Leafs' defense, while not great, is at least inexpensive, with Morgan Rielly and Nikita Zaitsev having the biggest cap hits at $5 million and $4 million, respectively. They have a host of young options that can be signed on cap-friendly deals. They just need to be 'good enough', focused on getting the puck up the ice into the hands of their gifted forwards.
Related: Maple Leafs' Dubas Was Foolish Signing Tavares
Matthews' Next Contract
To retain and further build his Cup contender, Dubas and Co. need to navigate Matthews' next deal in context of many salary cap influences. Dubas is already at a stalemate with winger William Nylander, and has egg splattered all over his face from his bold proclamation of "We can and we will." be able to sign all of the key players.
According to CapFriendly, the Maple Leafs have approximately $30.1 million in salary cap space in 2019-20 and $46.0 million in salary cap space in 2020-21. That's without locking in Matthews, Nylander and rising star Mitch Marner to massive raises. And filling out a roster.
Matthews could expect a long-term, eight-year contract well north of $90 million, even as high as $104 million ($13 million per year). It's also possible he could do the team a favor and sign a bridge contract, then set himself up nicely for a major extension down the road. He knows that demanding a giant contract puts a squeeze on Dubas' ability to sign his teammates.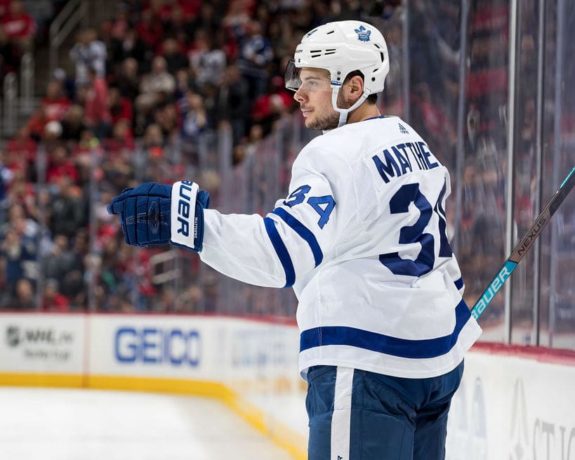 "I don't know if I'll sign a new contract before the season or not," Matthews said back in August. "I'm not really involved with the talks. That's something being dealt with by my agents and team management."
Matthews wants his future to be in Toronto. He's confident a deal will get done. "They preach patience," he said. "When it gets done, it gets done. But I don't think anyone is in too much of a rush."
Hammering out a deal will eventually be a defining moment for Dubas, the 17th GM in Toronto Maple Leafs history. It will set the tone for the franchise's ability to contend for years as well as send a message to the league about how the young GM can handle pressure. Dubas will need to use his head soon or else Matthews' contract will quickly become a real pain in his neck.
Jeff has been covering the NHL for over a decade for various sites. He's been with The Hockey Writers as a lead Sabres writer three years, while also writing a satire column called "Off the Crossbar."