Martin Frk experienced quite the ride last season, one that would've made for quality television.
The soon-to-be-24-year-old was making his case for a spot on the 2016-17 Detroit Red Wings, itching for his NHL debut after being drafted in the second round four years ago. His journey to the final cuts in 2016 included two stints in the ECHL from 2013-15 with the Toledo Walleye after failing to impress at the AHL level multiple times.
Frk's Unconventional Path
Despite his resurgence at the professional level in 2015-16, when he scored 27 goals and 44 points, the Red Wings decided to waive him on October 8. This move was made to clear the roster bubble for Andreas Athanasiou. Yes, the one currently without a contract.
It didn't take long for Frk to find a new home. The Carolina Hurricanes claimed the winger to add forward depth at the beginning of the season. There, the HC Karlovy Vary product made his debut on October 18, achieving a dream that was in his sights ever since his name was called 49th overall in 2012.
He would play in one more game, on October 25, before getting waived again at the end of the month.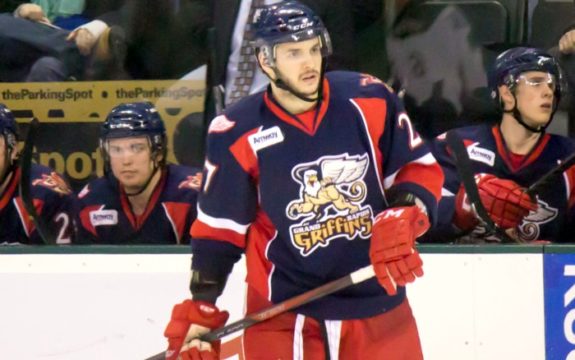 Here was Frk, finally in the NHL, only to figure out that the toughest obstacle was still ahead of him. He needed to learn how to stay. It was an experience reminiscent of his bus rides in Toledo, when he was a questionable AHL starter. Thankfully, a familiar team came calling when he was made available on the waiver wire.
From Waived to Crowned
The Wings reclaimed Frk and placed him in the AHL for the rest of the season, likely wanting to see if he could replicate his performance from 2015-16. Consistency was something he lacked from season to season to that point.
Eight months later, the former Halifax Moosehead embraced teammate Tyler Bertuzzi in the corner after he potted his fifth goal of the 2017 Calder Cup Playoffs. Frk scored 32 combined goals between the regular season and postseason. His twine-tickler in the third period of Game 6 was the most meaningful of the bunch, as it clinched the Griffins' second Calder Cup since 2013.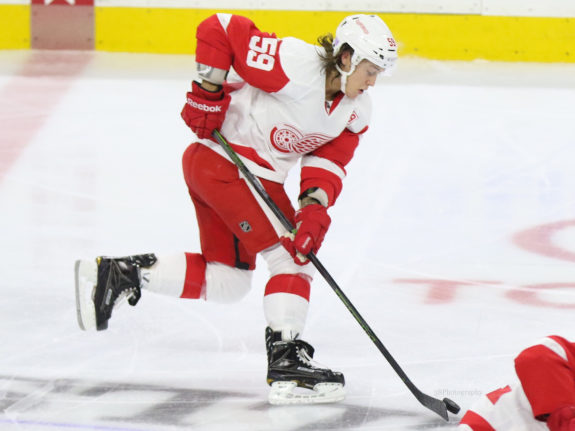 With demotions and waiver trips behind him, Frk was on top of the world as a champion holding the Cup over his head. The next month, Detroit rewarded his performance, while keeping him honest, with a one-year, two-way contract. This signified that 2017's training camp and preseason was probably his last chance to make the Red Wings.
Even though he was brought back, Frk was still a long shot to make the final cut. Bertuzzi, for one, looked to be a virtual lock to start the year. It was also expected that Athanasiou would be signed before camp.
Bertuzzi will miss the next 3-4 weeks with tendon inflammation in his wrist. There has been zero progress on the Athanasiou contract front with negotiations about $600,000 apart. Riley Sheahan could be dealt to the Pittsburgh Penguins by the end of the exhibition season if those negotiations hold. For the first time, Frk has a favorable chance to make the opening night roster.
The key will be staying there this time around, something he can do in a specialized role.
Frk Finding His Niche
The absence of those prospective players will a part in Frk's position to make the team, but his improved play helps.While he isn't the best all-around player, he recently found a niche that altered his professional career. That assignment was on the power play, where he unleashed a cannonading drive for the Griffins. In the past two seasons, he scored 23 goals and 42 points on the man advantage, which accounted for 43% of his overall goals and 45% of his points over 132 contests.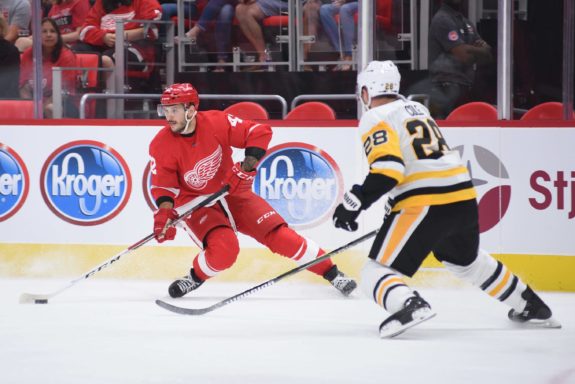 While that sounds like a recipe for failure in the NHL, it may be a different case for Frk who has been able to generate shots on net at a rampant rate. As mentioned in my piece last month, his ability should not be understated. Frk's AHL-leading 3.55 shots-per-game (minimum 40 games played) and 232 shots on goal overall this past season were indicative that something is working.
Detroit Has A Need
To put things in perspective, only three players have broken the 200-shot plateau in a season for Detroit since the start of 2013. The Wings have not been blessed with the services of a bonafide shoot-first player in recent years, the exception being the short-lived stint of Teemu Pulkkinen, who was well on his way to a possible 20-goal campaign in 2015-16 before injuries struck.
In 2016-17, zero Red Wings reached 200 shots and the team placed 27th in shots-per-game (27.74) in all situations. In terms of shot generation on the power play, Detroit finished 28th, a prime indicator of its fourth-worst man advantage ranking in the league.
There wasn't a reliable go-to forward that could get shots through traffic for rebounds or goals. This resulted in possession with abundant passes but lacking in quality shots. In his preseason audition, Frk has shown the ability to be a presence on the man advantage who can load up from the circle and create opportunities.
He's also able to finish some of his chances as well.
An added bonus is that Frk is a right-handed shot. In terms of power play arms, Detroit has zero righties on the wing. On the back end, there are just two right-shot defensemen projected to make the roster in Mike Green and Nick Jensen. The former is the only blueliner on the team that has shown an ability to score goals, and he cannot be the main weapon at the point.
This is where Frk comes in, adding another element as a finisher.
Outside the Power Play
All told, Frk has fired 13 shots on goal in four exhibition games, leading the Red Wings in that department. In addition to his work on the man advantage, he's been developing some exciting chemistry with Anthony Mantha and Dylan Larkin on the second line. However, despite his impressive performance, Justin Abdelkader will likely take his spot if he's healthy by then.
Being outside of the top-six wouldn't necessarily hurt Frk.
Frans Nielsen would likely be his linemate on the third line. The Dane would provide the historically subpar defender with some insurance as a defensive centerman, in addition to generating attempts relative to his teammates. His 3.99 on-ice Corsi-for-relative ratio per 60 minutes ranked third on the team among Wings who racked up at least 300 minutes of ice time.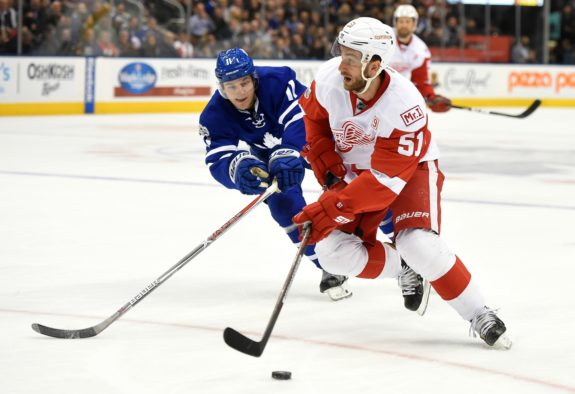 Nielsen can still hover around 45 points as well, providing Frk with a solid middleman to break into the league.
The Wings don't need Frk to be a dynamic, top-tier forward. His value is as a depth scorer in an offensively specialized, top-nine role. It has been encouraging, however, to see signs of a high compete level at even strength offensively and defensively. One knows how much the Wings value that alone.
Frk has also been winning puck battles along the boards in his own zone to get the team moving into the offensive end. On more than one occasion, the Wings have scored as a result. Although defense isn't his strong suit, his backcheck has also been encouraging. A work ethic like his improves his chances of sticking.
Finish Line In Sight
In Frk's trek to the NHL, the humbling experiences have been abundant. He's likely learned that he cannot take anything for granted to grab a spot at the highest level. Head coach Jeff Blashill and the rest of the organization have put forth this mentality for their prospects throughout the years.
With the franchise entering a transition phase, it's all the more important for young players to stand out in a field of many.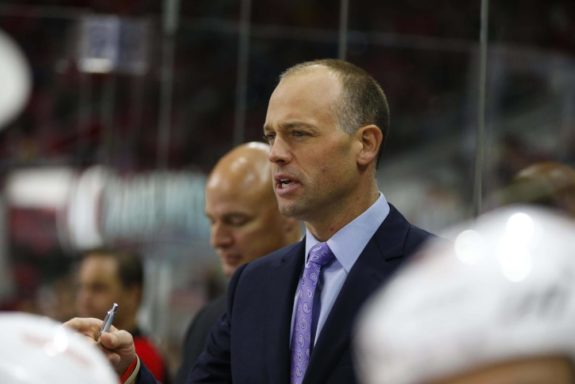 There are three more preseason games for Frk to up his stock as a valuable depth scorer for the big club. He'll have a thinner room for error and must show that he is a consistent player sooner rather than later.
The 2016-17 season was novel material for Frk going from roster cut to championship hero. Typically, those types of stories are difficult to follow up the next year. Luckily, there exists a way for him to top last season by adding a new chapter to his career. He can make an NHL roster out of training camp. Better yet, he will stay a while.
Statistics courtesy of Prospect-Stats.com and NaturalStatTrick.com
Griffin is a Junior at Northwood University in Midland, Michigan pursuing a Sports and Entertainment degree. His passion of writing began when Detroit Red Wings captain Henrik Zetterberg was out for the season in 2014 and he wanted to give his thoughts. Griffin comes from LastWordOnSports.com where he had the role of "associate editor" and wrote nearly 300 articles over three years for their hockey department.