For a team with a number of question marks on defense and uncertainty at center, the Canadiens have a lot of depth in goal. In addition to Carey Price and Al Montoya, Michael McNiven was the OHL goaltender of the year last season. Zachary Fucale will battle McNiven for the backup role in Laval.
King Carey
This year, the Canadiens locked up Carey Price long-term, signing him to an eight-year contract extension worth $84 million. The deal comes with a cap hit of $10.5 million per season and will make Price the highest paid goaltender in the history of the NHL.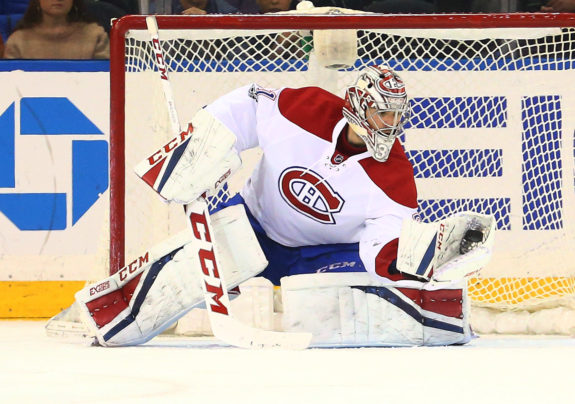 As THW's own Brandon Share-Cohen pointed out: since joining the Canadiens in the 2007-08 regular season, Price has recorded a win-loss record of 270-175-55 in 509 games. He has a 2.40 goals against average in his career to go along with a .920 save percentage. He ranks fourth all-time in Canadiens history with an impressive 39 shutouts.
The importance of Carey Price to the Montreal Canadiens cannot be overstated.
Who should back him up? For the immediate future, the answer is Al Montoya. Montoya, who arrived in Montreal from Florida in 2016, has a 63-46-22 record in 128 career starts since making his NHL debut with the Phoenix Coyotes in 2008-09. Like last year, Montoya is likely to start around 20 games for the Canadiens this season. He is a solid backup goalie, who except for that infamous night in Columbus last year, has played very well indeed.
In recent days, there has been some discussion that the Habs ought to consider Charlie Lindgren as Price's backup. Omar White suggests that Lindgren is "a special prospect for Montreal." Lingren has a 24-16-8 record with a .914 save percentage in the AHL. He won all three starts in the NHL and looked good doing it.
While serving as a full-time backup NHL goaltender is likely too much to ask from the talented 23-year-old, this discussion raises some interesting question about how best to manage goaltender prospects going forward.
Imagining the Future
Consider this scenario — With so much young talent, general manager Marc Bergevin should plan to trade Montoya next summer while he still has some value. This would allow him to start rotating his younger goalies into the roster. First up, should be Lindgren, who he will be the number-one goalie for the Laval Rocket this season. The Habs are likely to give him a few more NHL starts than he got last year.
In one scenario, Fucale would backup Lindgren in Laval while McNiven maximizes his minutes with the Brampton Beast of the ECHL. There are other options. According to Brampton's Team President and General Manager, Cary Kaplan:
I think Fucale is going to battle hard to play at the AHL level. He's earned whatever he gets there, and I think if he's there, then McNiven will be here, and that's great. If Fucale is here he'll be among the best goalies in the league. It's a pretty good situation for us.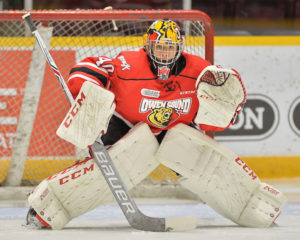 Trading Montoya next summer would allow Lindgren and McNiven to move up. Lindgren's value as a backup to Carey Price could grow over time like Scott Darling's did in Chicago.  The Canadiens would be in a position to trade Lindgren if and when McNiven is ready to jump into the NHL backup role. Perhaps McNiven is the Habs next franchise goaltender. Maybe Fucale continues to improve. Either way, by that time the next generation of goalie prospects will have emerged. If all has gone well, the process can start again.
While Habs fans are rightly concerned about defense and unsure about center ice, Carey Price is still an elite goaltender and there are some pretty interesting prospects ready and waiting to take the next step toward an NHL career.
Criminologist by training. Hab fan for life. Aspiring Beer League hockey star.