Nine consecutive games without a power play goal against. 37 consecutive killed off penalties.
Those are the current stats for the Detroit Red Wings, who haven't given up a goal while shorthanded through their first two games of the Stanley Cup Playoffs despite finding themselves down a man (or more) 12 times. The positive statistic is an impressive turnaround for a team that finished 18th in PK% during the regular season. It's even more impressive when you note that three of those games, including the last two, have come against the NHL's top regular season man-advantage team, the Nashville Predators.
At a 21.6% effective rate, the power play was supposed to be one of Nashville's biggest advantages over the Wings. Yet suddenly the Predators find themselves without it and as a result have lost their home ice advantage as well. And while the team has stated they're not worried about their struggles, the on ice performance tells a slightly different story.
Watching game two of the series you could see frustrations mounting for the Preds. Too much time was spent hanging onto the puck or passing it around the perimeter. Too often the team tried to get too fancy with the puck or forcibly try plays that weren't available. They gripped their sticks too tightly and struggled to get shots on goal. Their confidence had been shaken.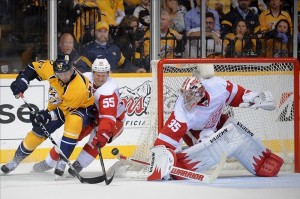 Yet all it will take for that confidence to come roaring back is a goal. A goal that is bound to come eventually, especially at the rate the Red Wings have taken penalties so far.
After averaging just 8.5 minutes in penalties a game during the regular season (second best in the NHL by 0.1) the numbers have jumped to 15.5 through two games in the playoffs. 31 minutes of penalties through 120 minutes of play. That figure is unacceptable and rivals the regular season league worst Flyers' numbers of 16.0 a game.
It's no secret that (especially during the first game) officiating has been terrible. Both teams have been called for numerous actions that were not infractions at all. However that doesn't provide an excuse for the multiple calls that were. Errant sticks. Blatant hooks. Lazy and careless penalties, that thankfully the Wings have not paid a price for to this point.
The endless stream of players to the box was supposed to end for game two, but it didn't. Now thanks to the outstanding efforts of their penalty killers, they'll have an opportunity to try again for game three.
With every penalty the Red Wings take they know they tempt fate further. It's not a question of if the Predators score a power play goal, it's when. Although the Wings' killing efforts have been outstanding thus far, it can't continue at this pace forever.
Killing penalties is exhausting. For an already aged team like the Red Wings, every ounce of energy is needed every game and with top penalty killers like Darren Helm and Patrick Eaves out of the lineup, more players are spending more time shorthanded.
There's also an increased risk of injury, especially with Shea Weber blasting shots from the point.  That risk is why No. 1 defenseman and team captain Nicklas Lidstrom hasn't seen the ice during shorthanded situations. Still nursing an ankle injury he suffered in February, one puck to the skate could end his playoffs and likely the Red Wings' with it. Lidstrom's frequent partner, Ian White, missed practice today after taking a shot to the foot as well.
But the biggest factor is one that should be evident simply by the success they've experienced. Nashville's reliance on special teams play has cost them home ice advantage. If Detroit makes the same mistake, they'll wind up with the same result.
The PK has been great and it's a positive sign, but eventually it's going to be beaten. That fact is inevitable. Continuing to take six-plus penalties a game is not a recipe for victory in this series or down the stretch. With things all tied up at one, the series hangs in the balance. It's now a best of five and Detroit has home ice.
Keeping that advantage is crucial and staying out of the box will go a long way to helping do that.