Now that the Stanley Cup Final is over, it's time to focus on how the Detroit Red Wings approach the 2018 NHL Draft. (Congratulations to Alex Ovechkin and the Washington Capitals on the win and erasing years of frustration – something that Red Wings fans can relate to.)
The upcoming draft is likely the most important since the George H. W. Bush administration and will give Ken Holland and his team the opportunity to significantly bolster Detroit's prospect pipeline as the rebuild continues. Of their 11 picks in this year's draft, the No. 6 selection is the most critical to the organization's success.
But how should the Red Wings handle that selection? Should they take the best player available, or the top defenseman? Some have called for Detroit to trade up. Others, to trade back.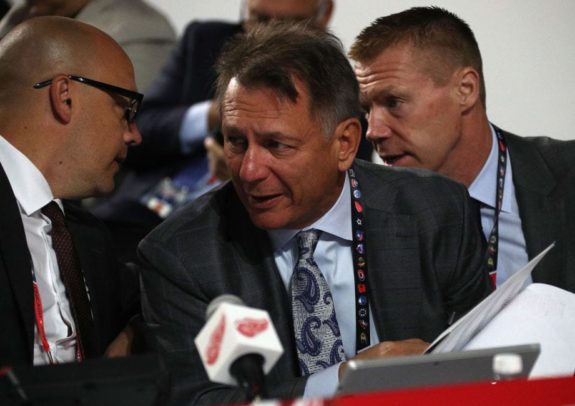 Clearly, Holland has a lot of options to consider as the draft draws near.
In this week's edition of The Grind Line, THW's Red Wings coverage team shares their take on what Holland should do with the sixth-overall pick in this year's draft: Trade up, trade back, or stay put, plus which player should be targeted.
Related: Red Wings Need to Anticipate Draft Chaos
Tony Wolak: (Attempt to) Trade Back
Of the top prospects in the draft, there are a few who stand out as good fits for the Red Wings. Each of Noah Dobson, Adam Boqvist, Evan Bouchard, Quinn Hughes, and Jesperi Kotkaniemi would greatly benefit Detroit's lineup. The former four are potential top-pairing defensemen and the latter is the top center in this year's draft.
Some combination of them will also be available if the Red Wings trade back to the No. 8 or No. 9 draft slot, with Rasmus Dahlin, Andrei Svechnikov, Filip Zadina, and likely Brady Tkachuk to go in the top-eight (plus potentially Oliver Wahlstrom as well). If Holland reads the tea leaves correctly and determines that one or a couple of that quintet of top prospects will be available a few picks back of their No. 6 selection, the Red Wings should absolutely attempt to trade back.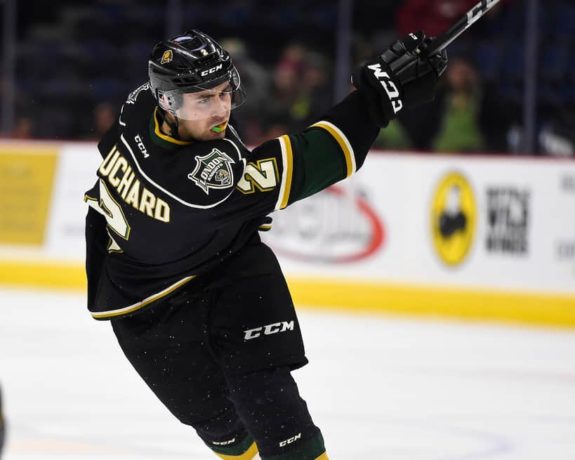 It's entirely possible that Detroit could shake a late-first or early-second round draft pick out of the Chicago Blackhawks or New York Rangers to move back in the draft. And why shouldn't they? If the Red Wings can still draft a high-end player that they want, plus acquire another solid draft pick, then their rebuild just got a little easier.
There is so much talent near the end of the first round in what's considered to be a very deep draft class. Detroit's three picks between 30 and 36 will already give them a shot at adding a trio of quality players. Why not make it four with another pick in that range?
Rebuilding is all about acquiring assets and spending/using them appropriately to ensure the future success of your organization. Acquiring high-impact draft picks is a great way to do just that.
If there's no deal to be had within the top-nine, then the Red Wings should just stay put at No. 6. But if a team loves a player at the sixth-overall slot, then Holland should absolutely exploit that opportunity to add another brick (or two) to a rebuilt Hockeytown with the additions of Bouchard (or Hughes, Dobson, or Boqvist) and another quality prospect later on in the draft.
Jacob Messing: Stay Put
Even with a few high-end blueline prospects in the system, the Red Wings drastically need to address the backend. The projected top-10 is packed with defensive talent, and, short of one of the big three forwards slipping to Detroit, they don't need to lose the assets to trade up.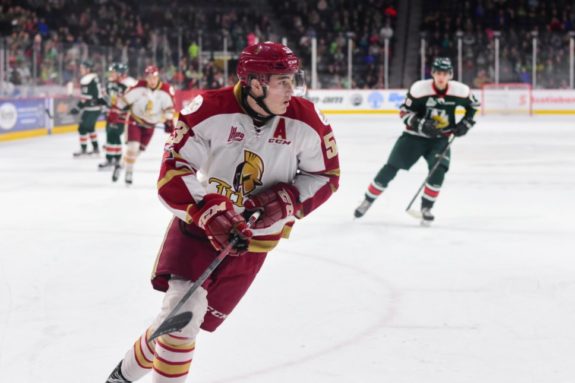 Bouchard and Dobson are praised for their size and two-way play. Hughes and Boqvist are seen as more offensive threats, but their smaller frames force reservations when it comes to defending at the NHL level.
Bouchard's all-around game has drawn comparisons to Drew Doughty, Dobson has been likened to Alex Pietrangelo, Hughes' smooth-skating reminds me of Duncan Keith, and Boqvist is similar to Erik Karlsson.
Given how Holland has drafted in recent years and the undersized defensive prospects already in the organization, I think he would be wise to shoot for Bouchard. He's a full package defenseman that embodies everything Detroit wants to be.
Rachel Anderson: Stay Put
Things could be worse for the Wings than picking sixth. With as much depth in this draft as there is, I think the Wings should stay put and do what they can with their current first-round pick. It's unlikely that anyone would trade back in exchange for the Wings' No. 6 selection, but considering the talent pool, Detroit has a high likelihood of getting a solid player.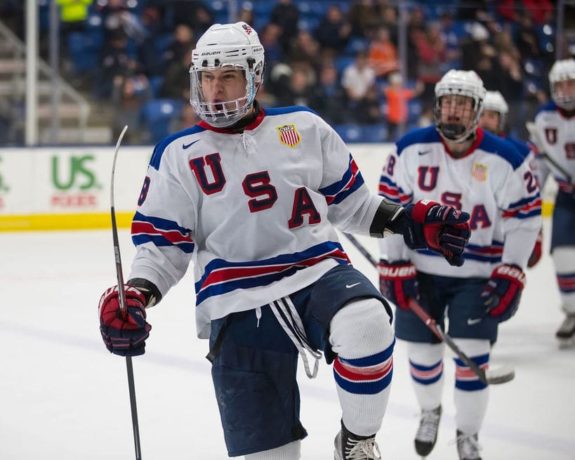 Detroit's defensive game suffered last season. However, they already have a wealth of able defensemen, such as Filip Hronek and Joe Hicketts, at the AHL level ready to get pulled up. There are several other recent additions, like Libor Sulak and Dennis Cholowski, who are acclimating. Considering the loaded blueline stock being held in Grand Rapids, I think Detroit should avoid nabbing another one with the sixth pick.
Detroit has several promising forwards waiting in the wings as well. Evgeny Svechnikov and Dominic Turgeon could fill voids alongside teammates Tyler Bertuzzi and Martin Frk should gaps in the forward lines exist. As forwards age out or get moved over the course of the next few years, more opportunity will be presented for the younger generation to step up.
Detroit is a fast team, but need to be more offensively aggressive. With that, I'd select Oliver Wahlstrom at No. 6. I've watched Wahlstrom with Team USA this past season and see the charm in his ability. He's very fast and extremely knowledgeable on the ice. Wahlstrom posted 94 points in 62 games with the U.S. National U18 team during the 2017-18 season. His nearest comparison in terms of style would be Dylan Larkin as a rookie – fast, hungry, confident, and persistent.
https://t.co/ShTASUGWV4
ISS #11 Oliver Wahlstrom
Natural goal scorer – A threat whenever he's on the ice. Great anticipation & hockey sense

— ISS Hockey (@ISShockey) October 15, 2017
Wahlstrom will likely go quickly early in the first round given his impressive resume. If the Wings could grab another promising center/winger, there could be some dynamic lines coming into focus in the upcoming development years.
How do think Ken Holland at the Detroit Red Wings should approach the No. 6 pick? Comment below.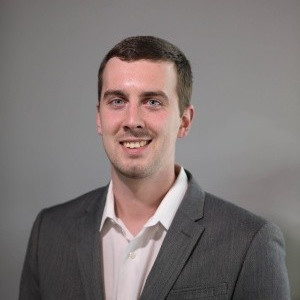 Tony Wolak is based in the Washington D.C. area and covers the Detroit Red Wings for THW. As a former junior and college hockey player, Tony has a unique perspective on Red Wings topics.