Much has been made about the top-eight draft pick the Detroit Red Wings have in the 2018 NHL Entry Draft. For a rebuilding franchise, that selection has the opportunity to turn into a game-breaker and help the team return to glory sooner rather than later.
The Red Wings also have another first-round pick – the one acquired from the Vegas Golden Knights in the Tomas Tatar deal, which seems to be getting better for Detroit by the day. Once the Golden Knights are eliminated—or win the Stanley Cup, because who knows at this point—we'll know where Detroit will pick later in the first round.
Related – Red Wings Draft Lottery Payout: Jackpot & Jack Squat
In addition to those two first-round choices, the Red Wings also have the 33rd overall selection—acquired in the Brendan Smith trade—and their own 36th overall, second-round pick. For those of you counting at home, that's four times Ken Holland will approach the podium in the first 36 selections.
While the lottery pick is extremely important, so are the other three selections. Based on their draft spots, you can essentially call the two second-rounders "first-round picks" since each team rates its top-31 prospects differently. In this week's edition of The Grind Line, the Red Wings coverage team from The Hockey Writers shares prospects that they hope Detroit will target with their three choices in the 27-36 range. For the sake of this discussion, we'll assume that the Red Wings take a defenseman—either Quinn Hughes, Adam Boqvist, Evan Bouchard, or Noah Dobson—with their lottery pick.
Tony Wolak: Ryan Merkley & Akil Thomas
Imagine this scenario: the Red Wings pick Adam Boqvist with their top-eight pick, then Ryan Merkley falls until they return to the podium later on in the first round or second round. Next, imagine this 2019-2020 defensive corps: Boqvist, Merkley, Danny DeKeyser, Dennis Cholowski, Joe Hicketts, Filip Hronek, and Vili Saarijarvi. Wow.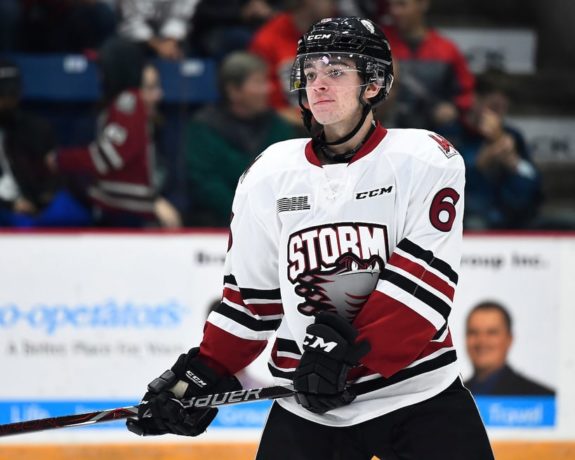 Though Merkley does need to address a few flaws, he's a dynamic, highly-skilled defenseman who will thrive in the NHL. The blueliner has recorded 122 points in 125 regular season OHL games over the past two years – all before turning 18. In addition, Merkley is an outstanding skater with speed to burn. As the NHL continues to favor speed over aggression, players like Merkley will become more and more valuable.
However, those previously mentioned flaws could come into play on draft day, allowing Merkley to slide. Dobber Prospects' Cam Robinson shared his analysis of the blueliner's issues, whether they're real or perceived:
His play in his own zone and decision-making without the puck is still very much a work in progress, and whispers of off-ice issues may see him slide considerably on draft day, but the right-handed defender has the makings of a dynamic point-producer. His boom or bust tag has been well earned.
If Detroit deems that Merkley's blemishes can be cleared up and he's available later on in the first round, the organization should absolutely give him a long look. And if Akil Thomas is still on the board in that 27-26 range, the center would be an excellent pick as well.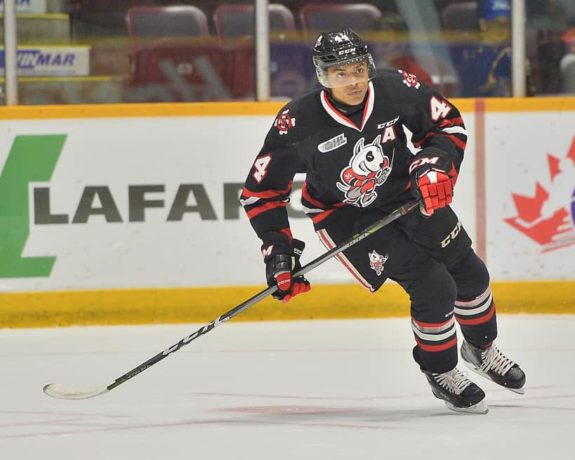 The Niagara Ice Dogs center produced 81 points in his second OHL season, up from 48 the year before. Thomas's right-handed shot would fit in well with Detroit's top young players, including lefties Dylan Larkin, Anthony Mantha, Evgeny Svechnikov, Andreas Athanasiou, and Michael Rasmussen. In addition, the center can play in all situations—and do so effectively—according to ISS Hockey.
Thomas may not be a true finisher, but he's the type of player whose speed, vision, and playmaking abilities can open up space for the Mantha, Rasmussen, and Tyler Bertuzzi to do the scoring in high-danger areas.
Jacob Messing: K'Andre Miller, Mattias Samuelsson & Ty Dellandrea
Various scouting sources project K'Andre Miller to go as high as 16th overall to becoming an early second-round pick. If he remains available with the first-round pick landed in the Tomas Tatar deal from Vegas, Detroit should jump on him.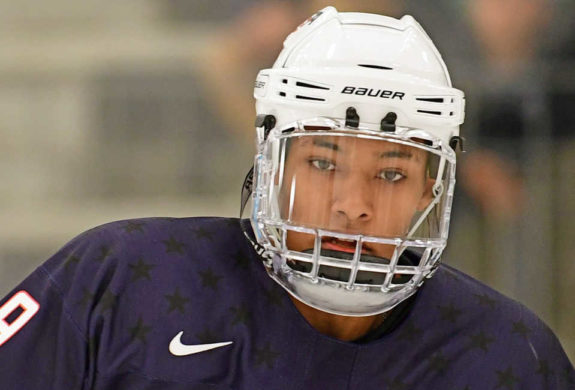 A strong defense is a theme among the league's best teams and Detroit could definitely use more in the system, especially of Miller's size (6-foot-4, 205 pounds). The offensive-minded American was transitioned to the blue line several years ago, which explains his speed, smooth skating and knack for joining the rush.
He would be a strong complement to the smaller defensemen already in the system and add even more elusiveness to a team that already has Dylan Larkin and Andreas Athanasiou, among others.
Mattias Samuelsson is another prospect ranked to varying degrees, but the consensus seems to be a late first-round pick. So if he remains available with Detroit's first pick in the second round (be it its own, or Ottawa's via the New York Rangers in the Brendan Smith trade) nobody could fault Ken Holland for picking up another D in such a loaded draft.
Listed at 6-foot-3, 216 pounds, he'd be yet another big body on the backend to help offset the aforementioned undersized blue-line prospects in Detroit, especially as a defense-first player.
His father, Kjell, is in his fifth season with the Philadelphia Flyers as a development coach, helping defensemen including Shayne Gostisbehere and Ivan Provorov develop their NHL potential. Find his 2017-18 stats here.
If the Red Wings are seeking a forward, Flint's Ty Dellandrea broke out this year to more than double his goals and nearly triple his assists from his rookie season with Flint in 2016-17. It came with top minutes; he played on both special teams units and was the number-one center on Flint's go-to scoring and shutdown line.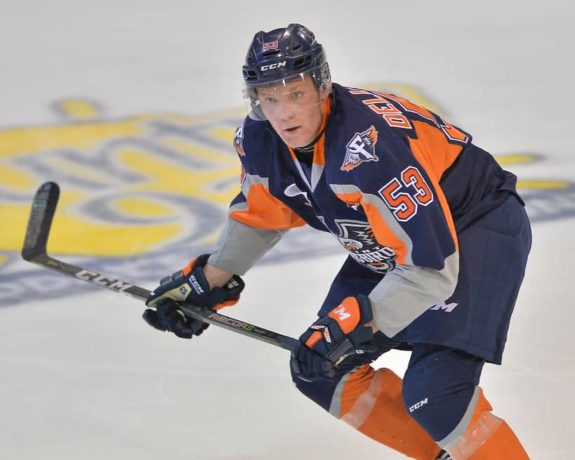 He handled it all with poise and seemingly with ease, all while being one of the youngest players in the draft. Dellandrea isn't the biggest guy on the ice, standing at 6-foot-1, 190-pounds, but he has explosive speed, protects the puck and displays the two-way game Detroit has demanded from its forwards for years.
He can still improve on his defensive game, starting with faceoffs, but a team can never have enough center depth and it's certainly a need in Detroit.
Related: 3 Potential Red Wings Draft Strategies
Franklin Steele: Jonathan Tychonick & Adam Ginning
The Red Wings are in dire need of help on defense, so it stands to reason that they'll take a swing or two on a potential game-breaker with some of their early selections. That's where Jonathan Tychonick comes in. Projected to go late in the first round or early in the second, he's an electric, offensive defenseman who is built for today's NHL.
Standing at 6 feet even and weighing less than 180 pounds, there are real concerns about his ability to withstand the rigors of a full professional season. But if he hits, it'll be big time. With three selections around where Tychonick is projected, Ken Holland can afford to swing for the fences here.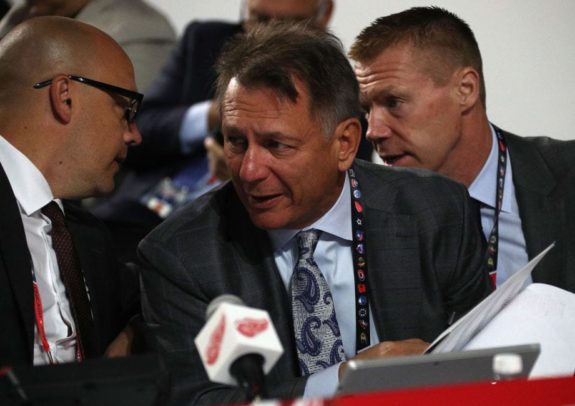 If you're looking for a more traditional Holland selection, look no further than Adam Ginning. Checking in at 6-foot-3 and hailing from Sweden, he's the kind of defender the Red Wings have been fishing for since Nicklas Lidstrom retired.
He's already physical and isn't afraid to use his size to outmuscle the opposition. There were initial question marks surrounding his skating ability, but scouts report that he's improved dramatically in this area over the last year.
While not as offensively dynamic as Tychonick, Ginning is a smart player who knows how to read plays in all three zones. He's a way out—he needs to become more confident in his offensive capabilities and skating—but he could be a nice pick up for the Red Wings who could pay off down the stretch.
Which players do you hope the Detroit Red Wings will target? Comment below with your picks.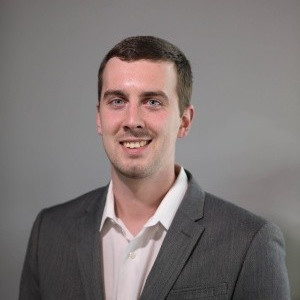 Tony Wolak is based in the Washington D.C. area and covers the Detroit Red Wings for THW. As a former junior and college hockey player, Tony has a unique perspective on Red Wings topics.