Ever since the first rumblings of Las Vegas getting a team in the NHL, my focus has shifted almost exclusively on which players the Red Wings should protect in a hypothetical expansion draft (and whether or not they will stay in the Eastern Conference). While I have swayed back and forth on a few players, I am fairly certain I've got my list of protected Red Wings. For the sake of clarity and simplicity, I will be using the same rules used during the 2000 NHL expansion draft.
After that, things get a bit murky, especially considering there is no precedent concerning players with NTC/NMC. There is also the question of when the expansion draft will actually occur. Again, in order to keep things simple, I am going with the idea that teams will be able to leave players with NTC/NMC unprotected. Also, since I see little sense in using the Red Wings' 2015-16 roster (since the expansion draft is at least one year away), I am going to take a crack at projecting the roster heading into next season. I know it's not a perfect science at the moment, but it is fun to speculate.
Rules of the 2000 Expansion Draft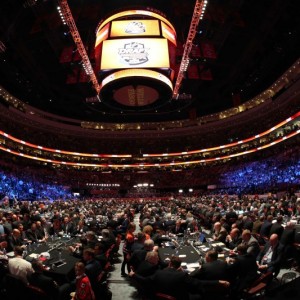 During the 2000 draft, teams could take one of two options when deciding which players to protect: One goaltender, five defenders and nine forwards, or two goaltenders, three defenders and seven forwards.
If a team elected to protect just one goaltender, there was no experience requirement for the unprotected goaltenders on their team. If a team decided to protect two goaltenders, though, the others left unprotected must have played either 10 games at the NHL level in the previous season, or 25 games in the previous two seasons combined.
In terms of skaters, at least one unprotected defender must have appeared in 40 games at the NHL level in the previous season, or 70 games in the previous two seasons combined. Two forwards left unprotected by teams must have met the same requirements.
It is also important to note that players in the first or second year of their entry-level deal are exempt from the draft.
Goaltenders (1) – Petr Mrazek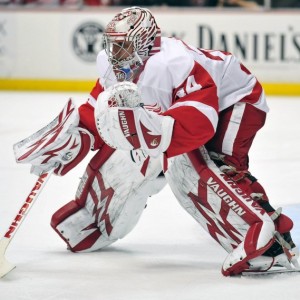 The goaltending situation in Detroit could have impacted my entire expansion draft. In reality, if the league rules that teams must protect players with NTC/NMC, the Red Wings are going to have a tough decision to make. Jimmy Howard's no-trade clause could complicate matters, forcing Detroit to protect two goaltenders in order to hang onto Mrazek. For the purposes of this exercise, I am going to protect Mrazek and leave Howard unprotected.
At this point, I believe that Mrazek has too bright a future to gamble losing him in the expansion draft. Detroit's prospect pool in net is a little on the shallow end, and Howard is on the wrong side of 30. Again, the Wings may have a much tougher decision here when the draft actually occurs, but for now I'm content with protecting Mrazek.
Defensemen (5) – Danny DeKeyser, Mike Green, Niklas Kronwall, Alexei Marchenko & Xavier Ouellet
Decisions regarding members of Detroit's blueline are a little simpler. Right off the bat, I think keeping Kronwall and Dekeyser are no-brainers. Beyond that, I would elect to keep Green, Ouellet and Marchenko. Green (in theory) will provideDetroit with a healthy dose of offense on the backend, and Ouellet and Marchenko are promising prospects, likely fighting for ice time on the team.
Considering I am making assumptions about what Detroit's 2016-17 roster will look like, the situation can obviously change. In this scenario, Kyle Quincey (UFA) has moved on, leaving Jonathan Ericsson, Brendan Smith and Jakub Kindl unprotected. In reality, Ericsson's NTC could force the Red Wings to keep him, though it is a modified NTC, so that adds another wrinkle to the equation. Smith and Kindl have a lot to prove this season, though I would still prefer to keep some of the younger, promising prospects over either one of the defenders.
Forwards (9) – Justin Abdelkader, Pavel Datsyuk, Johan Franzen, Darren Helm, Gustav Nyquist, Teemu Pulkkinen, Riley Sheahan, Tomas Tatar & Henrik Zetterberg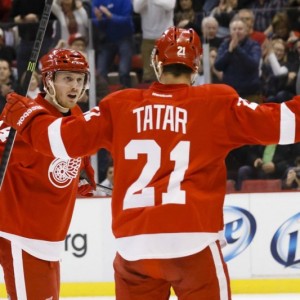 I would protect Datsyuk, Zetterberg, Nyquist, Tatar, Sheahan, Justin Abdelkader, Helm,Franzen and Pulkkinen. The first five players on this list, I believe, are part of the Red Wings' core up front. Abdelkader and Helm are also important pieces for Detroit, however, both players are unrestricted free agents next season. Whether or not they can reach deals with the Red Wings could have an impact on their protection status with the team. Franzen is a tricky situation, as leaving him unprotected could create an issue with the cap recapture rule. If selected in the expansion draft, the Mule could decide to retire, leaving Detroit on the hook for a portion of his contract until the 2019-20 season. Pulkkinen, in my opinion, has the potential to score 20-25 goals one day, and I would keep him based on that projection.
Now for the notable forwards left unprotected. I have a soft spot for Luke Glendening, but I think he would have a better chance than Pulkkinen of slipping through the expansion draft process. He is a solid fourth-line center, capable of killing penalties, but Pulkkinen has a higher ceiling.
After that Brad Richards, Drew Miller and Joakim Andersson are all pending UFA's who I would be comfortable with losing over the players I have elected to protect. Richards is essentially an insurance policy for Detroit, giving the team more depth down the middle and allowing for some of their younger centers to mature. Miller and Andersson are both solid fourth-line players, but not worth keeping over the other nine forwards listed previously.
Landon Ferraro is a pending RFA's next offseason, and I view Ferraro in a similar light as Miller and Andersson – he is a solid fourth-line player. Jurco, on the other hand, was a tougher decision to leave unprotected. Essentially, it came down to Jurco versus Pulkkinen for me, and I believe that Pulkkinen brings a different dimension to the Red Wings. Based on these guidelines, who would you protect on Detroit's roster?