Often times on social media I see Rangers fans complain that Dan Girardi is overrated, not a first pairing defender, and not worth his $5.5 million cap hit. While he doesn't light up the score board, he has been known throughout his career as a guy who can shut down the opposition, oftentimes playing against the likes of Sidney Crosby, and Alex Ovechkin. Below I will explain where Girardi proves his worth by doing the dirty work, playing a sound game, and allowing his partner Ryan McDonagh to be as effective as he is.
The Under-Appreciated Elements
What pops out to me about Girardi is his toughness, and ability to take physical punishment. Last season he finished the year sixth in the NHL in blocked shots with 184. The defender also threw 224 hits which was good for 20th in the NHL. He has averaged 20+ minutes per game through every season except for his first, and has a remarkable ability to stay healthy. As of 2007-2008 the defender has missed just five games.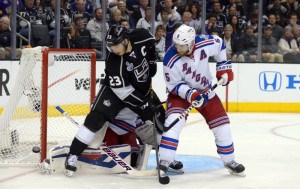 The reason his health through the years impresses me, is because of his style of play. I already noted the shots he blocks, and the hits he throws, but the video below gives you a good idea of his courage and willingness to compete.

You will see the puck come out to the point and even though he's in a funny position, you will see Girardi throw his body in front of the shot to assure it doesn't make it to the net. Taking a puck to the shin guards is one-thing, but if you watch Girardi play you will notice that he's always using whatever he can to block shots.
Now as much as Girardi throws his body, he also is the recipient of several big hits. Despite the physical punishment he never seems to be away long. In the video below you will see number five in white get crushed by Evgeni Malkin with a hit.
Yup you guessed it, after shaking out the cobwebs the defender returned for overtime. Being a durable athlete is a gift of it's own. Injuries are a reality of the sports world and having guys that can stay healthy and help your club fight the good fight is important. It's especially impressive when you realize that the player in question does so much of the heavy lifting for this club, in terms of work in the defensive zone and on the penalty kill. I'm shocked by the amount of criticism, because usually fans love guys that play this style.
Shut-Down Defense
Critics of the defender often talk about him as if he's some giant of a man who can't skate, and simply clogs ice. Well again I ask you to take a look at the video and watch him put a beauty of a move on one of the best players in the world.
Playing a role as a shut-down defenseman requires a dedication to making the smart plays. So when Girardi clears the puck out or slaps it out of trouble, it's because he's playing to his first instinct of "defense first". This style seems to have gotten him a reputation of being incapable on offense. The defenseman has hovered around 20 points a year, but he does know when to pinch, and how to get shots through. Girardi has a way of stepping up in big moments and the video below illustrates that. You will see him jump up on offense, drive the net and convert on a beauty of a shot.

The point is, if Girardi was all smoke and mirrors and still playing 20+ minutes against the other teams best, then the Rangers would not be as successful as they have been over the past few years. His ability to take care of his own end and take a physical beating open the door for his partner McDonagh to be a bit more aggressive with the puck.
My Take
I'm not trying to say that Girardi is a top five defender in the league and worthy of the Norris. I'm simply saying that he isn't an overpaid liability. I would agree that $5.5 million would be steep if he hadn't put in so much time with this organization. But if you're the Rangers how do you not give a guy that is so established with the team, who has committed so much to the organization a nice contract. If they were paying him to score and put up the big numbers on offense and he was giving you 20 points, then that would be different; but at the moment he's doing exactly what the Rangers expect him to do which is create a solid tandem with McDonagh. Also, when you talk about value, consider how difficult it is to come across a solid right-handed defender. He has been a key player on the Rangers back-end since 2007, and in that time the Rangers have missed the post-season once. Girardi has proven to be an effective defenseman as the Rangers have now made deep post-season runs in back-to-back seasons; so I say if it ain't broke, don't fix it.