By now, the pundits have beaten the same drum all summer long. An early favorite to sniff Lord Stanley's Cup yet again, the Los Angeles Kings failed to make the playoffs last year.
Oh, there were reasons. For starters, the suspension of Slava Voynov (who ultimately pled no contest and is serving a 90-day sentence as part of his plea deal) forced the team to both overuse Drew Doughty and rely heavily on lesser players. Secondly, three years of deep playoff runs — totaling 64 games — took their toll, especially on a team that relies on wanton physicality. Third, the team was historically bad after the first 60 minutes, losing 15 of 18 games in overtime or the shootout.
A number of key players turned in sub-par performances as well, headlined by the Mike Richards saga. Richards crashed and burned, putting up just 16 points in 53 games before having his contract terminated in June.
Players in need of a rebound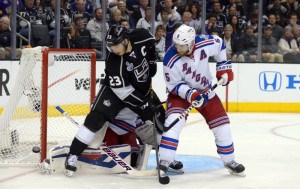 Richards was the most extreme example of a player not earning his keep. That said, there are other Kings in need of a rebound this year.
Second-year forward Tanner Pearson started strong, faded fast, and then broke his leg, missing half the season. Alec Martinez arguably took a half step backward after scoring 11 goals the year before and netting the Cup-clincher against the Rangers. Marian Gaborik scored 27 goals, but 47 points for someone carrying a $4.875 million cap hit doesn't quite add up right.
Admittedly, those names were thrown out there merely to whet your appetite. There are three other players who most definitely must rebound this year if the Kings hope to return to form. Without further ado, here they are:
Anze Kopitar
Anze Kopitar was a Selke finalist this past season and is considered one of the best two-way centers in the NHL. However, 2014-15 was his worst offensive season since his rookie year, and his advanced stats weren't impressive either.
Although a natural playmaker, Kopitar can put the puck in the net, having scored 25 or more goals in six of his nine seasons. Last year, he scored just 16, shooting the puck a career-low 134 times. For the Kings to taste success, he needs be more aggressive. A hundred or so more shots on net sounds about right.
Milan Lucic
The Kings surprised the hockey world when they traded backup goaltender Martin Jones, prospect Colin Miller and the 13th overall pick this year to the Boston Bruins for 27-year old power forward Milan Lucic.
Opinions were mixed on the deal. On the plus side, Eric Roberts of The Hockey Writers penned a piece discussing what Lucic should bring to the Kings this year:
https://twitter.com/LAKingsX2/status/623378885430919168
On the minus, THW's Joe Marraccino claimed he was not physical or "edgy" enough and lacked mental toughness.
Time will tell whether or not the trade was worth it. However, no matter how you slice it, 18 goals and 26 assists just won't do it for a player making $6 million. Lucic needs to get back to his 60-plus point form, play with an edge and exhibit mental toughness for the Kings to rise again this season.
Dustin Brown
Ah, the enigma that is Dustin Brown.
Widely known for his aggressive hitting, Brown was once a consistent offensive producer for Los Angeles, putting up six straight 50-plus point seasons (annualizing the lockout-shortened 2012-13 campaign). No sooner did he sign a massive eight-year extension; however, did his game go seriously into the tank:
2013-14: 15 goals, 12 assists in 79 games.
2014-15: 11 goals, 16 assists in 82 games.
The natives are getting restless:
https://twitter.com/trevorknapp16/status/302631067242856449
Setting New Expectations for Dustin Brown – The L.A. Kings struggled in general last season, and one of the player… http://t.co/Iejnb8JS4L

— Sports Liners #NBA (@SportsLiners) June 10, 2015
https://twitter.com/draglikepull/status/614531825772437504
What can be done about Brown? With seven years left on a contract with a $5.875 million cap hit, he's virtually impossible to trade, not that the Kings particularly want to deal their long-time captain. They just want bang for the buck, both literally and metaphorically.
Of all Kings players, Brown is the one with the greatest need for a rebound campaign.
Do you agree or disagree with any of these names? Is there anyone else that belongs on the list? Leave your thoughts below, or send a message to @McLaughlinWalt.