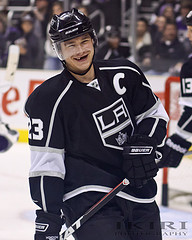 In October, 2008, Los Angeles Kings forward Dustin Brown was named the 15th captain in team history, replacing the legendary Rob Blake who had signed with the San Jose Sharks three months earlier. Having just achieved a breakout campaign with 33 goals and 60 points, the future was bright for the 23-year old right winger, one season into a six-year, $19.05 million contract extension.
As for the franchise, it was young and on the rise, but would miss the playoffs once again that coming season, the seventh straight year it had failed to qualify for the postseason. Despite the lack of success on ice, the building blocks were there, including current Kings' mainstays Brown, Anze Kopitar, Jarret Stoll, Justin Williams (via midseason trade), Drew Doughty, Matt Greene and Jonathan Quick. However, the next season saw the team finally reach the playoffs, beginning its ascendancy to the pantheon of the NHL just two years afterward.
Dustin Brown's on-ice accomplishments are certainly noteworthy, including 181 goals and 388 points in 641 games, as well as perennially finishing amongst the top hitters in the game. He is adept at drawing penalties (some would say a little too good) and plays decidedly on the edge, never more apparent than during the 2011-12 playoffs when he mowed down Henrik Sedin and Michal Rozsival with freight train hits. The latter led directly to Dustin Penner's series-clinching goal seconds later. Off the ice, he's a husband, father and won the NHL's 2011 Foundation Player Award for his charitable efforts in the Los Angeles area.
With that said, he is occasionally considered an on-ice riddle and lightning rod for speculation, opinion and (at times) criticism. Why?
Down goes Dustin Brown
One of the most frequent criticisms of Dustin Brown is, ironically, imbedded within an overall strength: his penchant for drawing penalties. At times, it would seem his balance is seriously challenged, with his critics claiming he falls to the ice remarkably easily for a 6'0″, 204-pound muscular power forward. Witness Brendan Dillon's gentle push and Brown's sprawling reaction at the seven second mark below, which ironically did not result in a penalty either way:
Hockey sense
Ardent Kings fans have, at times, claimed Brown tries too hard for the big hit, putting himself out of position defensively as a result. Arguments over at long-time Kings message board LetsGoKings.com have consumed numerous pages on this very subject, breaking down what some fans have perceived to be the hard-hitting Brown's hard-headedness in this area.
Amusingly, when Dustin Brown has occasionally tapered off the hitting such as during the first ten games of last season, many of the same fans have been critical of Brown's reduced physicality.
Speaking of physicality, Kings fans will never, ever get tired of this signature hit:
Incidentally, despite the hue and cry both on the ice and shortly afterward, Rozsival ended up with a mere thigh bruise — not a knee injury.
Dropping the gloves
Dustin Brown plays an extremely physical brand of hockey, and yet he is not one to engage in fights, having been in just nine in his entire nine-year NHL career. In a way, that's probably a good thing, since he's arguably won just three of them. Still, many fans would like to see him stand up for teammates by being loud, brash and in-your-face aggressive, something that may have worked well for Adam Deadmarsh, but just isn't embedded within Brown's hockey DNA. He's a lead-by-example person, both on and off the ice.
Overall streakiness
This characteristic is hardly unique, but Dustin Brown may be the poster child of a hot/cold player. He'll go into deep scoring slumps, as evidenced by scoring just two goals in 21 games during a particularly rough stretch of the 2011-12 season. Demonstrating his ability to suddenly get white hot, however, Brown responded to rampant trade rumors later that same season by potting eight goals and 23 points in the campaign's final 21 games. Clinching his (and ultimately, the team's) fate that year, he recorded a hat trick literally days before the trade deadline.
Much more of a garbage-goal producer rather than a natural scorer, Brown has had to learn to stay within himself and practice a north/south style rather than pretend to be something he's not: a puckhandler and sniper. When he shifts away from his strengths, the goals disappear from the score sheet.
The good outweighs the bad — by a long shot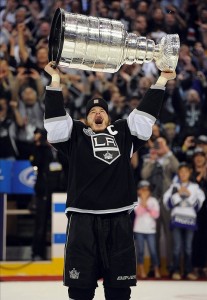 Even ardent Brown fans would be hard-pressed to argue against these pervasive traits. His reputation for falling too easily is established throughout the league, he does get himself out of position now and then attempting the massive hit, he isn't one to yell and drop the gloves quickly and his streakiness is irrefutable. Furthermore, as a team captain, he's a natural lightning rod for both analysis and criticism.
With all that said, Dustin Brown is one of the most important, influential and successful Kings players in team history. By lifting the Cup before his 28th birthday, he's done something no other Kings captain had done before him. He is respected as a hard-hitting, physical player throughout the league, and although he's never going to remind anyone of Alex Ovechkin, his five-season string of 20+ goals was only interrupted by the lockout-shortened campaign, in which he still scored 18. His charity work continues to receive acclaim. Notably, the Kings rewarded all of this with a new eight-year contract extension which will pay him an average of $5.75 million per year.
Dustin Brown: a riddle, wrapped inside one of the premier 204-pound power forward lightning rods in the NHL.
The NHL regular season schedule was released on Friday. Check out our partners at TiqIQ for the best deals on Los Angeles Kings tickets for all 2013-14 games.