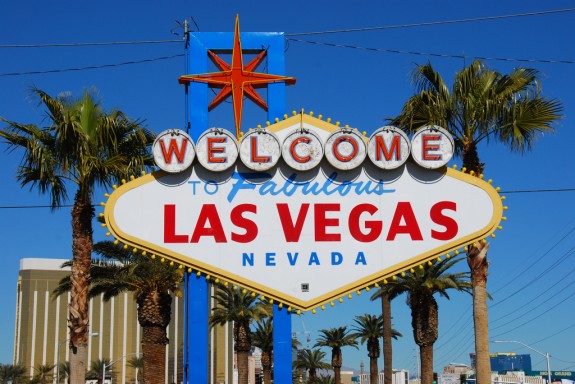 Expansion.  It's a word that is consistently floated about the NHL community.  Just last week, Greg Wyshynski of Puck Daddy reported that
Gary Bettman was pushing to expand the NHL to Seattle as early as 2014-15
.  Whether the rumor is true is yet to be determined, but it is likely that the Emerald City will have a hockey team that laces up in the near future.  However, they may not be the only metropolis that Gary Bettman has set his sights on.  An expansion to Seattle, Washington would put the NHL at 31 teams total, so to even the playing field they'd have to add one more.  Other cities that are being talked about for expansion are Quebec City, Portland, and Kansas City.
I have no inside information on the matter, but from a personal opinion – and looking at how the NHL teams are split in their new conferences and divisions – I wouldn't put my money on Quebec City getting a hockey team anytime soon unless an Eastern Conference team gets relocated.  As it currently stands, there are a total of 16 Eastern Conference teams and 14 Western Conference teams.  Teams like Detroit and Columbus were pressing hard to move to the Eastern Conference to ease travel schedules.  I sincerely believe the NHL would rather look at expanding the league in the Western Conference especially after going through long realignment negotiations.  Furthermore, it would give the teams a dead even balance in the amount of teams in each conference.
Kansas City has an outside shot at getting a hockey team, but I believe it's just not in the right place to sustain a team for that long.  Hell, its previous lasted a grand total of two years.  It's too far outside a large enough hockey market to have any substantial effect on the NHL. The shift now focuses on Portland.  While I was gung-ho on seeing a rivalries blossom between Seattle, Portland, Vancouver, and San Jose, it might do more harm than good for a team to move to Portland AND Seattle.  Reason being, Seattle alone can not make an NHL team prosper.  Although there is quite a large sports fanbase in Washington, Seattle would need to draw fans from Portland and outlying areas to survive.  They are two small market teams and would not generate revenues if both cities brought in a hockey team.
"So Shawn, if you don't think the NHL should expand to Quebec, Oregon, or Missouri, where should they go?" Glad you asked.  To that question I have three words: Viva Las Vegas!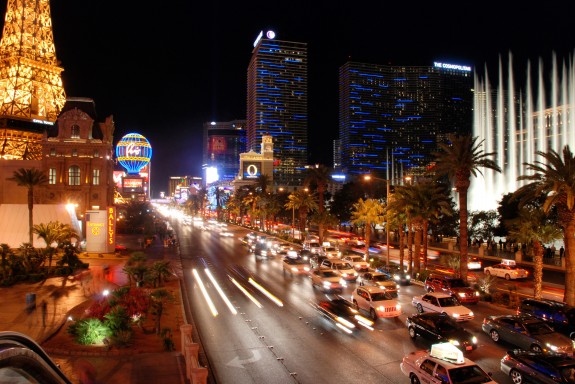 Will Sin City have enough fan support?
Some may question the amount of fans Las Vegas can attract.  According to a 2012 census, Sin City has a population of 596,424.  Compared to Seattle and Portland (634,535 and 603,106, respectively), Vegas is overshadowed by sheer number of people, but what it has that Seattle and Portland cannot compete with is a booming tourism industry. Las Vegas was able to lure over 39 million people last year.  The Portland/Seattle tourism combined make up less than half that number.  Also, Las Vegas annually hosts Frozen Fury – a pre-season game held every year against the Los Angeles Kings and the Colorado Avalanche.  The game was cancelled last season due to the partial lockout, but it was announced in May that the annual event would return this year.  It is also home to the Las Vegas Wranglers, an ECHL team that plays its games in the 9,500 capacity Orleans Arena.   There is an untapped market that is pining for an NHL team.
With Canadians flocking in waves to Las Vegas, what better spectacle to see for our neighbors up north than a good ol' hockey game. And let's face it, if you're a sports fan, would you rather go to a Celine Dion concert or a hockey game when you're in town?  The answer is obvious.
Moreover, Las Vegas continues to be one of the fastest growing cities in America.  This chart of the demographics in Las Vegas shows the steady increase the city has had over the years and future projections of its population: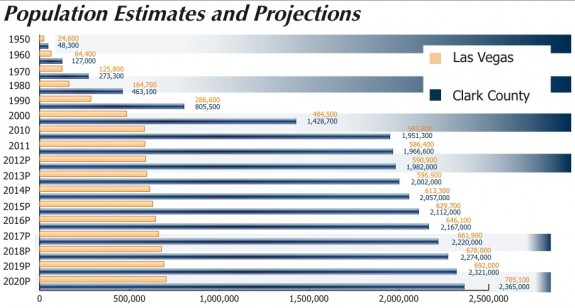 It's refreshing to see a city that is able to attract so many visitors on the upswing in terms of population growth.  It should be noted by Gary Bettman and his partners that a city likely to have close to 800,000 people by 2020, is a wise decision for expansion.
Who will financially back the team?
The old saying goes: How do you make a millionaire?  Take a billionaire and make him the owner of a sports team.
Owning a sports team isn't easy.  With the Phoenix Arizona Coyotes ownership debacle still fresh in our minds, a team based Las Vegas could take a page or two out of the Coyotes missteps.  Las Vegas will need a financially sound ownership with some relatively deep pockets.  Reason being, the team will have to go through an expansion draft and likely won't have a competitive team on the ice for at least a few seasons.  Fans won't be willing to shell out their hard-earned cash for a team that doesn't produce results on the ice, so owners will need to have cash they're willing to burn for the first few years. One such candidate may be famed Hollywood producer, Jerry Bruckheimer.  In 2010, he was quoted at the NHL Awards saying in regards to him owning a team:
"We were so on our way, and then the loan market kind of disappeared….[Las Vegas] is a growing city, a big city.  It has travelers from all over the world who are hockey fans, and I think this city could use a professional sports team."
Another possible suitor to run the team are the Maloofs.  The Maloof family is one of the richest in the Western United States and have had their eye on owning an NHL team, preferably in Las Vegas.  According to the Sacramento Bee in April of this year:
"The Maloofs have met with NHL commissioner Gary Bettman and have for months looked into buying a hockey franchise, with Las Vegas among the possible destinations."
George J. Maloof, Jr. has roots in Las Vegas since he is a minority owner of the Palms Casino Resort and also attended UNLV.  The Maloofs just sold the Sacramento Kings in May of this season for $535 million.  If the family would like to get their foot in the professional sports door again, Las Vegas is calling.
What arena could accommodate an NHL team?
Gary Bettman wasn't comfortable with the idea of moving a team to Las Vegas in 2009.  In a post from the Las Vegas Sun, Bettman stated:
"Some league will be here.  Somebody's going to be first, but the stadium/arena issues, I think until they resolve, will preclude any serious consideration."
My how things change in a few years.  Las Vegas just so happens to have two premier spots to host a hockey team.  The first being the MGM Grand Garden Arena located directly inside of the MGM Grand.  The venue seats 16,800 people, which happens to be a bit small for a hockey team, but for starters it should do just fine.  This is also the stadium used when the aforementioned Frozen Fury comes to town. There is one other viable option to house an NHL franchise.  The Thomas & Mack Center is the stadium located on the campus of UNLV and can seat roughly 18,500-19,500 fans.  It certainly is a more spacious room to play, and if the team achieves success early, a packed Thomas & Mack Center can compete with other arenas in terms of sell-outs and profitability. But the most refreshing news came in June when AEG and MGM decided to partner up and invest in building an 20,000 seat arena.  It was announced via press release where MGM had this to say:
"AEG and MGM Resorts International have completed and executed transactional agreements formalizing the details of the previously announced joint venture to build a new arena project,…. The arena is expected to break ground in summer 2014, with the grand opening projected for spring 2016.  The project is anticipated to cost approximately $350 million and be financed with equity contributions from each of the partners as well as privately-funded third party financing."
All in all, that is some very good news for prospective ownerships looking to move a sports team to the Entertainment Capital of the World.
A Big Four Team
Vegas has the Wranglers, UNLV Rebels, and the Las Vegas 51s.  The one thing Sin City doesn't have is a professional sports team.  With an NHL team, the city would be breaking new ground and would produce a buzz in more ways than one.  With such a wide variety of people that come in and out of Vegas, an NHL may be just what the doctor ordered to bring in even more people than before.
Location, Location, Location

Let's not count out the location of said hockey team.  Being in the heart of Vegas the team and its owners would be able to make deals with most of the top casinos to give away a specified amount of complimentary tickets (along with shuttle service) to and from the game for patrons to enjoy a professional hockey experience while in town.  It's a scenario that happens to be exclusive to Las Vegas and could be a shoe-in for a hockey team.  Everyone makes out in the deal: casinos get visitors to stay at their hotels, teams get fans in the stands and money for concessions/merchandise, and people get to enjoy the only professional sport in town.
As if there aren't enough good things about the booming Nevada town, Las Vegas will give way to many rivalries.  Vegas is a few hours ride from Los Angeles, Anaheim, and Phoenix and would provide some fresh new blood between the already established franchises.  It also happens to be a short plane ride to San Jose, Denver, and Dallas, which should further help in expanding the game for a city desperately looking for a professional team.  It also balances the current situation with the total number of NHL teams and aides with travel among Western Conference squads.  But as with any location, you must also take into consideration the negative aspects the city offers.
To begin, crime rate has been relatively high in the city, but has steadily decreased over recent years – except for a few hiccups here and there.
Secondly, the weather is fantastic, but not necessarily for hockey.  Las Vegas is located in the middle of a desert so it's either going to be frigid or blazing hot (not ideal for ice).  We've seen other teams south of the border such as Dallas, Tampa, Carolina, Florida, and Phoenix prosper (and I use that term very loosely), so even with bad weather, hockey has the potential to thrive.
Lastly, teams may run into an issue with their players blowing money at the casinos and clubs.  Vegas makes most of its money on the casino floor and sometimes the temptation is too great.  There are countless athletes who have seen most of their hard work get blown away thanks to gambling – the most prominent hockey player being Jaromir Jagr.  Now imagine if a player who is known to have a gambling problem happens to sign with a team in the heart of the gambling world.  That could lead to a world of hurt for the franchise and said player.
Overall, the appeal for a franchise in Las Vegas, Nevada might be too good to pass up.  The positives greatly outweigh the negatives, especially for a major sport who is trying to rival leagues like the NFL, NBA, and MLB.  Sin City is a perfect expansion destination and Gary Bettman needs to look into it long and hard.  If nothing else, someone will have to tell Evander Kane to call Floyd Mayweather from a real phone next time he's in Las Vegas.
Follow Shawn Reznik on Twitter: @ShawnTHW