At the 11th hour and then some, the New Jersey Devils announced yesterday morning they had re-signed restricted free agent Jesper Bratt to a one-year contract worth $5.45 million. He's coming off a season where he totaled 73 points in 76 games and will be a restricted free agent next summer before becoming eligible for unrestricted free agency in 2024. 
It was a long and hard road to get Bratt re-signed for the upcoming season, but the Devils and general manager Tom Fitzgerald pulled it off at the last minute. Most importantly, they avoided arbitration, which could've permanently soured the relationship between the two sides. So what comes next for the Devils and Bratt after a one-year, prove-it deal? Let's take a look. 
Jesper Bratt's Breakout Season 
Bratt has long been somewhat of an analytics darling in his time with the Devils, but he took his game to another level in 2021-22. His 73 points in 76 games was easily a career-high, topping his previous high of 35 points as a rookie 2017-18; it is worth noting he produced at a 53-point pace during the COVID-shortened 2020-21 campaign. 
Along with the impressive counting totals came some of the best underlying numbers Bratt's had during his five-year career. He led the team in Corsi for percentage (CF%) at 53.89 percent and was second in expected goals share (xG%) at 56.85 percent to Fabian Zetterlund (min. 150 minutes logged). 
Bratt was the team's second most efficient five-on-five scorer, averaging 2.90 points per 60 minutes. Because Jack Hughes missed 33 games due to injuries, it's hard to argue Bratt wasn't the team's most valuable player in 2021-22. And there's a good case he was one of the best wingers in the NHL too: 
The question now is, can Bratt repeat the season he just had? He had an individual point percentage (IPP) of 83.33 percent in 2021-22, which is a tad high. But when looking at his last three years, he's averaged an IPP of 75.9 percent, so his season wasn't necessarily an outlier. His shooting percentage of 13.2 was just a touch above his 11.9 career percentage, so he didn't score goals at an unsustainable rate either. 
And when looking back at Bratt's previous seasons, the signs of a breakout had been on the horizon. After the Devils fired head coach John Hynes in December 2019, he finished the 2019-20 campaign with 12 goals and 25 points in his final 39 games — a 53-point pace over 82 games. As mentioned above, he produced at the same rate in 2020-21. 
Bratt just turned 24 this past weekend, so history indicates more good hockey is on the way. Since he took a one-year contract, it seems he's betting on himself with a prove-it deal. The Devils appear comfortable with it since the two sides agreed to the terms, which could determine what comes next in New Jersey. 
Devils & Bratt Still Have Long-Term Option on the Table
The Devils' first two negotiations with Bratt have not been the easiest. In 2020, just ahead of the COVID-shortened season, it took the two sides until Jan. 11 to agree to a two-year bridge deal, two days before the start of games. Because of COVID restrictions at the time, he'd miss the first couple of weeks of the season. This time around, they didn't agree to a deal until the last possible minute; the team announced the contract at 10 AM, an hour after their scheduled hearing, but it's safe to assume they agreed to it at least a few hours beforehand. 
However, just because the negotiations have been a grind doesn't mean they won't agree to a long-term contract at some point. In agreeing to a one-year contract, Bratt has the chance to prove he's worth Jack Hughes money ($8 million annually) or Nico Hischier ($7.25 million), and that could work to everyone's benefit.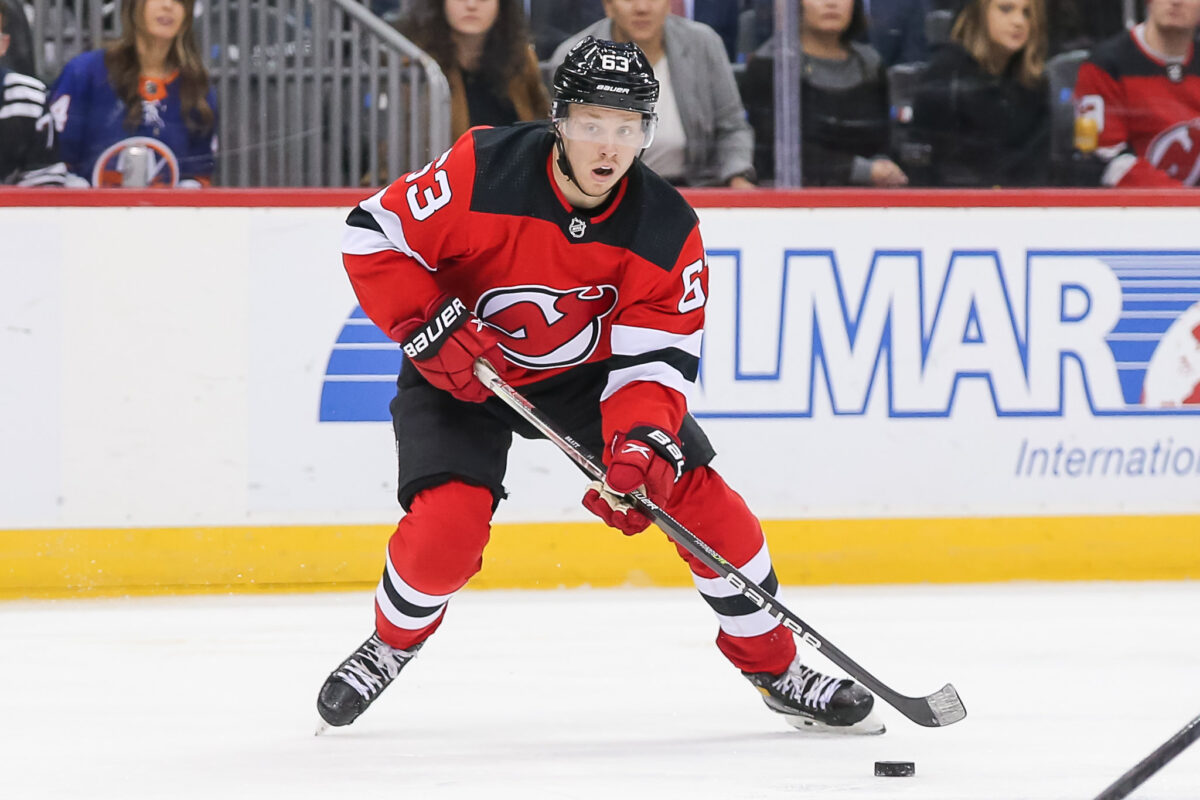 Let's say Bratt gets off to a quick start and continues his strong play heading into next year's trade deadline, there won't be much to prove if he's at a point-per-game pace. At that point, a long-term extension worth top dollar should be on the table from Fitzgerald and the Devils. It likely was now, but if Bratt is pacing for 75 points again next season, it'll be much easier to justify with a high dollar figure.
For context's sake, Evolving-Hockey had projected Bratt for a four-year deal at a cap hit of $5.612 million this offseason. Over seven years, it was a projected cap hit of $6.225 million and just over $7.2 million for eight years. I can see why the Devils would be hesitant to give him over $7 million annually for eight years since he had never paced above 53 points in prior years. But if he does it again, it shouldn't be a difficult decision. 
Related: Devils Keep Bratt's Leadership in the Lineup & Avoid Arbitration
Based on Bratt's trajectory, I'd bet on him being able to replicate what he did this past season, or at least come very close to it. He will have a top-six role alongside Hischier or Hughes, and the Devils' power play should see significant improvement with Andrew Brunette as one of the team's new assistant coaches. That could lead to an even further bump in his production. But if Bratt rejects a long-term deal, then what happens?
Devils Should Keep Trade Options in Back Pocket
If Bratt gets off to a strong start and keeps it up throughout the 2022-23 season but rejects an eight-year deal for north of $7 million annually, Fitzgerald will have a difficult decision to make. He will have to consider a trade, an option that should be on the table if drawn-out talks occur without finding a long-term compromise. 
At that point, it'll be three grind-it-out negotiations with Bratt and his agent. The difference with the next contract is that it has to have term. The Devils can absolutely not afford to let him walk to free agency when he's eligible in 2024. For a player like him, they have to get something in return, preferably in a hockey trade and not for futures.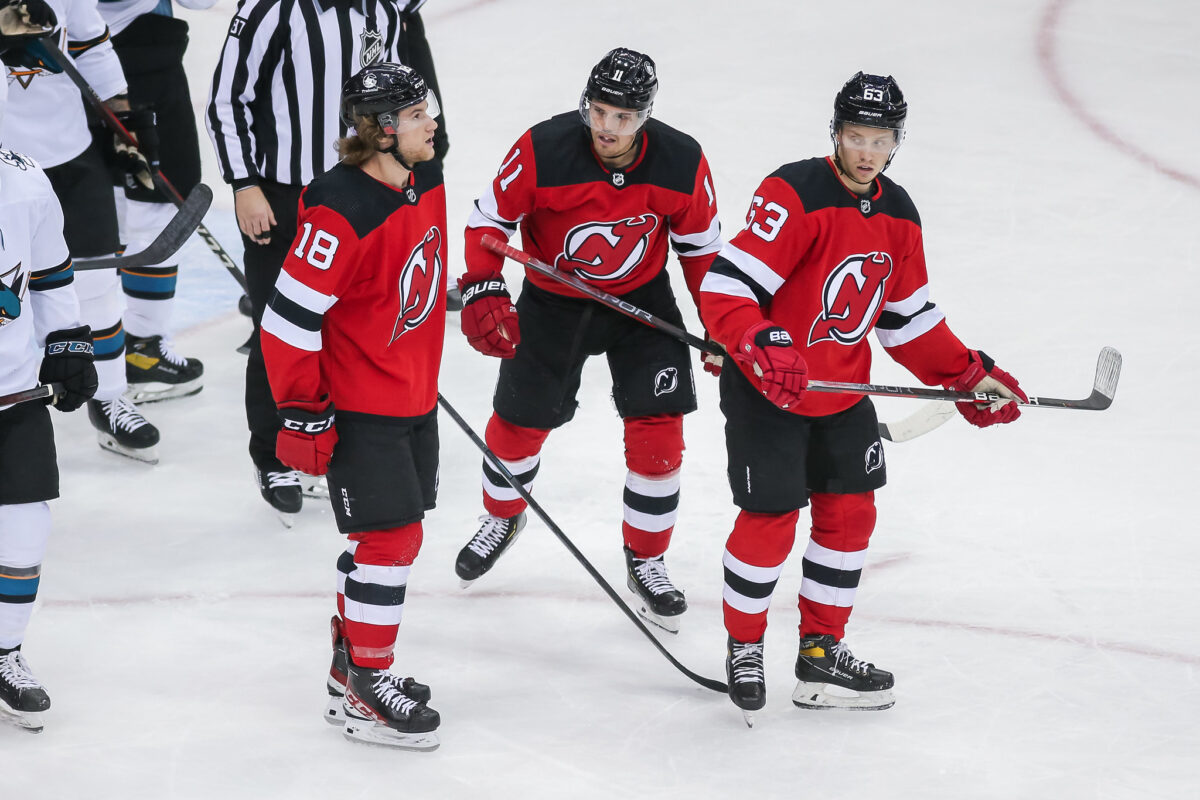 The Matthew Tkachuk scenario is different than Bratt and the Devils. At this time, there's nothing to indicate Bratt wants out of New Jersey. But if that becomes apparent, then things change. If able to complete a sign-and-trade as the Flames did with Tkachuk before dealing him to the Florida Panthers for Jonathan Huberdeau and Mackenzie Weegar, the Devils could get a haul for Bratt. That's something to think about for much further down the road, but Fitzgerald has to keep a sense of the situation as next season progresses. 
Trading Bratt at this moment in time is not on the table. It's not even something the Devils should remotely think about until next season's trade deadline in late February or early March. But if they're far apart from a long-term extension at that time, it'd be wise to start listening to offers. At the very least, it begins to lay the groundwork for a potential trade next summer if that's something Fitzgerald has no choice but to do. 
Devils & Bratt Avert Disaster
The Devils and Bratt averted a disaster scenario yesterday. An arbitration hearing could've permanently soured the relationship between the two sides, and they avoided that. A long-term deal is still a very real option, and they now have another year to continue talks and agree on terms. If Bratt proves his prove-it deal, then I don't doubt the Devils offering him a lucrative contract that makes him one of the team's highest-paid players. And based on Fitzgerald's comments yesterday afternoon, I'd bet on that occurring with Bratt signing on the dotted line. 
* * *
Advanced stats from Natural Stat Trick, contract projections from Evolving-Hockey
---
Latest News & Highlight
---