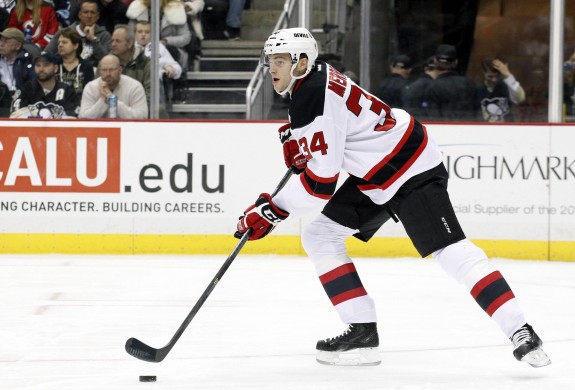 Longtime fans and observers of the New Jersey Devils, can appreciate great defence and a gritty, grind it out attitude. Once again, something is building and bubbling on the blue line in the Devils organization. Much as it was about two decades ago, the current crop of defence is filled with possibilities. Although this time around, the Devils must be judicious in which players they anchor in front of Cory Schneider.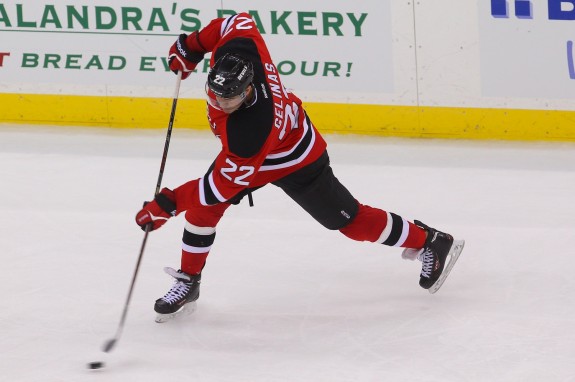 Yes New Jersey does have some savvy vets back there but unlike in years past, the club can ill afford to rely the luxury of having the likes of Hall of Fame defencemen Scott Stevens, Scott Niedermayer and other stalwarts such as Ken Daneyko, Brian Rafalski and Colin White back there. Hence, they need to be smart about the players they keep and which may have value in helping them obtain upgrades in other areas.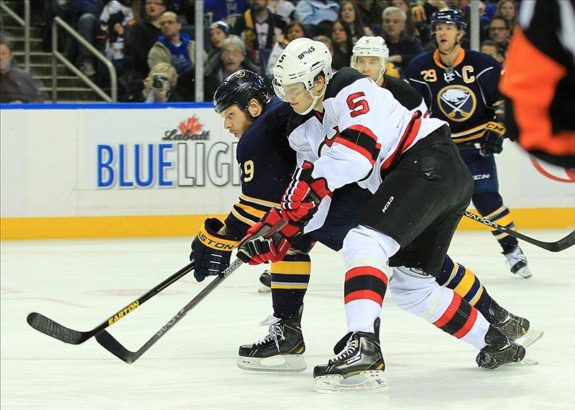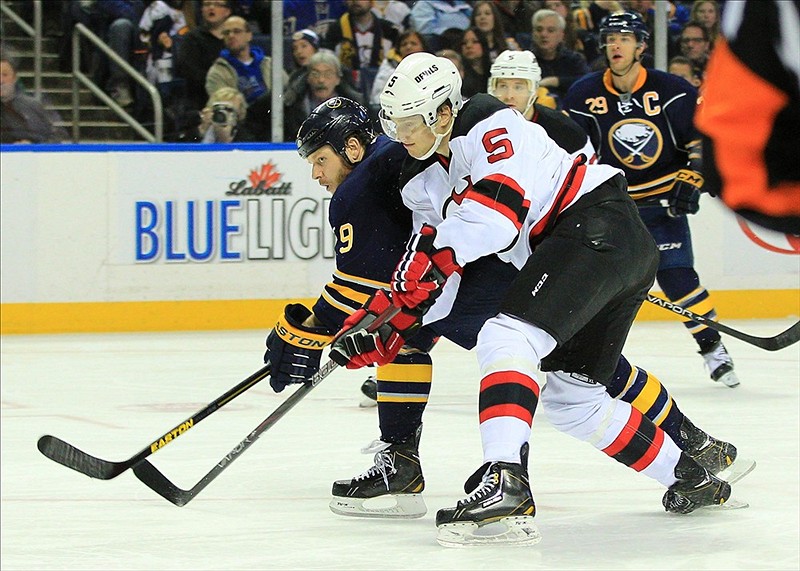 From New Jersey (Jon Merrill, Adam Larsson, Eric Gelinas) to Albany (Seth Helgeson, Reece Scarlett, Corbin McPherson), to Junior (Damon Severson, Ryan Rehill), t0 College (Steve Santini, Josh Jacobs, Curtis Gedig, Joe Faust), the Devils are very well positioned with guys who can do an assortment of different things on defence. Heck, even guys who aren't as highly touted on the prospect list, Brandon Burlon, Dan Kelly, Raman Hrabarenka, were solid at Albany last season.
#NJDevils defensive prospect Steven Santini fires a slapper on Day 2 of Rookie Camp! pic.twitter.com/pBOlYiWdgd

— New Jersey Devils (@NJDevils) July 15, 2014
Still though, based on the past experience of having a well stocked corps of defencemen, the Devils would be well served by remembering some of these examples of players moved that would've been impact players in the Meadowlands.
Cale Hulse: With New Jersey looking for some jump, they dealt Hulse, along with Tommy Albelin and Jocelyn Lemieux, to the Calgary Flmes, for Phil Housley and Dan Keczmer. While Housley was an All-Star defenceman throughout his career, he only netted one goal in 22 games in a Devils sweater. Meanwhile, the hulking defenceman Hulse, carved out a decade long career as a tough, physical presence for Calgary and Nashville, among others.
Willie Mitchell: A standup teammate, shutdown penalty killing defenceman and a physical force on the blue line. I first saw Willie Mitchell play in person for Albany in 1999 and he's still going strong, winning a second Stanley Cup with the Los Angeles Kings and signing with the Florida Panthers. Along with that longevity and those titles, Mitchell has garnered All-Star status three times. In 2001 the Devils traded Mitchell to the Minnesota Wild for Sean O'Donnell. Don't get me wrong, O'Donnell had a solid NHL career and was a leading veteran presence on the Anaheim Ducks Stanley Cup winning squad in 2006-07. That being said, with the team New Jersey had and what they ultimately got out of O'Donnell, was 17 games plus the playoffs really worth a potential decade of having Mitchell back there?
Jaroslav Modry: Like Hulse, Modry was a part of a Calder Cup championship team in Albany. Modry may not have been a heralded as some of the others but he was a good puck moving defenceman and had a solid, decade plus NHL career, which included one All-Star appearance. Given the plethora of defensive depth, the Devils flipped Modry to the Ottawa Senators, for a 4th round draft choice, which turned out to be Alyn McCauley.
Jason Smith: Along with Hulse and Modry, Smith was a member of the 1994-95 Calder Cup championship team in Albany. Another tough customer on the blue line, with a decade plus career in the NHL. Smith was a one-time All-Star and brought a lot of physicality to the various teams he played for, primarily the Edmonton Oilers. New Jersey swapped Smith, along with Steve Sullivan and Mccauley, to the Toronto Maple Leafs, for Doug Gilmour and Dave Ellett. Granted Gilmour was a future Hall of Famer but was 20 games of Ellett, really worth it for Smith?
Sheldon Souray: Much like the Mitchell deal, another trade in which one wonders if the Devils really had to make it to win another Cup. Souray was a bruiser on the blue line and boasted one of the hardest shots in the NHL. Souray was also a four-time All-Star. In 2000, New Jersey sent Souray and Josh DeWolf to the Montreal Canadiens, for Vladimir Malakhov. At the time, Malakhov was a solid rushing defenceman but could the Devils have still won the Cup without him in 2000? Probably.
In addition to those guys above, the Devils system also included the likes of Kevin Dean, Sergei Vyshedkevich, Ricard Persson, Chris McAlpine, Bryan Helmer, Geordie Kinnear and Brad Bombardir. Guys who all had lengthy pro careers and had their moments.
#NJDevils 2014 2nd-rd pick Josh Jacobs was a USHL All-Star last season and helped Indiana claim the Clark Cup. pic.twitter.com/olRW2CX7zO

— New Jersey Devils (@NJDevils) July 17, 2014
So based on that past experience, which players will figure most prominently into the Devils plan for their top six? Will Helgeson be the next Mitchell? Does Severson become the next Souray? Scarlett another Modry? Only time will tell. Luckily for the Devils, enough of their defensive prospects are at different stages of development, so for the time being, time is on their side.