With the first week of training camps underway across North America there is optimism abounding for all 30 NHL franchises; a clean slate, a fresh start, everyone starts the race (marathon, not sprint) for Lord Stanley's Cup at the same time, with the same record. For the New Jersey Devils all of the above rings true — some familiar faces are gone, and some fresh faces have arrived — but even without future Hall-of-Famer Martin Brodeur on the team for the first time in over 20 years, the players here aren't thinking about that; instead they are focused on a return to the postseason for the first time since 2012.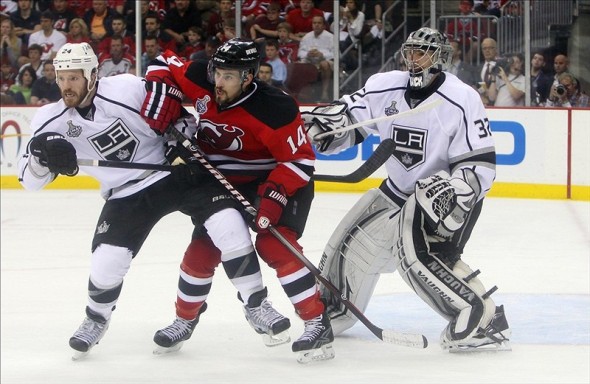 "There's always goals to reach; you want to be better, so I want to score more goals (than last season)," said Adam Henrique. "But…I want to make the playoffs, and I think first and foremost that's the most important thing." It was clear in his face, in his voice, that the team's success aka making the playoffs was goal no. 1. "I'd love to score more goals, if I can score more than 25, that'd be great, but the most important thing is coming together as a team," he said. "Getting more wins, finding ways to get those points when we need them, getting off to a good start and being consistent from Day 1 right to the end."
Andy Greene is now the longest tenured defenseman on the Devils' blue line as he enters his ninth NHL season, and a lot of their success will depend on if he can be a leader amongst a group that could feature three d-men under 25-years of age. "I remember being at the old South Mountain Arena (practice facility), at Continental Arena," the 31-year-old told the Hockey Writers. "It's been a while (since I've been here with New Jersey). It's kind of funny, it seems like it was just a couple of years ago, but now you think back on it, and it's what? Eight years ago…2006 right? You're the young guy and then all of a sudden 4-5 years later you look around and think: whoa, what's going on here? All of a sudden you're one of the older guys. (But) I love being here, I love playing for the Devils and being a part of this organization."
There are obviously still a lot of roster decisions to be made as the team has a glut of forwards looking to crack the opening night lineup, but two players certain to be there (barring injury of course) are Jaromir Jagr and Travis Zajac. Jagr led the Devils in points last season (67 in 82 games) and Zajac was his wingman throughout a majority of it; the two certainly developed a nice chemistry on and off the ice. When a reporter asked Zajac about how hard no. 68 works in practice, doing little drills off to the side after a full hour on the ice, he smirked and replied, "I think it says that he took the summer off — he's trying to get it all in 20 days before the start of the season. Some of us skated all summer and worked on stuff; I don't know what he did." He then got a bit more serious, adding, "He's always got little things he's working on, it's what makes him so good."
Sometimes Jagr sets up Zajac instead of the other way around:
http://www.youtube.com/watch?v=q1fnJI0-Yas
One of the new additions, Mike Cammalleri, is currently penciled in to skate as the left wing on that top line. The other, Martin Havlat, is hoping to be on a line with his longtime friend Patrik Elias, as the two will be teammates for a full season for the first time. Havlat has been injury prone throughout his NHL career, but is healthy now and looking forward to a fresh start in New Jersey. "It's been tough (for me) the last three years (with injuries) but I feel great right now so that's the most important thing," he told reporters after a practice. "It's always no fun being hurt, especially injuries like shoulders; it's a 4-5 month rehab, it's never easy to come back. Especially during the season when everybody's flying a hundred miles an hour and you have to start from scratch again."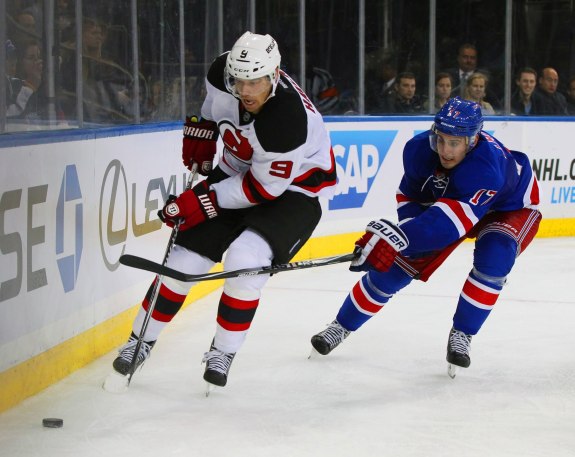 While Cammalleri was brought in on a longer term deal (five years), Havlat was only signed for one year, but a big attraction for him in coming to New Jersey was the amount of fellow Czech players there (Elias, Jagr, Marek Zidlicky and now possibly Tomas Kaberle). "All the Czech boys (here) helped a little bit; I think it's a great team. A lot of people are forgetting these guys were in the Finals two years ago," he said when asked why he signed with the Devils over other offers he received. "Patty (and I) had pretty good chemistry with each other, in those few tournaments we played together. But this is the first time we'll be teammates for a whole year, so we'll see how that goes."
He also showed a little bit of a lighter side to him, a sense of humor, when responding to questions, perhaps a sign of being comfortable mentally and physically with the season about to start. "I've been in the league a long time, I think this is year 15. But we've got many, many more older players than me on this team (smiles), I'm still in good shape and a much younger guy. Everybody knows the way I play, I let the other people be the judge; I'm just here to play hockey and trying to help this team win games."
Hopefully Martin Havlat 'spanks' home some playoff goals for the Devils:
"I had a couple of other options, but I think this is going to be a good fit for me here. The atmosphere and the guys in the room have been great so far. There are a lot of great, experienced players on this team (and here in camp), and I see some young talent too. Like I said, two years ago they were in the Finals and did a lot of great things. It's strict here, a lot of rules, but I'm fine with that. They have been doing something right here for sure." When THW asked the oft-bearded Czech if he may be referring to the 'no facial hair' rule during the regular season in New Jersey, he laughed a little and said, "That's okay; it's been ten years since I've been this clean shaven. It is what it is, it's the same for everybody."
With 64 players in camp (including five players on PTOs) there is a lot of competition going on, and that's never a bad thing. "Obviously there are a lot of guys here in camp, a lot of guys battling for positions. I think the intensity level on the ice is raised up to another level; which is good, I think you need that through camp," said Henrique after the second day of on ice drills at training camp. "Obviously we're going to have a lot of bodies for exhibition games too — there will probably be a number of different lineups throughout but it's exciting. Guys are here fighting for jobs until Day 1 (of the season) comes around…there could be changes; you never know."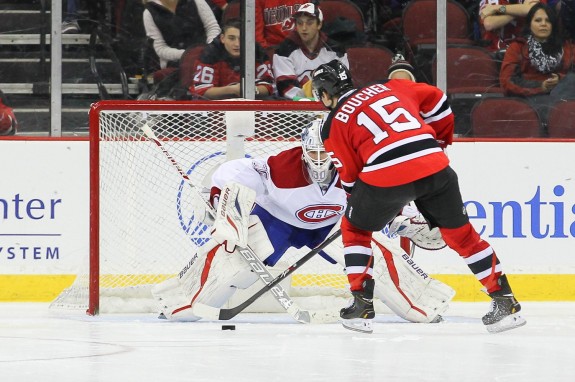 If you've followed the Devils during the Lou Lamoriello era you know that they generally use all of the time allotted to them to make roster decisions like the one they will be facing. With 14 forwards on one-way deals, five PTOs, youngsters like Reid Boucher elevating his game and Ryan Carter in camp without a deal (but expecting one) it's highly likely that a deal or two or three could be made in the final week before the NHL season starts and not by the time you read this.
Dan Rice can be reached via Twitter: @DRdiabloTHW or via Email: drdiablo321@yahoo.com