Exit interviews with players wrapped up over the weekend, as did it with head coach Lindy Ruff. That left one key member of the New Jersey Devils organization who hadn't held his end-of-season press conference, that being general manager Tom Fitzgerald, who spoke to reporters at 12:30 PM yesterday. Here are four takeaways from his presser as the offseason gets underway. 
Ruff to Return as Head Coach
This shouldn't be much of a surprise given the season the Devils had, but Fitzgerald confirmed Ruff would return to the team as head coach for next season. "I've always said that Lindy Ruff was the right coach for this group. So here we are today. He's still the right coach for this group. He's earned that right. He deserves that. We deserve him to be quite honest (…) those kids love him."
Related: Devils' UFA D-Man Linked to Oilers as Upgrade Over Cody Ceci
---
Latest News & Highlights
---
Moments after the news broke on Twitter, Pierre LeBrun confirmed that Ruff, whose contract expires on June 30, was in the midst of negotiating a new deal to stay on as Devils coach:
After going 46-76-16 in Ruff's first two years, the Devils finished with a franchise-record 52 wins and won their first playoff series since 2012, defeating the New York Rangers in seven games in Round 1. The result was Ruff earning a nomination for the Jack Adams Award as best head coach for the 2022-23 season. 
The Devils may lose associate coach Andrew Brunette to another head coaching gig by retaining Ruff; Frank Seravalli reported that the Anaheim Ducks have talked to Brunette. Still, there's no reason to move on from Ruff now. He's the right fit for the team, he can clearly still coach, and the players love playing for him. It wasn't a hard decision to retain him. 
Fitzgerald Satisfied With Goaltending
One of the reactions to the Devils losing in five games to the Carolina Hurricanes in Round 2 was that they needed to acquire an elite goalie. It's an understandable reaction, given Vitek Vanecek's struggles in that series and the playoffs, but it's not a pressing need for the organization. Fitzgerald stated yesterday that he was "actually real happy with our goaltending this season."
Vanecek did struggle in the playoffs, but he finished with a .911 save percentage in the regular season. He has enough of a track record to prove he can get a team where they need to get during the regular season. But the real story was rookie Akira Schmid, who broke out in his second pro season after having a tough first year in 2021-22.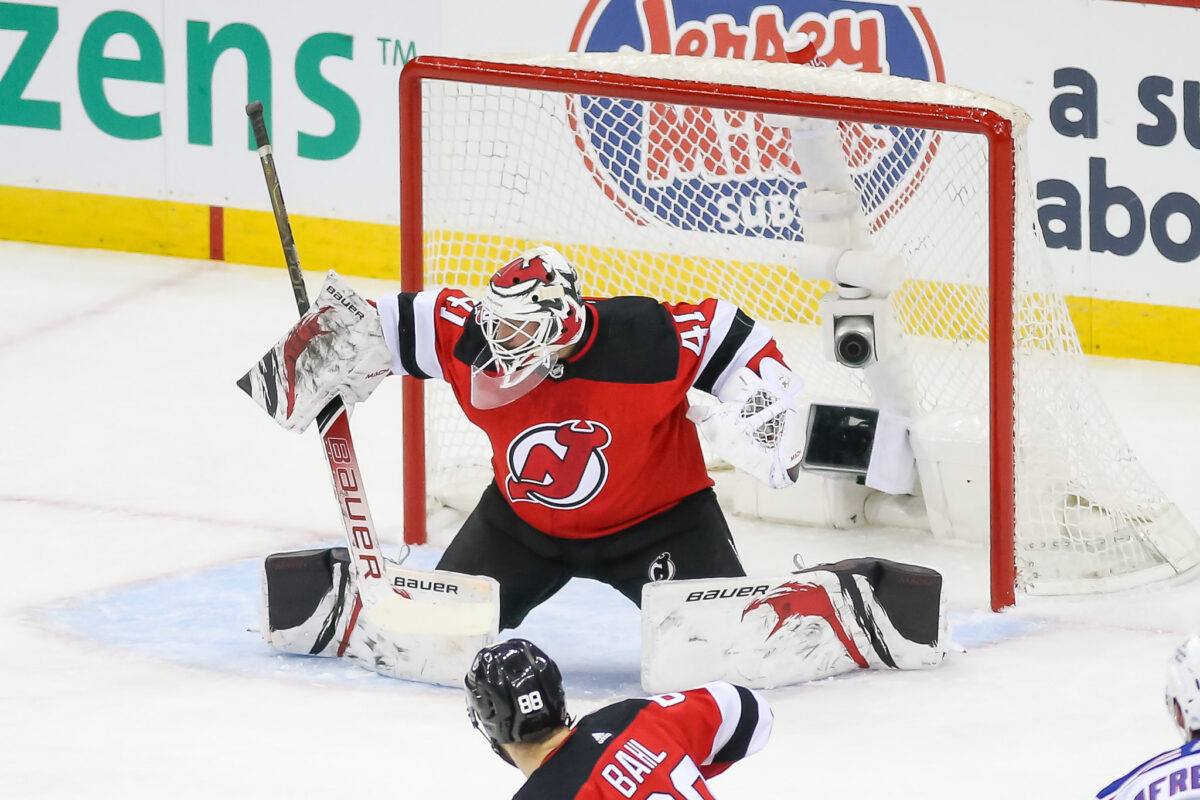 Schmid improved leaps and bounds from where he was a year ago. He finished with a .921 save percentage in 27 games between the playoffs and the regular season. He deserves a more significant look in 2023-24 because he could be the team's goalie of the future. 
I know fans will want the Devils to target Connor Hellebuyck if he becomes available, and who could blame them? He's one of the best goalies in the world, but based on Fitzgerald's comments, it doesn't seem like a goalie will be a priority for him this offseason. That could change between now and as the draft gets closer, but it shouldn't with Schmid ready for the show and Vanecek already a reliable partner to tandem with Schmid. 
Bratt & Devils Making Progress on New Deal
During his exit interview, Jesper Bratt expressed full confidence in his agent and Fitzgerald to work out a long-term contract extension. Yesterday, Fitzgerald reported that though they paused talks when the playoffs began, there's been progress toward a new deal and that he's not expecting contentious negotiations: 
Bratt's contract talks went to the 11th hour last year before the two sides agreed to a one-year, $5.45 million deal to avoid an arbitration hearing. Based on what Bratt and Fitzgerald have said over the last few days, a long, drawn-out negotiation doesn't seem as likely this time, so fearing an arbitration hearing shouldn't be a concern. 
The question is, what will Bratt's next contract end up being? Evolving-Hockey has him projected for a five-year extension at a cap hit of $6.763 million. That cap hit would probably exceed $7 million for five years, but it could benefit both sides. The Devils get Bratt locked up long-term, but he could still get a UFA payday at 30 years old. Either way, it sounds like this deal will get done. 
Could Devils Acquire a First-Round Pick?
Because the Devils acquired Timo Meier at the trade deadline, they'll be without a 2023 first-round pick. That hasn't stopped teams in the past, though. Fitzgerald said as much, stating just because they don't have a first-round selection doesn't mean they won't get one.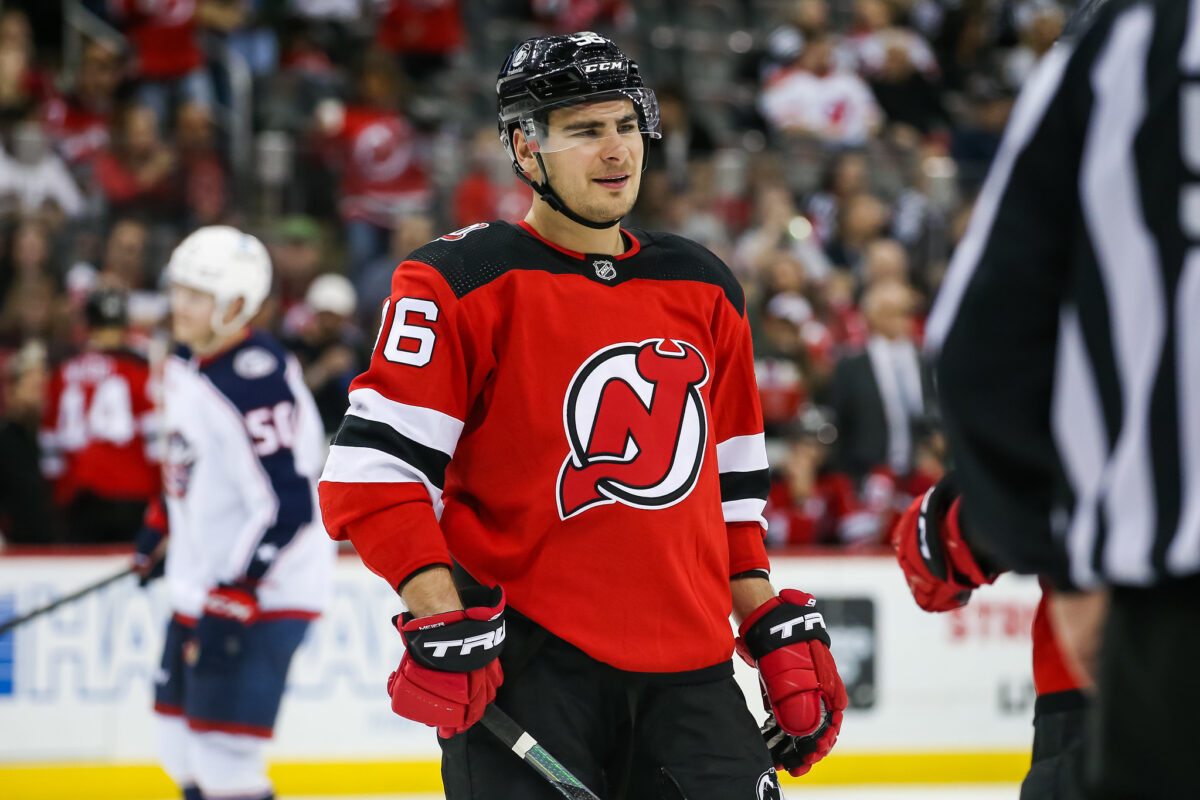 That's a pretty broad statement and could mean a few things. Could the Devils trade a player on their roster for a first? Perhaps, but that'd mean giving up a key piece they likely have no interest in giving up. The more likely scenario is Fitzgerald waiting until draft day and waiting to see how the first round unfolds. If a player they covet drops unexpectedly, they could try packaging something to get back into the first round. 
I also don't think it means Fitzgerald would be looking to trade for a player who was a former first-round selection (i.e. William Nylander/Mitch Marner). Given the talent in the 2023 draft, the better bet is getting back into the first round if there's a path to doing so. Selecting a first-round talent in this draft could prove significant in a few years when they have expensive contracts and need entry-level money to fill out the roster. 
Offseason Is Officially Underway With Exit Interviews Over
With exit interviews over, the offseason should start ramping up in the next couple of weeks, at least when it comes to rumors and what the Devils may do this summer. Stay tuned to The Hockey Writers for the latest coverage and analysis.