Sometimes, it's the dull, short-term additions that can really catapult rebuilding teams to the next level. These are the "not so flashy" calculated risks teams take to fill multiple needs while still thinking about the long haul. Although New Jersey Devils general manager Tom Fitzgerald is looking to avoid leveling the salary-cap advantage that the team holds over most of the league, there are still holes that need to be filled regardless of whether they are temporary or long-term.
Related: Devils' 5 Best Defensemen of All-Time
Playing the free agency market during a rebuild can be a tricky task but it is imperative to bring in players that increase the overall competitiveness of the team, can aid young talent through their development, and who can potentially be flipped for assets at the deadline. Here are three veterans that fit the bill.
Josh Leivo
Usually, teams would be smart to avoid players that are coming off season-ending injuries especially when those injuries are as jarring as a fractured kneecap. There are as many doubts as there is upside here, but honestly, if the Vancouver Canucks let Josh Leivo walk, he should be a safe target for the Devils.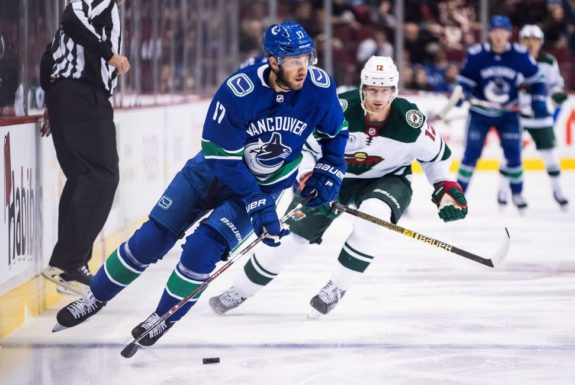 Last offseason, Vancouver re-signed the restricted free agent to a one-year, $1.5 million deal, and prior to his injury, they saw solid output from the power forward with 7 goals and 12 assists in only 32 games played. On pace to have the best season of his career right before becoming an unrestricted free agent, the 27-year-old's stock still seems to be falling with concerns surrounding his production prior to this season and injury history.
Not only would he serve as a good, short-term depth addition, he would also more than likely be given a much larger role than he's ever had in his entire career. In his past three seasons, Leivo has had an even-strength Corsi for percentage (CF%) north of 50 percent, which basically means the team controls the puck more than not when he's on the ice. Capable of playing all three forward positions, he's a reliable two-way player and could be an extremely useful piece for this Devils roster. The reward by far outweighs the risk with this acquisition and at the bare minimum, could draw interest come the trade deadline.
Dmitry Kulikov
Are there red flags here? Yes, plenty. Most notably, there are concerns about Dmitry Kulikov's inconsistent play and injury history. He simply has not been the same player since he was traded from the Florida Panthers to the Buffalo Sabres in 2016. If a team like the Winnipeg Jets, that desperately needs a defensive restock after losing numerous key players on the blue line, is ready to move on from him, why would the Devils have any interest at all?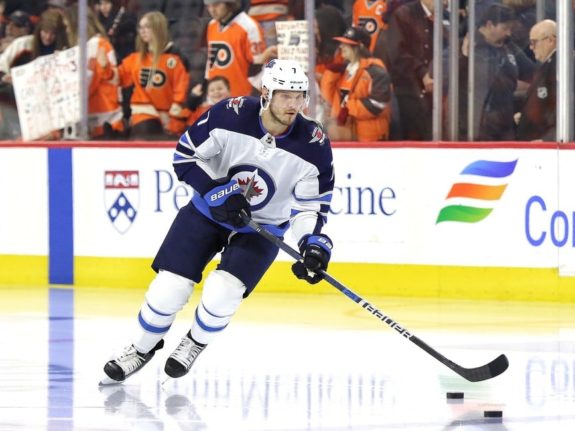 Well for starters, the Devils have an undeniable need to bolster their blue line and the 6-foot-1 lefty would be an instant plug-in on the second pairing. He likes to get shots on net and is aggressive when jumping into the team's offense which is something we can expect to see a lot more out of New Jersey's defense with the implementation of head coach Lindy Ruff's system. He has proven to be effective on the penalty kill while also getting in shooting lanes and blocking shots, and, if signed, the team can expect him to log more than 20 minutes per game. This addition would also give the Devils a much needed physical presence that has been absent for quite some time.
More importantly, Kulikov is 29 years old, which is typically seen as the peak age for defensemen in the NHL. He will have something to prove on a bridge contract and New Jersey would be the perfect fit for him to show the league his true value. If the Devils can acquire him for under $2 million on a one-year deal, it could prove to be mutually beneficial for both him and the team.
Thomas Greiss
Cory Schneider's demise in net has been hard to watch, and it is time to provide Mackenzie Blackwood and the rest of the team the support they need to stay in games. It has now become an undeniable necessity to have two reliable goaltenders in today's NHL and Devils fans have witnessed this need first-hand over the past three seasons. Last season, the team won a mere six games that didn't feature Blackwood as the starting goaltender. He is without question the goalie of the future, but providing him with support from a competent backup like Thomas Greiss would not only take some weight off of his back, but, overall, would have a significant impact on the team's success.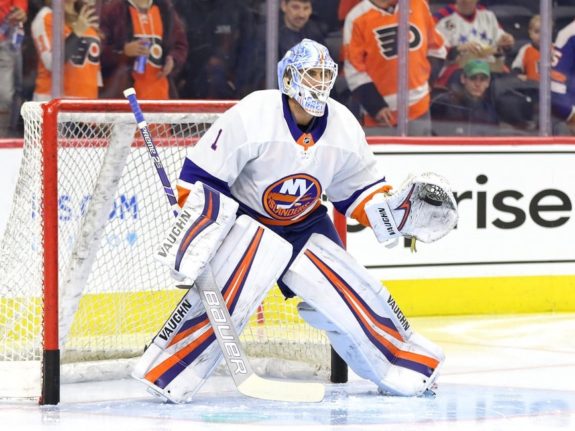 The New York Islanders have Semyon Varlamov locked up for three more years, and with the much-anticipated arrival of Ilya Sorokin, there is little reason to believe Greiss won't be available in the open market. He is coming off of a quality season with New York, posting a .913 save percentage and 2.74 goals-against average, which earned him 16 wins in the shortened season. He is certainly capable of playing a good number of games, which would allow for Blackwood to properly adjust to a 55-game workload.
Competing against a large group of talented goaltenders in free agency, he"ll find himself in that second tier behind the likes of Robin Lehner, Corey Crawford, and Braden Holtby. The transition from New York to New Jersey means he doesn't have to travel across the country, which could also be enticing for the 34-year-old netminder. A one-year contract outside of a strong defensive team like the Islanders would serve as a good method of evaluation for the rest of the league and he could prove to be a fruitful asset at the deadline as we've seen teams in the past overpay for quality backup goalies when preparing for a playoff run.
Related: 3 Underachieving Devils From the Past Decade
At the end of the day, New Jersey is one of the few teams that will benefit from the flat salary cap in the 2020-21 season, but it's highly unlikely that the team will break the bank in the upcoming free agency period. Any premier acquisitions will more than likely come via trade with teams such as the Tampa Bay Lightning, who are going to be seriously cap crunched and desperate to find trading partners in order to alleviate their salary situation. Still, gaps do need to be filled on this roster, and bringing in good, short-term depth pieces is of paramount importance.
---
---
Contributor – New Jersey Devils