The New Jersey Devils have faced a 2-0 series deficit in these playoffs once already. They now again find themselves in the same position against the Carolina Hurricanes and need to rally to advance to the Eastern Conference Final. They've already proven they can do so with their comeback against the New York Rangers, but the Hurricanes are a different animal. Devils head coach Lindy Ruff needs to make some tactical adjustments, but his lineup must change too. 
Fortunately, he's switched things up, as the Devils will have different line combos and pairs for Game 3 this afternoon. Among the changes is Luke Hughes coming in for Ryan Graves, who suffered an injury after a vicious hit from Jesper Fast early in Game 2. 
While hopefully Graves isn't seriously injured, adding the younger Hughes to the lineup could benefit the Devils. Let's look at why letting Hughes make his playoff debut makes sense now. Plus, some quick thoughts on the new line combos for a must-win game at the Prudential Center this afternoon. 
Hughes Adds Different Elements on Blue Line
The Devils are facing a wildly different style of play compared to their series against the Rangers. New York plays a similar game to the Devils, but they were a slower and less disciplined team that provided matchup advantages for Ruff's squad. With the Hurricanes, they're facing a team that forechecks aggressively, one of the few weaknesses the Devils had in 2022-23. 
Related: 3 Devils Takeaways From Game 2 Loss to Hurricanes
---
Latest News & Highlights
---
What I mean by that is the Devils struggle on defensive zone puck retrievals when a team plays dump and chase. The Hurricanes almost strictly play dump and chase, so that's a problem for a team like the Devils. Your decision-making has to be quick and smart to break out of the defensive zone cleanly to start the rush the other way. 
Take Game 2, for example. Jonas Siegenthaler took a minor penalty with four seconds remaining in the first period, but the previous play was what led to Siegenthaler's infraction. Miles Wood and Curtis Lazar had a chance to break out of the defensive zone, but the Hurricanes applied pressure and forced Lazar into a turnover, hemming the Devils in their own end.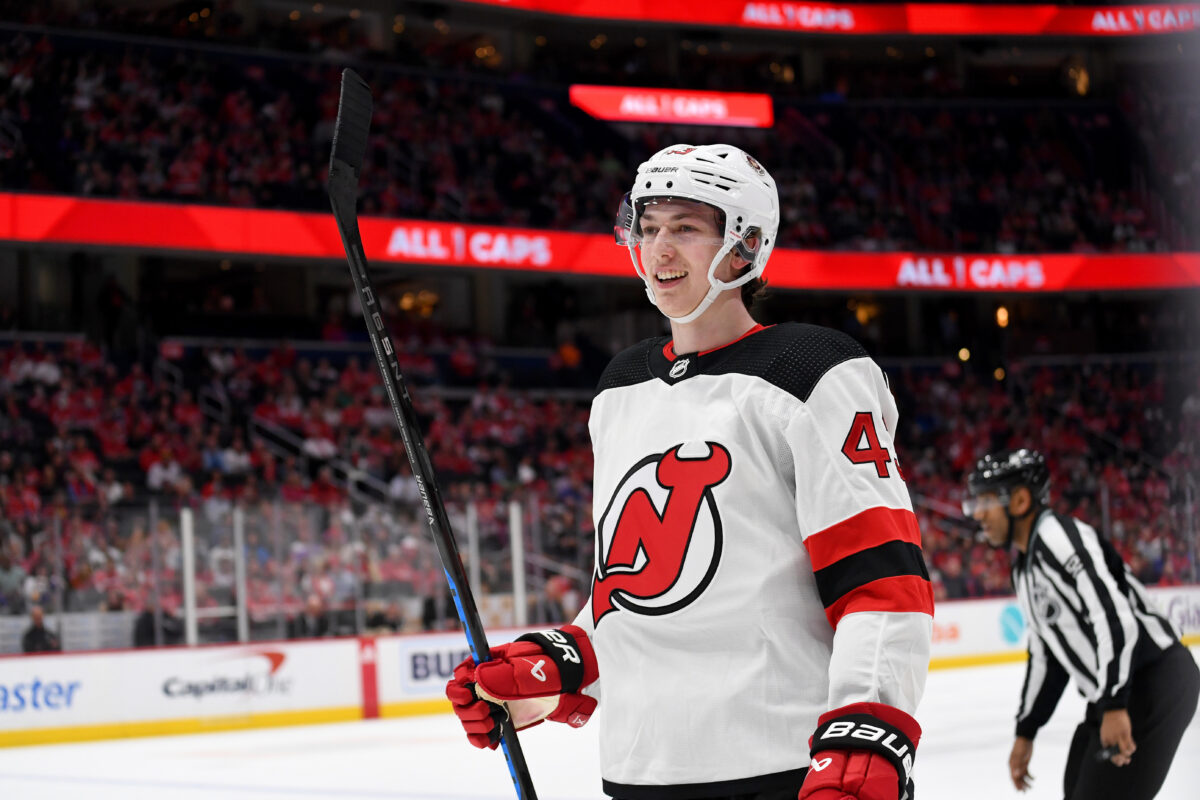 Another play was Fast's hit on Graves nearly midway through the first period. Graves had time to retrieve the puck, but he was too slow in getting there, and Fast was going in on the forecheck at 110 miles per hour. It didn't lead to a goal against, but those are the problems the Hurricanes are posing for the Devils with their forechecking ability. 
This is where Hughes could help. Even for a 19-year-old defenseman, his puck-moving ability is among the best the Devils have on their roster. He's an elite skater, which will help in transition, but his passing will also make a difference. The question is if he can handle retrievals on dump-ins. But as Jack Han demonstrated in a video breakdown of Hughes' NHL debut against the Buffalo Sabres on April 11, he's already shown an ability to take contact and make the simple play on defensive zone retrievals. 
Now, the Sabres don't forecheck like the Hurricanes. But the fact he's already shown some promise in making smart and quick decisions on DZ retrievals could make a difference for Game 3. The Devils didn't beat the Rangers to get to the Hurricanes and say, "Well, we're just happy to be here." They're good enough to advance to the Conference Final, and Hughes checking into the lineup could help right the ship. 
Devils Defense Pairs with Hughes In
Because Hughes is coming in for an injured Graves, Kevin Bahl moves to the second pair with John Marino. Ruff has consistently used Marino as a shutdown defender, so this will be a different role for Bahl, who was previously playing alongside Damon Severson on the third pair. Bahl and Marino did play some in the regular season, totaling 41:45 of ice time. But the results were positive, as they posted a 62.29 xG%.
Siegenthaler and Dougie Hamilton stay together, so there'll be no changes to the first pair, leaving Hughes with Severson as his defense partner. Severson has mostly played sheltered third-pair minutes this season, but he's feasted offensively in that role. He's taken the risk out of his game in the playoffs and has arguably been the Devils' most consistent blueliner through nine postseason games.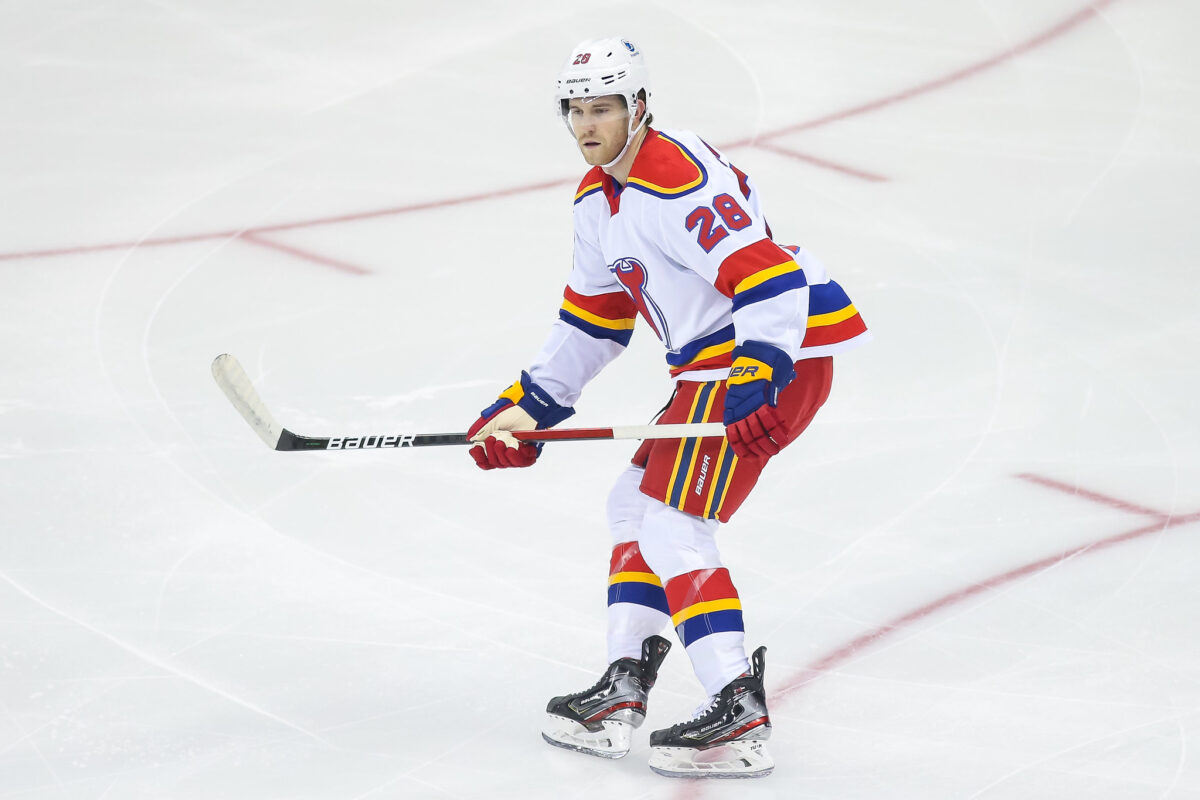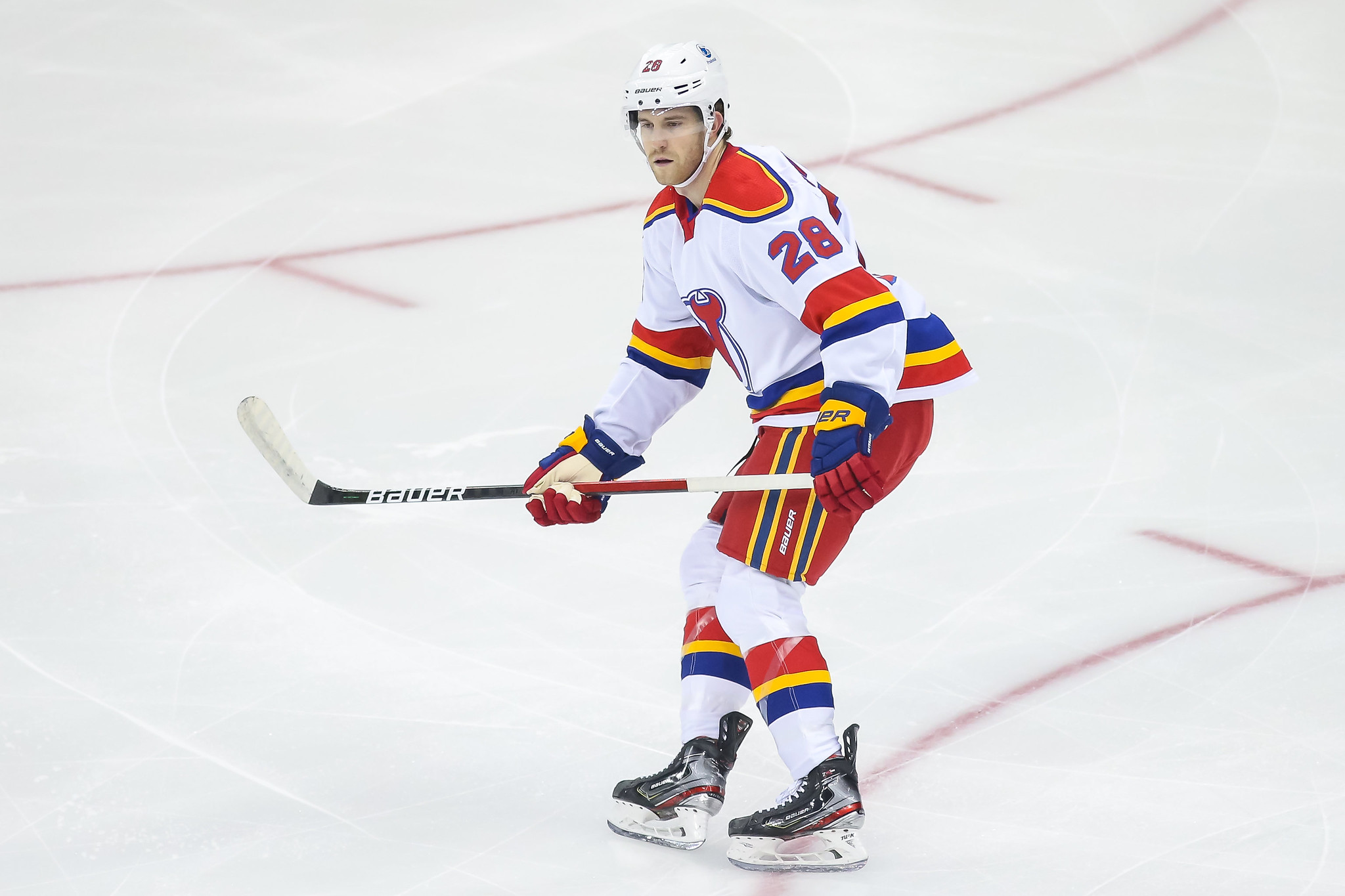 Because of how Ruff has handled his third pair all season long, that should benefit Hughes. For starters, he won't get difficult defensive minutes; those will go to Bahl and Marino and, to a lesser extent, Siegenthaler and Hamilton. That should mean Luke gets on the ice with his brother Jack Hughes in offensive situations to help the team create more chances than they have in the first two games of this series. That's what his puck-moving ability was made for. And if Ruff can shelter his minutes, which he should be able to with last change on home ice, the team's offense should improve.
Also of note was Luke Hughes working on the first power-play unit with Hamilton, Jack Hughes, Nico Hischier and Dawson Mercer. On the one hand, I'm not a fan of two defensemen on the first power-play unit. But on the other, this move should work if Hamilton is in a spot to launch one-timers. Hughes quarterbacked the Michigan Wolverines' power play in the NCAA, so if he can get the puck to Hamilton in shooting spots, perhaps that sparks the man advantage, something the Hurricanes have stifled all season long against the Devils.  
Quick Thoughts on Devils' New Line Combos
After two games where the Devils got outscored 11-2, including a 6-1 loss in Game 2, it's no surprise Ruff is throwing his lines into a blender. Some of the combos are new, but there are also some familiar ones: 
Ondrej Palát, Hischier and Jesper Bratt played quite a bit together during the regular season, posting a 50.49 xG% and plus-5 goal differential. Tomáš Tatar didn't log meaningful minutes with Erik Haula and Jesper Boqvist, but the latter two spent nearly 172 minutes together and controlled play at five-on-five. Any line with Tatar on it this season has outplayed their opponent at five-on-five, so there isn't much concern about the fit. 
With the Devils really needing to score some goals, putting Timo Meier and Dawson Mercer with Jack Hughes seems like a pretty good idea. Meier hasn't scored a goal or recorded a point during the playoffs, but the chances have been there. With Hughes feeding him the puck, I like his chances of breaking through, and the Devils desperately need him to score to win this afternoon. Ruff needs to make some tactical adjustments too, but his line combos are much better optimized than they were for the previous tilt. 
The line combos are what they should be, and Luke Hughes coming into the lineup could be a game-changer for Game 3 at a minimum. He adds a more dynamic element on the back end. And while there is some concern about how he'll hold up against the Hurricanes' forecheck, there's reason to believe he can alleviate some pressure and help the Devils break out of their own end more efficiently. 
* * *
Advanced stats from Natural Stat Trick